* All data are as of the close of Tuesday, March 10, 2015. Emphasis is on company fundamentals and financial data rather than on commentary.
In a prolonged bull market such as we have been in for some six years now since coming out of the 2008-09 financial crisis, it is often the smaller companies that storm ahead of the larger ones on account of being more nimble, and their territories being not as saturated. These smaller fish have more room in which to grow, and their smaller size turns even modest growth into large percentage gains.
This is clearly evident in today's comparison of America's Next 3 Information Technology Services Companies, which have been outperforming their larger rivals in the space for years. Having already compared America's 3 Largest Information Technology Services Companies, International Business Machines Corporation (NYSE: IBM), Fidelity National Information Services, Inc. (NYSE: FIS), and Xerox Corporation (NYSE: XRX), we'll now look at the next 3 largest U.S. companies in the industry: ServiceNow Inc. (NYSE: NOW), Computer Sciences Corporation (NYSE: CSC), and IMS Health Holdings Inc. (NYSE: IMS).
• ServiceNow Inc, headquartered in Santa Clara, California, provides cloud-based solutions in North America, Europe, the Middle East, Africa, the Asia Pacific, and elsewhere, offering service management solutions including incident management, problem management, change management, request management, and cost management, as well as service catalog and knowledge base, IT, HR, facilities, and field service management solutions.
• Computer Sciences Corporation, headquartered in Falls Church, Virginia, provides information technology and professional services and solutions in North America, Europe, Asia, and Australia, offering consulting, applications services, software, information services sourcing strategies, industry-based software services, business process services, and outsourcing services primarily to the insurance, banking, healthcare and life sciences industries, as well as to commercial organizations, public-sector entities, and local businesses. Other services include managed and virtual desktop solutions, unified communications and collaboration services, data center management, cyber security, compute and managed storage solutions, and next-generation cloud services.
• IMS Health Holdings Inc, headquartered in Danbury, Connecticut, provides information and technology services to the healthcare industry, offering performance metrics related to the sales of pharmaceutical products, trend analysis in prescriptions and medical treatment, promotional activity, workflow analytics, a set of strategic, analytic, and support services for life sciences companies, real-world evidence solutions which integrate information from medical claims, prescriptions, electronic medical records, biomarkers, and government statistics focused on treatment patterns, disease progression, therapeutic switching, and concomitant diseases and treatments through a range of hosted and cloud-based applications and associated implementation services. It also provides clinical solutions that help biopharmaceutical companies and clinical research organizations to design, plan, execute, and track clinical trials, and offers risk-sharing and pay-for-performance programs including network design and management, and population health management for payers and providers.
How has this second trio in the Information Technology Services industry been performing when compared to the top trio? Over the past three years, as graphed below, where the broader market S&P 500 index [black] has gained 49% and the SPDR Technology Sector ETF (NYSE: XLK) [blue] has gained 43%, the three largest - IBM [yellow], FIS [gray] and XRX [green] - have changed by -21%, +105%, +54% respectively, while 4th and 5th largest NOW [beige] and CSC [purple] have gained +200% and +116% respectively, ranking them 1st and 2nd among the five.
Newcomer IMS [orange] has been publicly traded only since April of 2014, so we'll compare it in the next graph on a shorter time scale.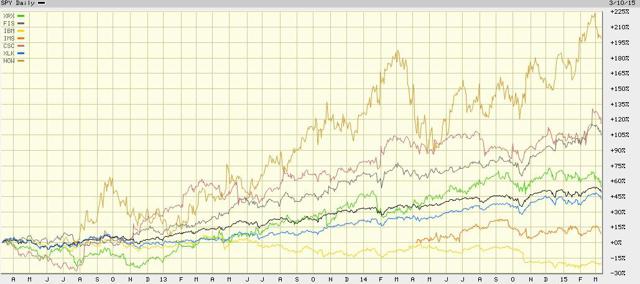 Source: BigCharts.com
Over the past six months, today's second trio has continued its outperformance as graphed below, with NOW still ranking 1st and CSC securing a solid 3rd among all six companies with gains of 16% and 12.5% respectively, while FIS comes between them at 13%. Although the newest of the six, IMS, is down 11.5% over the period, it is beating the largest U.S. company in the industry, IBM, which is down 18%.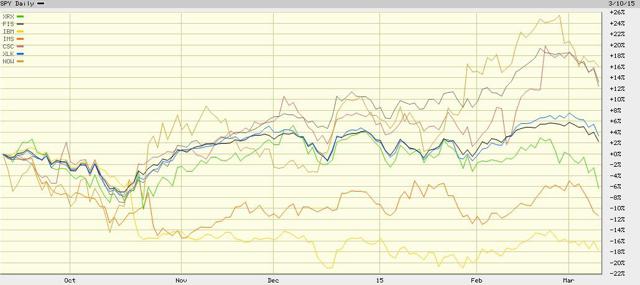 Source: BigCharts.com
In future earnings growth, the Information Technology Services industry as a whole is expected to stumble near term before resuming its stellar growth over the longer term, as tabled below where green indicates outperformance while yellow denotes underperformance relative to the broader market.
In the current quarter, the industry is seen shrinking its earnings by 22.40%, with another 6% expected to be lost next quarter.
Yet growth is seen returning next year with earnings growing at some 1.52 times the S&P's average rate, on its way to 2.62 times annually over the next five years.

Zooming-in a little closer, today's trio in the Information Technology Services industry is expected to continue outgrowing the top trio, as tabled below.
Over the current quarter, where IBM, FIS and XRX are all expected to under-grow the broader market, NOW and CSC are expected to outgrow the S&P at some 1.42 to 11.11 times its growth rate. NOW is seen still in the lead next quarter as the only company to outpace the market's growth.
Over the next year, the top trio of IBM, FIS and XRX is again seen underperforming the market, while NOW and IMS outperform at 10.46 and 1.16 times the market's rate respectively. In a twist, CSC slips into 5th place among the six.
Yet over the next five years, the second trio ranks 1st, 3rd and 4th in earnings growth, while the top trio ranks 2nd, 5th and 6th, with NOW again leading the way at some 5.90 times the S&P's average growth rate.


Yet there is more than earnings growth to consider when sizing up a company as a potential investment. How do the three compare against one another in other metrics, and which makes the best investment?
Let's answer that by comparing their company fundamentals using the following format: a) financial comparisons, b) estimates and analyst recommendations, and c) rankings with accompanying data table. As we compare each metric, the best performing company will be shaded green while the worst performing will be shaded yellow, which will later be tallied for the final ranking.
A) Financial Comparisons
• Market Capitalization: While company size does not necessarily imply an advantage and is thus not ranked, it is important as a denominator against which other financial data will be compared for ranking.

• Growth: Since revenues and expenses can vary greatly from one season to another, growth is measured on a year-over-year quarterly basis, where Q1 of this year is compared to Q1 of the previous year, for example.
In the most recently reported quarter, NOW delivered the greatest trailing revenue growth year-over-year while CSC delivered the least, even shrinkage.
Since NOW's and CSC's trailing earnings growth is not available, the metric does not factor into the comparison. Though it is worth noting that IMS suffered earnings shrinkage.

• Profitability: A company's margins are important in determining how much profit the company generates from its sales. Operating margin indicates the percentage earned after operating costs, such as labor, materials, and overhead. Profit margin indicates the profit left over after operating costs plus all other costs, including debt, interest, taxes and depreciation.
Of our three contestants, CSC operated with the widest profit margin, IMS enjoyed the widest operating margin, while NOW suffered from the narrowest margins. All three companies suffered from negative profit margins denoting loss.

• Management Effectiveness: Shareholders are keenly interested in management's ability to do more with what has been given to it. Management's effectiveness is measured by the returns generated from the assets under its control, and from the equity invested into the company by shareholders.
For their managerial performance, CSC's management team delivered the greatest returns on assets and equity, while NOW's team delivered the smallest returns on both, which were negative along with IMS' return on equity, denoting loss.

• Earnings Per Share: Of all the metrics measuring a company's income, earnings per share is probably the most meaningful to shareholders, as this represents the value that the company is adding to each share outstanding. Since the number of shares outstanding varies from company to company, I prefer to convert EPS into a percentage of the current stock price to better determine where an investment could gain the most value.
Of the three companies here compared, CSC provides common stock holders with the greatest diluted earnings per share gain as a percentage of its current share price, while IMS' DEPS over current stock price is lowest.

• Share Price Value: Even if a company outperforms its peers on all the above metrics, however, investors may still shy away from its stock if its price is already trading too high. This is where the stock price relative to forward earnings and company book value come under scrutiny, as well as the stock price relative to earnings relative to earnings growth, known as the PEG ratio. Lower ratios indicate the stock price is currently trading at a cheaper price than its peers, and might thus be a bargain.
Among our three combatants, CSC's stock is the cheapest relative to forward earnings, company book value and 5-year PEG, where IMS' stock is tied as cheapest to 5-year PEG. At the overpriced end of the spectrum, NOW's stock is the most expensive relative to all ratios.
B) Estimates and Analyst Recommendations
Of course, no matter how skilled we perceive ourselves to be at gauging a stock's prospects as an investment, we'd be wise to at least consider what professional analysts and the companies themselves are projecting - including estimated future earnings per share and the growth rate of those earnings, stock price targets, and buy/sell recommendations.
• Earnings Estimates: To properly compare estimated future earnings per share across multiple companies, we would need to convert them into a percentage of their stocks' current prices.
Of our three specimens, CSC offers the highest percentage of earnings over current stock price for all time periods, while NOW offers the lowest percentage for all periods.

• Earnings Growth: For long-term investors this metric is one of the most important to consider, as it denotes the percentage by which earnings are expected to grow or shrink as compared to earnings from corresponding periods a year prior.
For earnings growth, NOW offers the greatest growth overall, where IMS offers the slowest growth near term and CSC offers it longer term.
Since IMS' current quarter EPS growth is not available, the metric does not factor into the comparison. Though it is worth noting that NOW's current quarter earnings growth is superior to CSC's.

• Price Targets: Like earnings estimates above, a company's stock price targets must also be converted into a percentage of its current price to properly compare multiple companies.
For their high, mean and low price targets over the coming 12 months, analysts believe IMS' stock offers the greatest upside potential and least downside risk, where CSC's offers the least upside and greatest downside.

• Buy/Sell Recommendations: After all is said and done, perhaps the one gauge that sums it all up are analyst recommendations. These have been converted into the percentage of analysts recommending each level. However, I factor only the strong buy and buy recommendations into the ranking. Hold, underperform and sell recommendations are not ranked since they are determined after determining the winners of the strong buy and buy categories, and would only be negating those winners of their duly earned titles.
Of our three contenders, NOW is best recommended with 10 strong buys and 13 buys representing a combined 92% of its 25 analysts, followed by IMS with 5 strong buy and 5 buy ratings representing a combined 66.66% of its 15 analysts, and lastly by CSC with 1 strong buy and 5 buy recommendations representing 31.25% of its 16 analysts.

C) Rankings
Having crunched all the numbers and compared all the projections, the time has come to tally up the wins and losses and rank our three competitors against one another.
In the table below you will find all of the data considered above plus a few others not reviewed. Here is where using a company's market cap as a denominator comes into play, as much of the data in the table has been converted into a percentage of market cap for a fair comparison.
The first and last placed companies are shaded. We then add together each company's finishes to determine its overall ranking, with first place finishes counting as merits while last place finishes count as demerits.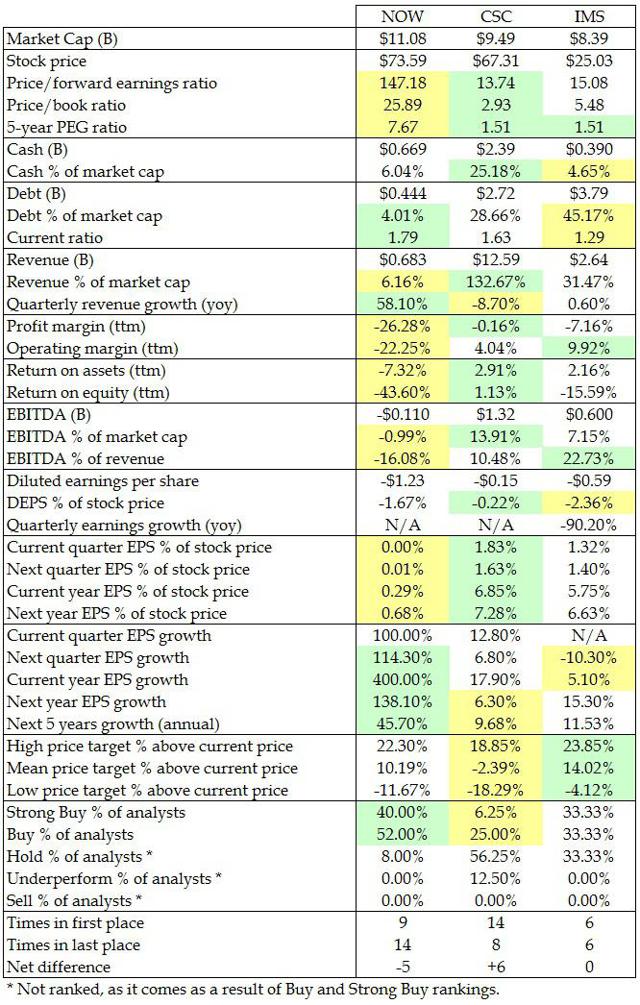 And the winner is… CSC with a technologically advanced victory, outperforming in 14 metrics and underperforming in 8 for a net score of +6, with IMS far behind, outperforming in 6 metrics and underperforming in 6 for a net score of 0, and NOW in need of an upgrade, outperforming in 9 metrics and underperforming in 14 for a net score of -5.
Where the Information Technology Services industry is expected to underperform the S&P broader market significantly this quarter and next, then outperform significantly next year and beyond, the next three largest U.S. companies in the space are expected to outgrow the broader market in earnings growth this quarter, next year and beyond, outgrowing even the three largest U.S. companies in the industry for the most part.
Yet after taking all company fundamentals into consideration, Computer Sciences Corporation delivers the strongest financials given its lowest stock price to forward earnings, company book and 5-year PEG, highest cash/revenue/EBITDA over market cap, widest profit margin, most returns on assets and equity, highest diluted earnings over current stock price, and highest future earnings over current stock price in all time periods - decisively winning America's Next 3 Information Technology Services Companies competition.