Although shares of coal mining firms have sold off over the past few months, a surge in metallurgical (met) coal prices had enabled the group to outperform handily in the second half of 2010 and early 2011.
The met coal used in steelmakers' blast furnaces contains much more energy per ton than the thermal coal that power plants burn to generate electricity. Australia accounts for roughly two-thirds of global seaborne exports of met coal and is a key supplier of coal to Asia. About 85% of the nation's met coal output comes from the Bowen Basin in Queensland. Operational disruptions in this region can send the price of met coal soaring.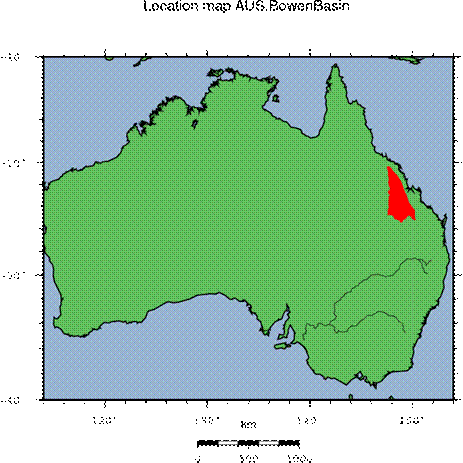 Source: Earthbyte.org
In late 2010 and early 2011, severe flooding from torrential rains forced many coal mines to halt production. Not only did producers have to pump water from their mines before resuming operations, but damage to the region's railroads and ports also crimped exports. At the height of the crisis, seaborne shipments of Australian coal declined by as much as 40% from year-ago levels.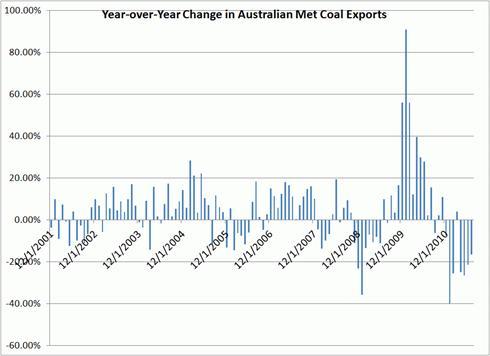 Source: Bloomberg, Australian Bureau of Agriculture and Resource Economics
With Australia's largest producers declaring force majeure to relieve themselves of contractual obligations, their customers scrambled to secure sufficient supplies. This touched off a global supply squeeze. U.S. coal exports to Europe boomed, as countries that historically exported met coal to the EU diverted their cargos to Asia.
In the third quarter of 2010, the contract price for met coal exported from Australia to Asian customers was USD209 per metric ton. This price surged to USD225 per metric ton in the fourth quarter, before topping out at roughly USD330 per ton in the first and second quarters of 2011. This sharp increase in contracted prices offset lost tonnage for many Australian producers.
Not all of Australia's coal exports are priced according to quarterly contracts. Some producers have long-term supply contracts with their customers. Others sell a percentage of their output on the spot market for immediate delivery. Meanwhile, higher grades of met coal tend to command a significant price premium. Dividing the total value of Australian met coal exports by the total volume yields the average price per ton and provides a good indication of the industry's profitability.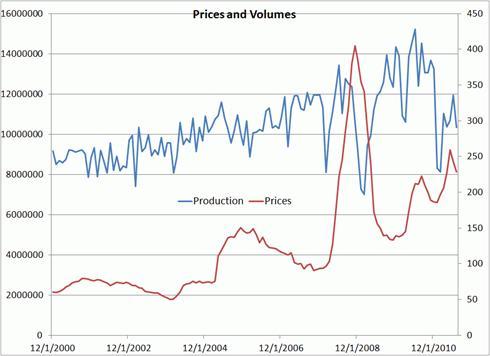 Source: Bloomberg
The data depicted in these graphs explains why met coal prices have moderated in recent months. In July 2011, Australian exports of met coal had declined by 16.6% from year-ago levels, while coal production has continued to recover from the devastating floods. Producers generally expect met coal production and exports to normalize gradually in coming months. This dynamic has lowered the contract price for the fourth quarter of 2011 to USD285 per metric ton. Meanwhile, the average price of Australian exports of met coal declined to roughly AUD228 in July from AUD260 in May. Although the price of met coal has declined from the stratospheric levels that prevailed in the first and second quarters, both the contract and average prices are significantly higher on a year-over-year basis.
Nevertheless, shares of coal mining firms have pulled back amid fear that slowing economic growth in the developed world will erode demand for seaborne met coal.
But the Federal Reserve's Beige Book noted that steelmakers' capacity utilization rate remained at a record high and that inventories remained tight in the Federal Reserve Bank of Chicago's district. In August, U.S. steel production rose to the highest level in three years.
And China is the primary driver of global met coal demand: Not only does the U.S. produce far less steel than China in a given month - 8 million metric tons versus almost 60 million metric tons - U.S. steelmakers tend to rely more heavily on electric arc furnaces that use scrap metal to produce steel. As you can see, Chinese steel production continues to hover near its record high.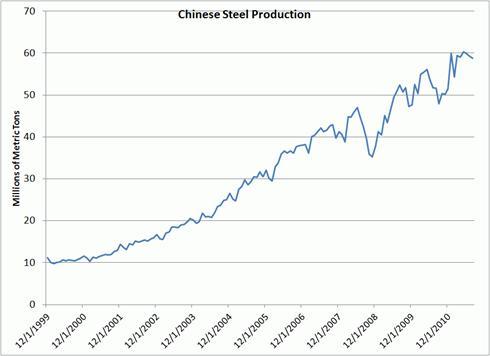 Source: Bloomberg
The relative resilience of Chinese steel production at the height of the Great Recession demonstrates that the country's met coal demand is a secular - not a cyclical - growth trend. Although China is the world's largest steel producer, the nation consumes only 466 kilograms (kg) of steel per capita, compared to more than 800 kg in both Japan and South Korea. China's population of more than 1 billion people means that a small increase in per capita steel demand produces an outsized effect on global consumption. India's annual steel demand amounts to only 55 kg per capita. Over the next three decades, China, India and other Asian emerging markets are expected to account for more than 90% of the growth in global coal demand.
In the short run, the price of Australian met coal exports was bound to moderate as production recovered. Further downside may be in the cards, but met coal prices may not return to their year-ago levels because of permanent damage to some mines.
Meanwhile, the tight supply-demand balance in the market for seaborne met coal means that another major supply disruption could send prices through the roof. Long-range weather forecasts indicate that Queensland and the Bowen Basin are at elevated risk of above-average precipitation during this year's rainy season.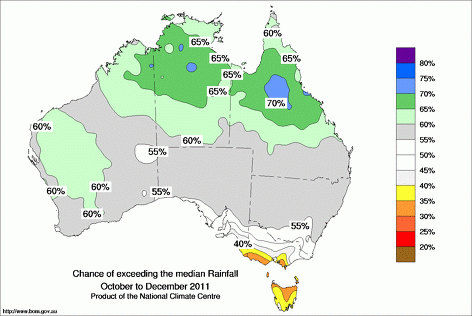 Source: Bloomberg
Nevertheless, short-term demand trends are notoriously difficult to forecast. Despite robust steel production, U.S.-based coal mining outfit Alpha Natural Resources (ANR) on Sept. 21 lowered its met and thermal coal production forecast. The firm cited production issues at two major mine complexes, a major customer reneging on its contract by declaring force majeure, and softening Asian demand for met coal.
While plenty of news services seized on management's comments about demand for met coal, other producers that have lowered forecasts have cited production shortfalls or mining problems - not a lack of demand. Some of this weakness may stem from the quality of the coal. Demand for lower grades of met coal tends to fluctuate more frequently than demand for high-quality varietals.
In a demonstration of how worried investors are about Asian coal demand, shares of Alpha Natural Resources lost 11% of their value after the company announced its disappointing production forecast. Although the traumatic memories of the Great Recession and credit crunch loom large in many investors' minds, Asian demand for met coal remains robust.
The recent drop in Chinese consumer prices is another positive development for Australia's coal mining industry. If the government's efforts to cool the country's overheated economy continue to lower the inflation rate, the monetary authorities won't face as much pressure to implement additional restrictions. If economic activity in the developed world continues to slow, China might dip into its 2008-09 playbook and implement stimulative policies to protect its domestic economy.
For the past several years, Australia and Indonesia have battled for the title of the world's leading exporter of thermal coal. The same flooding that disrupted Australia's met coal production also reduced its output of thermal coal, pushing up prices for Asian utilities. That being said, this price increase wasn't as pronounced because Australia's share of the thermal-coal market pales in comparison to its dominance of the market for met coal.
As Roger Conrad and David Dittman point out in their report, Awesome Australia, over the long term, rising demand from India will drive Asian demand market for thermal coal. To meet rapidly increasing demand for electricity, India continues to construct a system of massive coal-fired power plants as part of a USD1 trillion investment in critical infrastructure over the next five years. Although India may not build as many coal plants as China, its middling domestic supply of thermal coal forces it to rely heavily on imports.
The Peabody Play
Peabody Energy (NYSE:BTU) has amassed extensive operations in Australia through a series of acquisitions and expansions of existing mines. The company has two new projects underway at its Burton and North Goonyella met coal mines, each of which will increase productive capacity by at least 1 million metric tons. The firm is also adding significant export capacity at its Wambo and Wilpinjong mines in New South Wales. Commensurate with these expansions, the firm also continues to invest in infrastructure projects to ensure that its coal reaches export markets in a timely and efficient fashion.
Peabody Energy, which I first covered in my Investing Daily article, A Tale of Two Industries, is the largest pure-play coal mining firm in the world and the best of its breed. Over the past eight years, management has transformed the company from a pure-play on the U.S. coal market to a global powerhouse that boasts extensive operations in Australia. In 2003 the company generated 99% of its pre-tax income in the U.S. Today, these operations account for only 48% of its pre-tax income.
The firm spun off its CAPP assets as Patriot Coal (PCX) to focus on taking advantage of low-cost production from the PRB and Illinois Basin. To unlock additional value from these operations, management continues to explore ways to boost exports of PRB coal to Asia.
All told, Peabody Energy plans to grow its Australian coal production to as much as 40 million metric tons by 2015 - a substantial increase from the 27 million metric tons that the firm produced in 2010. Output of met coal would increase from 10 million metric tons to as much as 15 million metric tons.
A number of recent developments also warrant investors' attention.
Peabody Energy and steelmaker ArcelorMittal (NYSE:MT) have launched a joint USD5.2 billion bid for Australia's Macarthur Coal, the world's leading pulverized coal injections (PCI). This type of coal is crushed into a fine powder and injected into blast furnaces as a partial replacement for met coal in the production of pig iron.
Macarthur Coal's board has advised shareholders to approve the deal before the Oct. 14 deadline. Some analysts have complained that Peabody Energy is overpaying for Macarthur Coal, but the involvement of one of the world's involved suggests that the long-term demand is there.
Disclosure: I have no positions in any stocks mentioned, and no plans to initiate any positions within the next 72 hours.