This is what the 10-year UST yield would look like if QE1, QE2 and QE3 had not been implemented.
The chart is a 10-year UST model estimated until mid-2009. You can see how far we stand from "normal" ("fair" is not appropriate) value. Given VIX, growth and S&P 500 returns, normality would suggest yields at 3%.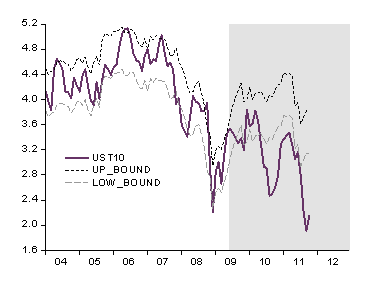 This is what is referred to as a "new normal." Real rates reflect prospects of very weak growth ahead (TIPS and 10 year nominal interest rates deflated by five-year ahead inflation expectations).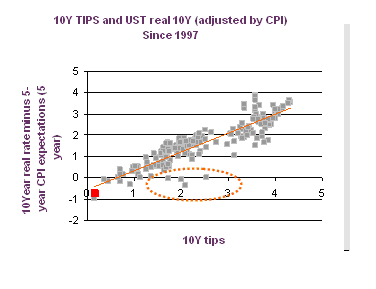 If rates only reflected risk aversion, they would stand on the right hand side of the chart as they did during the sharp increase of risk aversion in late 2008/early 2009.
The most striking correlation break is visible on the chart below, which highlights the distance of UST 10-year yield and the level suggested by the economic news flow (the relationship held well through QE1 and QE2).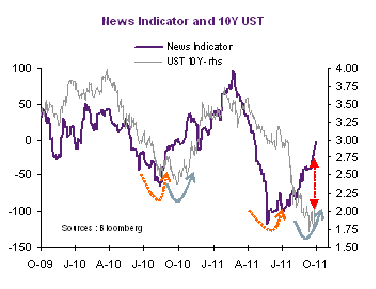 The economic news flow has historically been a good leading indicator of turning points for the UST 10-Year. Recent moves would suggest higher yields in the near future. Targeting the 3% ratio would seem ill-advised unless you believe that the worst of the bear market is behind us for stocks. But if you consider – like Natixis – that the U.S. economy will face a soft patch of growth and not a recession, much higher levels may be considered for the UST 10-Year in the near future.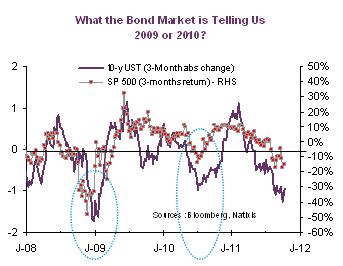 The chart above is a nice illustration of what is at stake:
Either stocks and rates will go hand in hand as they did in 2008 (unlikely), or it will look like 2010 again.
The recent stock market recovery may be here to last. This would mean there is a 100bp upward potential for 10-year yields (10-year vs. Fed Funds spread stands at 190bps vs. 348bps in early February 2011).
Technical analysis would support this view. As the weekly indicators have picked up, we anticipate a stronger rally over the next few weeks toward the 2.42 barrier ahead of the 2.62 resistance (weekly Bollinger moving average and rising trendline. The latter resistance is crucial in the MT trend as its break would undermine the weekly downside parallels, paving the way for a larger recovery to 2.83 ahead of the 2.95 barrier.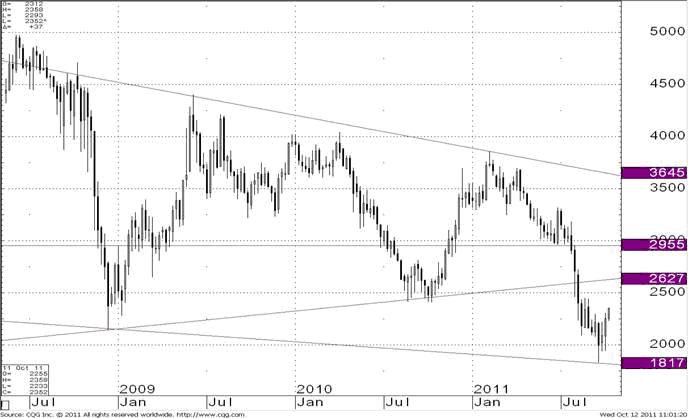 Or, there is residual downside risk for stocks, and yields could quickly retrench below the 2% threshold – especially since Operation Twist has just been implemented and safe haven flows might return in full force. Since 2012 expected EPS are still very high, valuation-driven increases should be limited.
The stock market rally might be short-lived but there is still some room for higher levels for the indexes.
Our main focus is clearly not the stock/bond arbitrage, but the necessary re-coupling of interest rates with the economic environment
. Hopefully it will happen on the upside ... It's a good time to pay fixed.
Disclosure: I have no positions in any stocks mentioned, and no plans to initiate any positions within the next 72 hours.