Research In Motion (RIMM) had already lost its mojo, its once dominant market share, its cost advantage and its technology lead. There was only one pillar left standing – millions of users across the globe who depended on their Blackberries as a robust and reliable method of communication.

In my article What Is the True Value of Research In Motion?, I described various potential scenarios for RIM. Here is one of the scenarios from the article:
A major restructuring would involve replacing Research In Motion's top management and cutting its work force by 70%. In such a scenario, Research In Motion would focus to become a market leader for those users where security is of utmost importance.
In the case of RIM, security and reliability go hand in hand. Now RIM has been suffering from an outage for three days and still there is no fix. Here is the status report from RIM site:
BlackBerry Service Update

Wednesday 12th October – 16:12 (GMT-5)
RIM is aware of a hoax message that has been circulated recently amongst certain BlackBerry Messenger (BBM) users. This is a hoax chain message. The message did not originate from RIM and does not impact the security of BlackBerry smart phones. Hoax messages are unfortunately an industry-wide issue. Any social messaging application on any platform, mobile or PC can be used to attempt to convince users to forward such hoax messages to one or more of their contacts. RIM recommends that users simply ignore the message and do not forward it, since this would only serve to expand the reach of the hoax message.


Wednesday 12th October - 15:00 (GMT-5)
Listen to the BlackBerry Service Update Press Conference.


Wednesday 12th October – 14:38 (GMT-5)
We continue to work on clearing the message backlog in order to eliminate delays. Thank you for your patience.
Wednesday 12th October – 9:45 (GMT-5)
BlackBerry subscribers in the Americas may be experiencing intermittent service delays this morning. We are working to resolve the situation as quickly as possible and we apologize to our customers for any inconvenience. We will provide a further update as soon as more information is available.
Wednesday 12th October – 12:00 (GMT+1)
We know that many of you are still experiencing service problems. The resolution of this service issue is our Number One priority right now and we are working night and day to restore all BlackBerry services to normal levels. We will continue to keep this page updated.
Tuesday 11th October - 21:30 (GMT+1)
The messaging and browsing delays that some of you are still experiencing were caused by a core switch failure within RIM's infrastructure. Although the system is designed to failover to a back-up switch, the failover did not function as previously tested. As a result, a large backlog of data was generated and we are now working to clear that backlog and restore normal service as quickly as possible. We sincerely apologize for the inconvenience caused to many of you and we will continue to keep you informed.
Tuesday 11th October - 16:00 (GMT+1)
Some of you are experiencing messaging and browsing delays. We are working to restore normal service as quickly as possible and we apologize for any inconvenience this has caused.
Monday 10th October - 20:46 (GMT+1)
Our sincere apologies to all of you affected by today's BlackBerry service issues.
Monday 10th October - 15:00 (GMT+1)
We are currently working to resolve an issue impacting some of our BlackBerry customers in the Europe, Middle East and Africa region. In the meantime, we apologize to you for any inconvenience, and thank you for your patience.

The extended outage has now caused the last standing pillar for RIM to fall – RIM no longer has an aura of reliability.
The Internet is full of chatter from frustrated users who want to switch over to the Apple (NASDAQ:AAPL) iPhone or Google (NASDAQ:GOOG) Android. People are even talking about finding Microsoft (NASDAQ:MSFT) Windows phone acceptable.
In my article Research In Motion On Way To $20, I predicted that RIM will hit $20.00. As the chart shows it did not take long for my prediction to come true.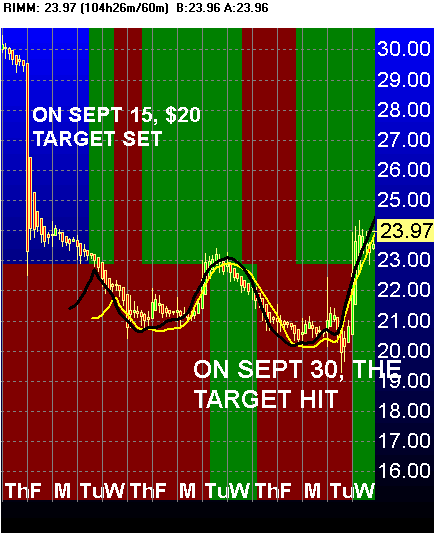 As a result of this outage, the Quantitative Screen of the ZYX Change Method shows the fair value of RIM to be $18.00. Those still holding the stock may consider taking advantage of the recent run up and selling the stock. Aggressive investors may consider short selling RIM on any bounce.
Disclosure: I am long AAPL.

Additional disclosure: I am long on AAPL from $131. and profits were taken on 50% of the position at $360. Subscribers to ZYX Buy Change Alert may have a similar position in AAPL. When all six screens of the ZYX Change Method are met, I intend to short sell RIM. Such signal will be provided in real time on the Real Time Feed of ZYX Short Sell Change Alert.