I'm late to Ezra Klein's big article about whether the Obama administration could have avoided our current economic woes, because I was having dinner last night with the head of the Bureau of Economic Analysis, and I wanted to see what he had to say first. And I'm glad I did!
In any case, here's Ezra, who looks at the famous chart projecting falling unemployment with the stimulus plan — something which, obviously, never happened.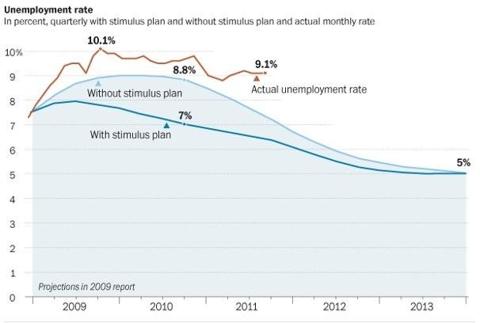 To understand how the administration got it so wrong, we need to look at the data it was looking at.

The Bureau of Economic Analysis, the agency charged with measuring the size and growth of the U.S. economy, initially projected that the economy shrank at an annual rate of 3.8 percent in the last quarter of 2008. Months later, the bureau almost doubled that estimate, saying the number was 6.2 percent. Then it was revised to 6.3 percent. But it wasn't until this year that the actual number was revealed: 8.9 percent. That makes it one of the worst quarters in American history. Bernstein and Romer knew in 2008 that the economy had sustained a tough blow; they didn't know that it had been run over by a truck.
This is an argument I'm very sympathetic to. There's a counter-argument, which Ezra goes into at some length, which says that even if we'd known how bad the economy was at the end of 2008, it simply wasn't politically possible to get a bigger stimulus than the one we got. But how far off were we, really? I talked to the director of the BEA, Steve Landefeld, last night, and he made the case that we weren't all that far off. If he's right, the Romer and Bernstein projections wouldn't have been all that different even if we'd known the exact figure.
One thing it's important to remember, here, is that the numbers Ezra's quoting are quarterly figures which are then annualized by raising them to the fourth power. So what we're actually talking about, for the fourth quarter of 2008, was en estimate that the economy had shrunk by 0.9% that quarter, which was ultimately revised to say that the economy had in fact shrunk by 2.2%. That's a big difference, of 1.3% of GDP in one quarter alone. So how come, if you look at the size of the recession as a whole, the revision actually seems to shrink, to just 1%?
The revised estimates show that for the period of contraction from 2007:Q4 to 2009:Q2, real GDP decreased at an average annual rate of 3.5 percent; in the previously published estimates, it had decreased at a rate of 2.8 percent. The cumulative decrease over the six quarters of contraction is now estimated as 5.1 percent, compared with 4.1 percent in the previously published estimates.
The problem here is that the "previously published estimates" were the ones which came out a few months after the Romer-Bernstein graph, showing the economy shrinking by 6.3% in the fourth quarter of 2008. Here's the BEA's chart; note that it simply doesn't show the 3.8% estimate.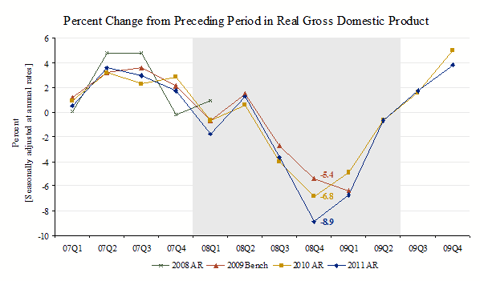 But what this chart does show is that the really big miss, as far as GDP statistics are concerned, was in the fourth quarter; the other quarters weren't nearly as bad. And I just don't believe that a single datapoint for advance GDP would have thrown off the unemployment estimates of some of the world's smartest economists by that much. Would Romer and Bernstein have projected slightly higher unemployment numbers if they'd known the truth about GDP? Probably. But I doubt they'd have been substantially higher. And there's no way that their "with stimulus plan" estimates would have gotten anywhere near 10%.
Ezra does a very good job of explaining why that is. Romer and Bernstein were basically treating the recession as though it were a common-or-garden cyclical downturn. Which was a big mistake, and one which was pointed out in March 2009 by Carmen Reinhart and Ken Rogoff. "The recessions that follow in the wake of big financial crises tend to last far longer than normal downturns, and to cause considerably more damage," they wrote, adding that "so far the U.S. experience has mirrored past deep banking crises around the world to a remarkable extent". And economies simply do not recover quickly from deep banking crises — financial crises, as a rule, cause L-shaped recessions rather than V-shaped ones.
The fiscal prescription for an L-shaped recession is very different from the fiscal prescription for a V-shaped recession. And what we got was a prescription for something which would accelerate the pace at which we recovered. It was not something which would try to fix the fundamental problem of overleverage, which both caused the crisis and which now threatens to hold back the economy for a decade or more.
Here's Ezra:
In late 2008, when the economy was cratering, Holtz-Eakin convinced McCain that the way out of a housing crisis was to tackle housing debt directly. "What we proposed at the time was to buy up the troubled mortgages, pay them off and let people refinance at the lower rates," he recalls. "That would have filled up the negative equity and healed bank balance sheets."

To this day, Holtz-Eakin thinks the proposal made sense. There was one problem. "No one liked that plan," he says. "In fact, they hated it. The politics on housing are hideous."

The Obama administration, perhaps cognizant of the politics, was not nearly so bold. It focused on stimulus rather than housing debt. The idea was that if people could keep their jobs and pay their bills, they could pay their mortgages. But today, few on the Obama team will mount much of a defense of its housing policy.
Overall, I'm still unhappy with the state of macroeconomic statistics. I'm not necessarily unhappy with the BEA itself, which basically just has the job of cobbling together GDP data from a very disparate set of inputs, many of which — especially when it comes to the financial sector — are of surprisingly low quality. But I do think that we'd be much better off with a coherent, unified, and well-funded system of data-gathering, rather than outsourcing it to dozens of different public and private sources.
And I'm definitely (albeit with hindsight) unhappy with the way in which the Obama administration hasn't even tried to fundamentally tackle the enormous amount of debt in the US economy, and the way in which that debt overhang is likely to hold back economic growth for the foreseeable future. We're turning Japanese, here, and we're not doing a damn thing about it.