On Wednesday, MasterCard Inc. (NYSE:MA) and Visa Inc (NYSE:V), the two largest credit cards and payment networks, were sued by the National ATM Counsel, Inc., a trade group representing operators of automated teller machines. The trade group claims that Visa and MasterCard fix prices and suppress competition between ATM networks.
The group filed the claim in federal court in Washington, alleging Visa and MasterCard committed antitrust violations. The Durbin amendment of the Dodd-Frank Wall Street Reform and Consumer Protection Act of 2010 prohibits exclusive arrangements between a card issuer and a single debit network provider, or two affiliated providers. The amendment also allows merchants to route debit card transactions to any network enabled on the debit card.
The complaint essentially claims that MasterCard and Visa are restricting independent ATM operators from charging differing prices for customers using alternative networks such as STAR and TransFund, because the operators are restricted from charging reduced fees to competing networks under a uniform agreement with Visa and MasterCard.
"The ATM restraints prevent ATM operators from offering their customers a discount or benefit for completing a transaction over a network that is less costly to the ATM operator," the complaint argues, adding that their ATM users should be "rewarded for using a lower-cost and more efficient network."
Recently, these credit card companies have had to accept reduced and restricted fees to merchants for debit-card purchases, due to government and Federal Reserve requirements. This complaint represents another potential reduction to the profit margins that MasterCard and Visa can expect to maintain, going forward, as the volume of card-based transactions continues to grow and other financial institutions and ventures compete for some market share.
Visa has appreciated nearly 30% so far in 2011. See Visa's 2011-to-date chart below: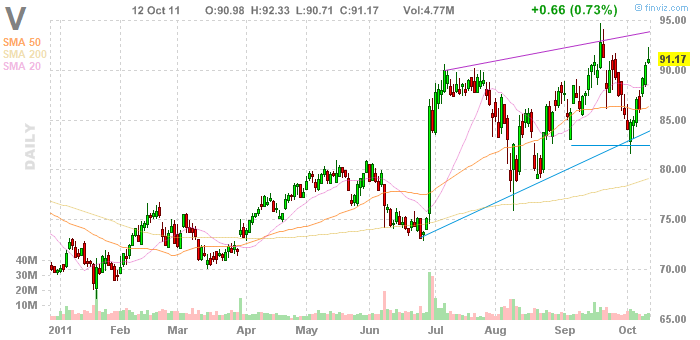 MasterCard has appreciated over 45% so far in 2011. See MasterCard's 2011-to-date chart below: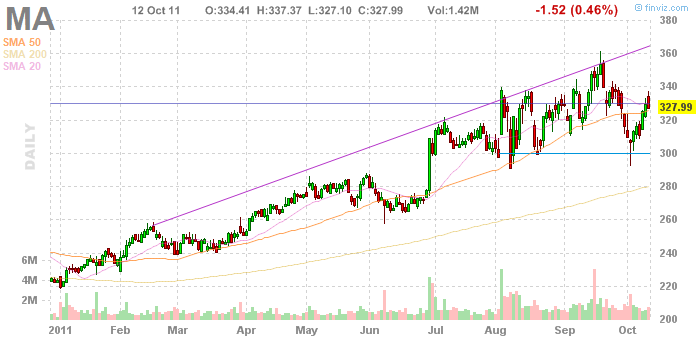 Both Visa and MasterCard have outperformed most other financials and the broader market this year, largely after the market learned that the recent above-mentioned federal restrictions were not going to be as harsh as feared. Beyond the banking networks you may find listed on the back of your debit card, other competitors to the powerhouses that are Visa and MasterCard include American Express (NYSE:AXP) and Discover Financial Services (NYSE:DFS), which both offer card-based alternatives, and payment networks such as eBay's (NASDAQ:EBAY) PayPal, Google (NASDAQ:GOOG) Wallet and even Western Union (NYSE:WU), the original payment network.
A growing number of transactions continue to migrate from cash and checks to credit cards, including most online transactions. Last year, MasterCard and Visa processed over half a trillion dollars worth of cash transactions in the United States alone. These powerhouse companies will likely have to accept lower fees or risk losing market share to some of their well-funded and long-term-oriented competitors.
Disclosure: I have no positions in any stocks mentioned, and no plans to initiate any positions within the next 72 hours.
Disclaimer: This article is intended to be informative and should not be construed as personalized advice, as it does not take into account your specific situation or objectives.