Over the years tech stocks have proved to have
exponential
gains when they break through the market. The obvious ones have been Apple (NASDAQ:
AAPL
), Google (NASDAQ:
GOOG
), LinkedIn (LNKD), etc. With good management and a solid vision, tech stocks continue to surprise. Below are 3 tech stocks that have proven well
throughout
the year, are cheap, and are worth a look.
RF Micro Devices Inc. (RFMD)
is in the Semiconductor - Integrated Circuits industry within the technology sector. It is currently trading at $6.81 with a 1-year target estimate of $8.17 (19.97% upside potential). The EPS is 0.37 with a P/E ratio of 18.47x. Debt to equity ratio is 23.40, which looks decent. The 5-day, 4-week, and 52-week price changes are 5.34%, 7.02%, and 5.01% respectively. George Soros also
loves this stock
, and currently owns 6.7 million shares. Keep in mind that there are always potential pitfalls that need to be addressed in order for a company to have sustainable continued growth. Below is a graph that shows that potential risks; the graph plots revenue growth against AR growth and DSO.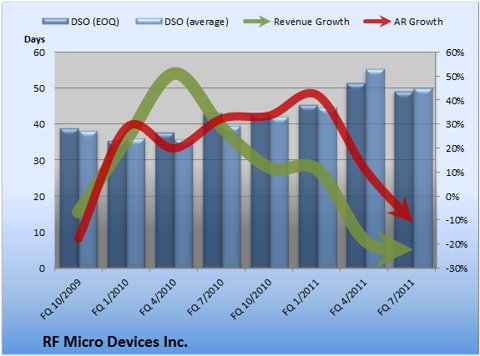 Another interesting piece of optimism for RFMD is its recent analyst upgrade from a hold to a buy.

American Software, Inc. (NASDAQ:AMSWA) is in the Application Software Industry within the Technology sector. It is currently trading at $7.68 with a 1-year target estimate of $12 (56.25% upside potential). This seems realistic since the 5-day, 4-week, and 52-week price changes are 2.96%, 2%, and 27.24% respectively. Current EPS is 0.32 with a P/E of 24.12x. I also like the fact that this company has 42.55M in cash on its books and no debt. Quarterly earnings growth yoy is 66.60% with a ROA of 6.91% and a ROE of 11.25%. The mean recommendation by analysts for this stock is also a buy.
Although the mean recommendation is a buy, it seems that the insiders are selling, this could be a signal of bad economic times or it could show potential downfall for the company. Insider information always shows us good information, and with AMSWA, insiders have been selling bits and pieces for quite some time; the percent change in institutional shares held is -2.57%. Despite the negative news, this company has seen profits for Q1 and Q2. In Q1 revenue rose 24 percent from a year prior to $23.7 million on licensing gains. In Q2 profits continued to spike, and EPS was 9 cents, up 80 percent. As we can see at the end of Q3, EPS is now at 32 cents. Despite adversity, this technology company seems to be right on track for continued, sustainable growth. More good news about this company include its annual dividend yield of 4.62%, and its 2010 cash acquisition of Optiant, Inc.

Zarlink Semiconductor, Inc. (OTC:ZLKKF) is an OTC stock, so extreme caution must be taken, but it is looking very attractive at a current price of $3.85. The 5-day, 4-week, and 52-week price changes are 3.52%, 7.24%, and 92.50% respectively, and if this continues, these numbers are good for any investor, but once again, proceed with caution. Current EPS is 0.43 with a P/E of 9.14x. ROA is 6.18% and ROE is 48.59%. One other thing to keep an eye on is the debt/equity ratio of 46.28. This company surprised not just me, but analysts, with a 33.3% surprise in earning for the current year and 20% surprise for the quarter. If it continues to surprise analysts and investors alike, this might be one to watch. Due to its exceptional performance there are talks about a takeover by Microsemi Corp. Microsemi is currently trading at $17.94, with a 1-year price target of $28.67. This takeover could be beneficial for investors seeking gains from takeover. Overall this is a good position at a cheap price.
Disclosure: I have no positions in any stocks mentioned, and no plans to initiate any positions within the next 72 hours.
Disclaimer: All Investments should be researched thoroughly. These are by no means recommendations, but rather are strictly informational.