Apple (NASDAQ:AAPL) shares continued to rally Thursday despite losses for the major U.S. stock indicators. An exchange traded fund indexed to the Nasdaq-100 that counts Apple as its top holding was in the green Thursday along with the tech stock.
Apple iPhone 4S will be unveiled Friday and wireless carriers are already sold out, according to reports.
Sales for Apple's new iPhone 4S surpassed 1 million in the first day of availability, breaking the company's own record of 600,000 sales for the iPhone 4.
The new phone hits the stores this Friday, but rumors are that SmartPhone fans are disappointed because the device appeared a mere follow-up to the previous iPhone 4. Analysts say the iPhone 4S is still a huge draw because more wireless companies will be stocking it and it is going to be distributed to more countries, reports Reuters. [Nasdaq ETF Rides Apple in Break Above 200-Day Moving Average]
The Apple fans that were unsure about the new phone may have this feeling overshadowed after the death of Steve Jobs, Apple co-founder. [RIM, Apple Weigh on Nasdaq-100 ETF]
"Many potential Apple customers, who have been on the fences before, will probably now want to (buy) it," Steven Osinski, marketing professor at San Diego State University said. [Apple's Bounce at 200-Day Moving Average Powers Nasdaq ETF]
"The preorders may also be part of respect for what Jobs has done," Barbara Sullivan, Managing Partner of Sullivan, a branding and marketing agency, said.
Apple shares have rallied back above $400 and were up 1% on Thursday. The stock can dominate equity benchmarks that weight components by market capitalization.
PowerShares QQQ (NASDAQ:QQQ) — Holds AAPL at 14% of the portfolio. Follows the Nasdaq-100.
iShars Dow Jones US Technology (NYSEARCA:IYW) — Holds AAPL at 17% of the fund.
PowerShares QQQ ETF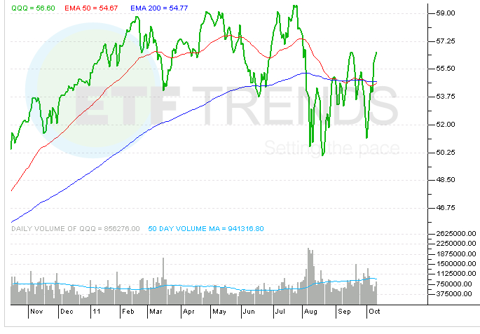 Tisha Guerrero contributed to this article.
Disclosure: None