In the recent past, I have written two articles that have discussed US Treasury bonds in some way or another. In one article, which discussed the dollar strength, I was of the view that US Treasuries are attractive for the near-term. In another article, which discussed the swelling government debt, I was of the view that US Treasuries can be avoided for the long-term. While I maintain my negative long-term view on Treasuries, this article discusses the important reasons that make US Treasuries the safest haven.
When talking about a 10-year Treasury bond, a yield of 2.14% seems dismal and one would question why an investor would invest in bonds that are likely to yield negative returns when adjusted for inflation. There are two parts to the answer and it explains why Treasuries remain attractive.
First, it is important to have a diversified portfolio and a risk-free investment should be at least 10% to 20% of the portfolio demanding on an investors risk profile. Diversification is the first reason why the demand for Treasuries is likely to sustain.
However, the second reason best explains why Treasuries will remain in favor in the foreseeable future when it comes to investment in risk-free asset classes. The chart below gives the long-term interest rate (government bonds with maturities of ten years or longer) for the US, euro area, Japan and Canada.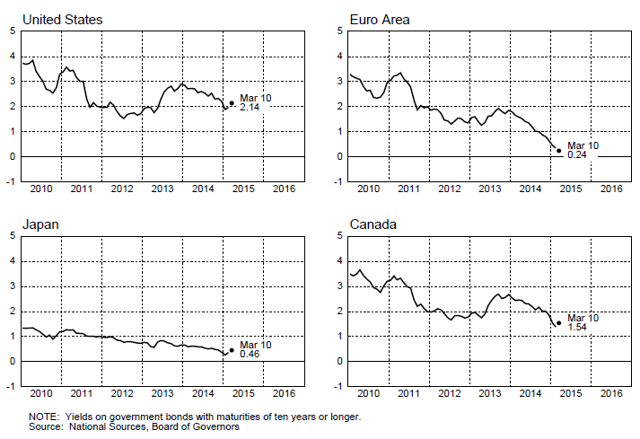 Very clearly, 10-year Treasury bonds offer the best yields among government bonds in developed markets. Besides providing the best yield among developed markets, the US economy is also the most resilient economy among developed markets. These two factors combine to make Treasuries the best safe haven for investors.
Traditionally, gold is also considered as a safe haven and this is especially true during times of expansionary monetary policies. However, gold has been significantly volatile to be considered as a safe investment when compared to Treasuries.
For the next one year, if I had to chose an investment option that is next best to Treasuries from a "safe haven" perspective, the US corporate bond market seems an obvious choice. The US economy remains resilient and the US corporate profit also remains robust. Just as an example, the Vanguard Long-Term Corporate Bond ETF (NASDAQ:VCLT) provides 46.2% exposure to A rated corporate bonds and 46.1% exposure to Baa rated corporate bonds. The ETF has an attractive SEC yield of 4.24% as of March 11, 2015.
Coming back to government bonds, the key point to note is that Japan's interest rate has remained artificially low and will continue to trade at those levels. For the euro zone, the bond yields are likely to remain suppressed considering the ongoing QE and considering the point that PIIGS have a huge debt refinancing program in the near-term.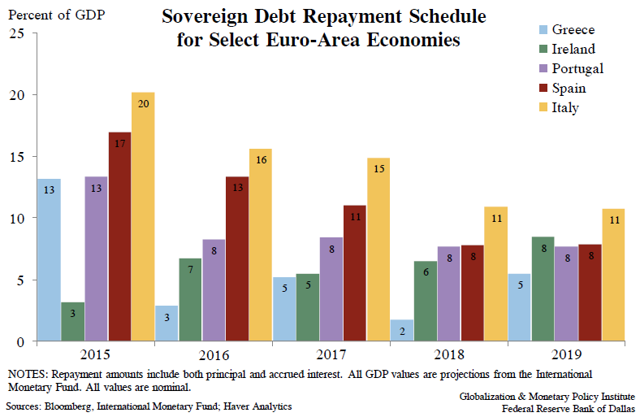 Therefore, even if a 1-2 year investment horizon is considered, Treasuries will remain the best investment option among developed market long-term government bonds. Vanguard Long-Term Government Bond ETF (NASDAQ:VGLT) is a good investment option with a SEC yield of 2.52% as of March 11, 2015.
I must add here that I expect the Fed to hike interest rates towards the end of 2015 or early 2016. If the US economy remains resilient, yield can get even more attractive in the coming quarters. In my view, yield of 2.5% to 3.0% on 10-year Treasury bonds is likely after a 25 basis points interest rate hike and I believe that this yield will certainly be attractive for investors considering the health of other developed market economies. Even among emerging economies, China is likely to struggle for the next few years as the country attempts to strike a finer balance between manufacturing and consumption.
Therefore, for investors seeking risk-free investments or very low risk investments, Treasury bonds and corporate bonds are the best option at this point of time. Considering the point that US equities (NYSEARCA:SPY) is trading near record highs, I believe that a 20% to 25% exposure to government and corporate bonds would make an individual's portfolio look secure.
Disclosure: The author has no positions in any stocks mentioned, and no plans to initiate any positions within the next 72 hours.
The author wrote this article themselves, and it expresses their own opinions. The author is not receiving compensation for it (other than from Seeking Alpha). The author has no business relationship with any company whose stock is mentioned in this article.