Last week, the USPTO granted a patent to Local.com (Nasdaq: LOCM) that appears to have significant implications for location based product and deal search offerings in the local space and has the potential to be the most valuable among a growing and increasingly valuable stable of local and directory search patents owned by Local.com.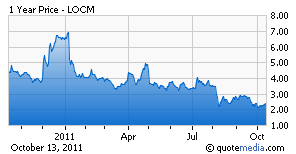 Patent #8,032,427 related to location based product search appears to encompass core aspects of services being offered by Groupon (NASDAQ:GRPN) (Groupon Now), Living Social (Instant) and Foursquare; and is part and parcel of the product search functionalities offered by eBay's Milo (Nasdaq: EBAY), Gannett's ShopLocal (NYSE: GCI), Jiwire's NearbyNow, Retailigence and Goodzer. This patent could offer LOCM one of its most significant opportunities for near term licensing revenue, as we believe that the patent encompasses core aspects of the local product search offerings of these companies. This niche is growing rapidly, attracting significant capital and most importantly for Local.com's purposes, the key players emerging in the space are not partners/revenue sources for Local.com.
While Local.com has other patents related to local search and directory services that are broad enough to encompass what other companies have been doing, the enforceability and potential for generating revenue have never been tested because the major "offenders" also happen to be the most significant sources of revenue for Local.com (Google (NASDAQ:GOOG), Yahoo/Bing (YHOO), SuperMedia (NYSEARCA:SPMD)) who have vastly more resources (cash and their own patent portfolios to fight back with) than Local.com has to wage such a battle.
We believe that the most immediate value for LOCM investors may be having such a "bird in the hand" that has the potential to add a very high margin source of revenue in 2012. While it may be too early to determine if Local.com will be able to become a patent license fee collecting "tollkeeper" for the larger technology players with location based service offerings, at a minimum, the addition of this patent to Locm's growing local search technology patent portfolio (9 granted, 8 pending) makes Local.com an increasingly attractive takeover target for a company with infringing operations that has the resources to actively pursue claims against its competitors (Google, Yahoo, Microsoft (NASDAQ:MSFT), eBay, Amazon (NASDAQ:AMZN)) or even a company with vast resources like Facebook that wants to gain a foothold in the local advertising space.