"There's no reason to suspect that Japan's experience of the past fifteen years has any real relevance in our country".
OK, it isn't an exact quote from anybody I've heard recently, but I've seen lots of quotes like it. You see, in the world of macroeconomics – and I say this with the greatest respect – nobody really wants to be compared with the recent economic experience of Japan. Since the turn of the millennium in 2000, for example, Japan's nominal GDP has actually contracted, and that's in stark contrast to the performance of its G7 peers, as the chart below shows (in contrast, the UK economy has grown by 80% in nominal terms over the same period).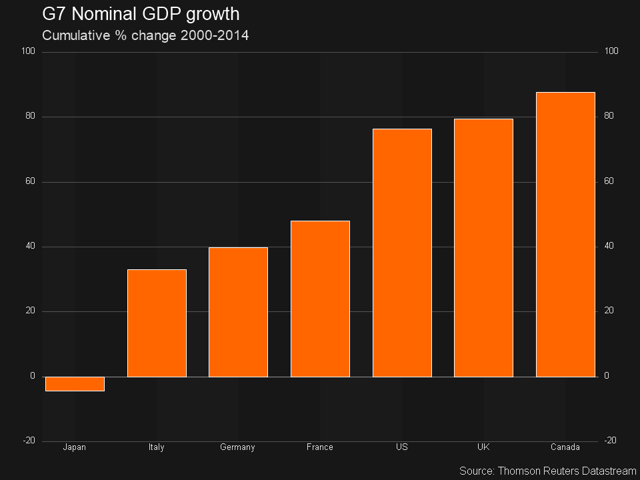 A surprising result with respect to stock market returns
I thought about the comparison between the UK and Japan a few days ago when the FTSE-100 equity index set a new all-time high at just under 7,000 (it is 200 points lower again as I'm writing this piece, though). You see, the previous FTSE high was set all the way back in 1999, on 31st December 1999 as it turns out. To take sixteen years to set a new high is a long time in anyone's book, and that reminded me of the prolonged slump in Japan's stock prices which, just slightly coincidentally, had set their all-time high exactly ten years (to the day!) earlier, at the end of 1989.
I know the FTSE has taken a long time to take out its old high in 1999, I thought to myself. But surely it had beaten the poor old Nikkei and the shrinking Japanese economy. Well, it turns out I was in for a shock, because the two indices – the UK FTSE and Japan's Nikkei – have done almost equally badly, as the next chart shows. Actually, as of yesterday, it's the FTSE which has done ever so slightly worse of the two since January 2000.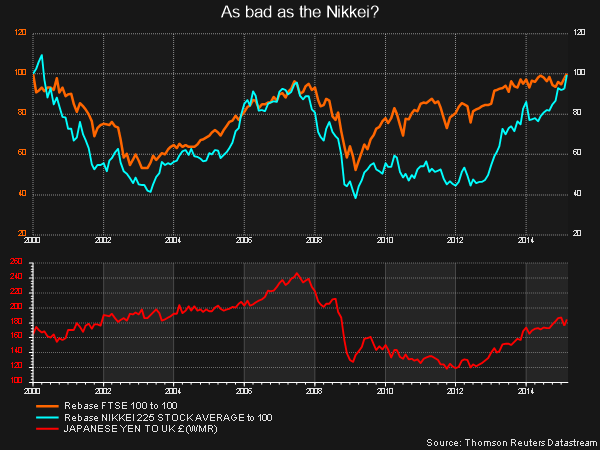 It was a sobering thought: to realize that UK stock prices in the past fifteen years have performed in capital terms no better than their equivalents in poor Japan.
Rethinking Japan's recent performance
I wondered if there was any consolation. Maybe the Nikkei had done better than I thought in the preceding fifteen years. Maybe preserving your capital over such a long time period was harder than it sounded as far as equities were concerned. I looked up the stock market performance of all the G7 economies. Right enough, Japan and the UK weren't at the bottom of the league at all, because stocks in Italy and in France had done even worse, as the next chart shows.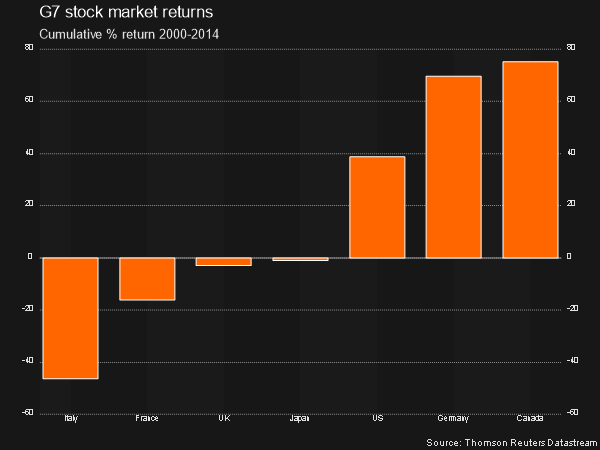 What about unemployment, I wondered. Because I remembered that, for all the lack of supposed growth in Japan, I'd never heard of them having any kind of unemployment crisis in the country, which is quite unlike Europe of late, of course. The International Labour Organisation publish unemployment data that's comparable across countries. Guess what: among the G7 nations, it's Japan that has the lowest rate of all.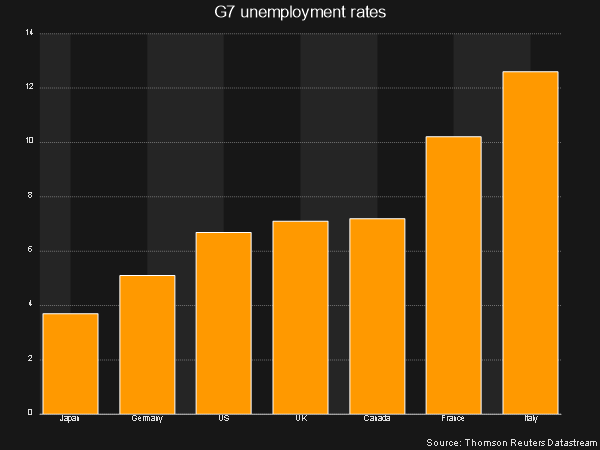 Think about that for a second: among the G7 countries, Japan has had the lowest nominal growth in its economy in the past fifteen years and yet also the lowest unemployment rate. It doesn't seem possible, does it? Perhaps, I thought, the companies have been clinging desperately on to workers under implicit instructions from the government, but at the cost of reduced efficiency (hence the languid stock prices) and poor productivity. Productivity statistics are not the easiest to understand, let alone compare across countries, but the OECD produces some numbers and, believe it or not, Japan does rather well, coming in third in the G7 league table behind only the US and UK.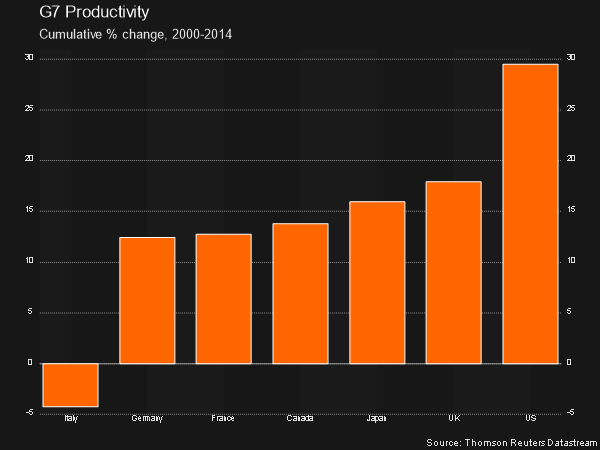 Let's recap. Japan might not have grown much since the turn of the millennium, but it's certainly kept its unemployment rate well under control, and it has done rather well with respect to productivity. Stock prices in Japan haven't gone up in capital terms, as they have done in some big countries such as the US and Germany, but at least they haven't gone down, as they've done in others such as France and Italy.
What about Japan's supposedly elderly population? Might that account for some of the differences between the various statistics (as in weak demand growth but low unemployment)? Well, yes. In the G7 nominal GDP race, for example, remember it was Japan that had finished last and Canada that had finished first. But guess what: in the G7 labor force race, it was the same result, with Japan at the bottom (with a falling labor force since 2000) and Canada at the top. Canada was at the top of the stock market performance table, too, it turns out.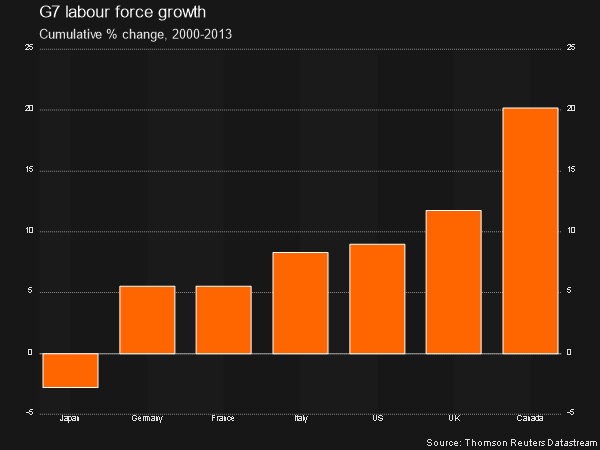 So, at least some of Japan's apparently weak performance of recent years seems like nothing more than its aging population. If true, the perhaps Japan's GDP per head would look rather better versus Japan's peers than using simple, aggregate GDP. On this basis, indeed, Japan does fare better, as the next chart shows. It's still sixth out of the G7 seven, to be fair, but the gap between the rest is now quite a lot smaller. In fact, since 2000, Japan's GDP per head has grown only 0.1% per year less than the UK and France, and 0.2% less than the US (the chart below makes it look bigger, but remember that this is the cumulative difference over fourteen years).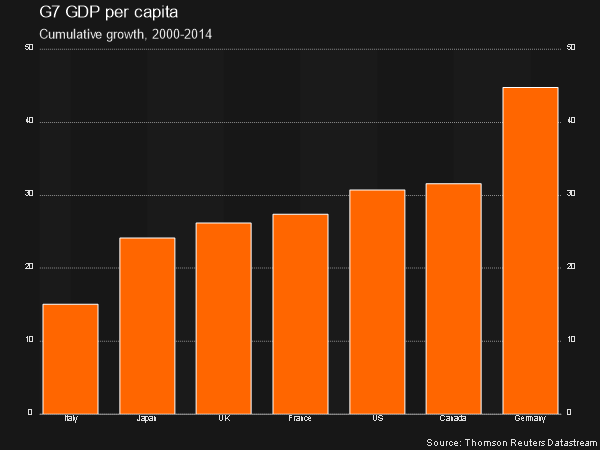 When I first realised that the FTSE had underperformed Japan's Nikkei over the past fifteen years, I thought it was awful, mostly because I thought that Japan's economic performance had been awful. On closer inspection, however, Japan's economic performance hasn't been as bad as it sounds, if for no other reason than straight GDP-to-GDP comparisons ignore demographic changes, which have been much more significant for Japan in the last fifteen years than its major G7 competitors.
Nonetheless, demographics are a big deal in economics: under-estimate them at your peril. And don't just take my word for it, because here is what Bundesbank President Jens Weidmann had to say about demographics just hours ago today as he presented the Bundesbank's 2014 Annual Report:
"Although the economic situation in Germany is good overall, in my view there is no cause for complacency on the part of economic policymakers. This is true especially given that the unfavourable demographic outlook will weigh heavily on the German economy in the medium term. To make matters worse, policy measures such as early retirement on a full pension at the age of 63 are already constraining the labour supply, thereby eroding growth opportunities."
In other words, even the currently mighty German economy might have difficulty sustaining her GDP vigor in the medium-term ahead on account of her changing demographics: regardless of what the euro does.