"Somebody's got to win and somebody's got to lose. I prefer letting the other guy lose."

- Pete Rose
If anyone doubts that the online restaurant reservations business model enjoyed by OpenTable (NASDAQ: OPEN) is about to undergo a major disruption, look no further than the forthcoming free reservations plugin by "Freebookings" and its potential hook-ups with the likes of Facebook and Google (NASDAQ: GOOG). Or to others like Eveve Software who offers reservations at up to 90% less than OpenTable, which will cause pricing pressure on fees charged to restaurants.
Having free or nearly free online restaurant reservations tied into Google Maps, Google Places, and Facebook will level the playing field so that restaurant reservations will finally be truly free. Lower overhead costs for restaurants ultimately will mean lower cost dining for customers.
OpenTable vs. Livebookings: The Two Key Players

--OpenTable is currently the largest online restaurant reservation company with over 20,000 restaurant clients and their stock has soared, reaching $118/share earlier this year -- a $2B market cap for a company with a mere $5M profits per quarter. Shares have retreated steadily since then as its growth rate appears to be slowing.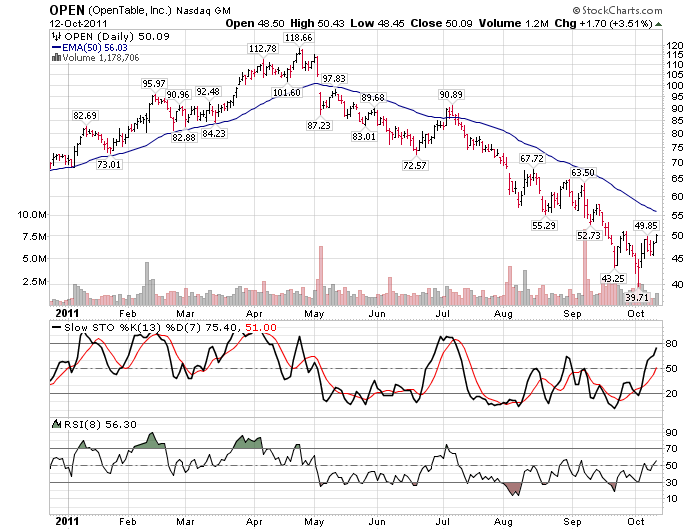 --From the other side of the pond, privately-held
Livebookings.com
is the second largest such company (over 9000 restaurants) and could be called the "OpenTable of Europe." But they have a strong US presence as well. Livebookings is the creator of the new Freebookings concept.
OpenTable made a foray into the Euromarket by purchasing a $55M UK company called Toptable in 2010 to gain about 5,000 restaurant clients. But OpenTable's European growth has been disappointing ever since their Toptable purchase. And with Europe's woes, Euro-restaurant seated-diner stats are unlikely to show any growth this quarter.
Livebookings Rolls Out A Free Reservations Model
Livebookings.com is OpenTable's most formidable competitor and it's becoming apparent that Livebookings is rethinking the "restaurant-must-pay" reservations business model. Both OpenTable and Livebookings currently have a "restaurant pays per seated diner" business model.
Based on various links to their Beta website, it appears that Livebookings will be undermining OpenTable's $1.00 per seated-diner model (costly to restaurants) by releasing their "Freebookings" plugin very soon.
It appears that their plugin will fit onto individual restaurant webpages or dovetail perfectly into the "Reservations" slot that shows on the Google Places page when you search for a restaurant.
The odd thing is that Freebookings would seem to kill Livebookings' own business model (in addition to OpenTable's)! But this is likely a pay-for-click revenue model rather than a pay-for-seated-diner model. (See below for more discussion).
The Freebookings online restaurant reservation software plugin will be not only free for diners, but it will be finally free for restaurants instead of the restaurant paying $1.00 per seated diner. The beta website also confirms that Freebookings.com is being offered by Livebookings
Google And Facebook Linkups
As for possible Google linkups, a Freebooking's blog explains how to optimize restaurant search engine results with Google. And there are also ties to Facebook.
So it's clear Freebookings.com is intently focused on integrating with the two major social media players.
And note that Google is clearly interested in getting into reservations for travel because they purchased ITA Software last year -- a move that had market pundits saying Google will be competing with Travelzoo (NASDAQ:TZOO) and Expedia (NASDAQ:EXPE).
So there is no reason why Google would not want to draw "Restaurant Reservation Eyeballs" to Google in addition to the usual restaurant searches and commentary.
Google also made a compelling presentation on how to use Google on a smartphone to search for restaurants and looking at restaurant reviews (long before they bought Zagat). Again underscoring that Google is indeed interested in the huge volume of activity associated with restaurant searching, commentary, and reservations.
Google Purchased Restaurant Reviewer, Zagat
Though Google recently bought Zagat and Zagat has had a referral relationship to OpenTable, there's also no reason to believe Google wouldn't accept a Google Places reservations module plugin from the likes of Freebookings.com -- or any other reservations provider.
As Google's VP, Marissa Mayer, was asked on CNBC on Oct 3rd after Google's purchase of Zagat, are there "no plans for simply creating your own reservations system, where, through Zagat you would make your reservation? You intend to continue that [indirect] partnership with OpenTable??"
Notice Marissa Mayer did NOT directly answer the reservations part of the question!
Rather, she only answered the part of the question about the indirect partnership of Opentable via the Zagat purchase, declaring "We'd like to continue the partnership."
After the DOJ harassed Google so much about the ITA purchase, what else could she say?
Note that Marissa Mayer essentially refrained from addressing the "no plans for creating your own reservations system" question -- which seems to indicate that she did NOT want to say we have "no plans."
Perhaps that's because they won't be creating their OWN system, but could be supporting a plugin restaurant reservation module from the likes of Freebookings.com or a variety of others like Eveve Software, Rezbook, etc.
Sticky Pages
In the current Google Maps/Google Places model, a restaurant seeker will search Google for a restaurant and then locate the restaurant on GoogleMaps. If the restaurant has its own webpage, the person goes there and then Google has lost them.
Ideally, Google would want to keep them in Google, so if they can do so via a free plugin and pay Freebookings pennies on the reservation, then it's done. This model exists with Firefox's Mozilla browser that has a Google search toolbar built in. Firefox receives 85% of their income from Google.
So it's certainly conceivable that Google would pay another independent company for a free reservations module to draw in (and keep) more eyeballs than ever before.
Thus a Google + Freebookings.com hook-up makes sense. If Freebookings already has a Facebook plugin for restaurant reservations, why not Google?
Would Livebookings Cannibalize Their Own Business?
Finally, ask yourself: "Why would Livebookings offer a Freebookings module and cannibalize their own reservation business?"
To do so without a revenue stream from Freebookings.com would be suicide for their current pay-for-seated-diner business. It just doesn't make sense unless there is some money in it for them from some [currently] unknown source. We know Livebookings is not suicidal, so pondering their motive is a clue that something far bigger must be brewing.
The speculation is that the revenue from this model will be derived from pay-for-click social media & search companies -- rather than having restaurants pay for seated diners.
In a sense, Livebookings/Freebookings appears to be doing an end-run around OpenTable by changing their business model to align themselves with the two key social media powerhouses (Google & Facebook) with a true free reservations plugin.
Evidently Livebookings/Freebookings saw the writing on the wall that the current $1.00 per seated diner model isn't going to last much longer. So they must've figured out a way to get less revenue per diner, but make it up in volume. (Hint: Alliance with the social media powerhouses)
Obviously they've got something up their sleeve because companies just don't spend many months developing software and then give it away just because they're nice guys. There's got to be some revenue in this -- somewhere.
In any case, we now know online restaurant reservations will soon be truly free. For a one-trick pony whose primary revenue is $1.00 per seated-diner reservations, the writing is on the wall for OpenTable.

Conclusion
Any technology that will reduce high online restaurant reservation costs borne by restaurants will be embraced by the hard-hit restaurant industry. Until recently, the market leader, OpenTable, has been able to hang onto their restaurant clients, simply because restaurants feared they'd lose business if they weren't using the leading aggregator of restaurant reservations. So they coughed up the high per-diner OpenTable reservation fees anyway and had less take-home profit.
However, if there is a natural shift in originations of reservations to the ubiquitous social media powerhouses (Google & Facebook), then restaurants will have no fear of defecting from OpenTable because all their competitors will be doing so too.
An October 7th article shows OpenTable could be losing customers, and in some cases, lowering pricing. And others think OpenTable pricing is way too high and refuse to use it. So pricing pressure is here -- and rightfully so in the tech world where "creative destruction" happens at a rapid pace.
Truly free restaurant reservations will liberate restaurants from paying $1.00 per seated diner (most restaurants only have a meager 5% profit margin anyway), This will enable restaurants to lower their cost structure and hopefully stay in business in this tough economy!
Disclosure: I have no positions in any stocks mentioned, but may initiate a long position in GOOG over the next 72 hours.
Additional disclosure: Additional disclosure: The author makes no warrant for the accuracy of the content herein other than the links provided to traditional online sources of information for verification purposes. Additionally, investors shall not take any comments stated herein as advice to buy or sell any equities and if investors do so, they acknowledge that they have done their own proper due diligence and proceed at their own risk.