By David Russell
Invesco (NYSE:IVZ) is fighting higher, and one investor apparently believes that there is no going back as its earnings report approaches.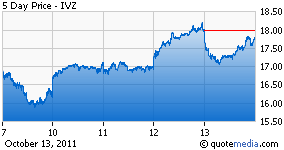 The investment-management company is scheduled to issue results before the bell on Monday, Oct. 24. It closed yesterday at $17.70, down 1.56 percent, and is trading just below its book value. It had touched a two-year low below $15 earlier in the month but has been powering back since then.
Roughly 9,000 November 15 puts were sold against open interest of just 70 contracts. Most of the volume priced at $0.55. The premium stayed at that level even as the stock fell, which confirms the strong selling pattern.
Investors write puts when they think downside is limited. If IVZ closes at or above $15 on expiration, they'll get to keep the money. If it falls back to that price, they'll have to buy shares at the strike. But including the credit earned, their entry price would be $14.45.
Yesterday's trader probably expects volatility to decline after earnings are released--a common pattern because the cost of insurance drops after a big news event. If that happens, he or she also stands to benefit because they're short premium. (See our Education section for more on market-neutral time-decay strategies)
Overall option volume was 21 times greater than average in the session.
Disclosure: None