The demand for waste management and recycling is a long-term trend that's boosted by economic growth - but is also largely recession proof. As spreading global prosperity generates gigantic amounts of garbage around the world, you can profit from the investment alchemy of turning trash into cash.
The following are two great ways to clean up on the causal link between growth and garbage.
Both stocks should benefit from improving economic conditions, but they're also hedges against any unexpected downturn, because human activity will continue to produce a massive volume of garbage across the planet, whether it's disposed of or not. An expanding economy merely exacerbates the overabundance of waste.
According to the U.S. Labor Department's monthly survey released on Friday, March 6, the U.S. economy added 295,000 jobs in February and the unemployment rate dropped to 5.5%, yet another sign that the U.S. recovery is firmly on track. Also on Friday, the European Central Bank upgraded its growth projection for the euro zone this year to 1.5% from 1%.
The equation is simple: Growth equals garbage. The world's rising mountain of garbage is a worsening hassle for government officials, but it's a big opportunity for investors to achieve "defensive growth" amid an accelerating (albeit vulnerable) recovery.
The global waste and recycling industry collects more than 11 billion tons of solid waste and generates about $410 billion in revenue, according to the United Nations Environment Program. The research firm TechNavio estimates that the industry is on track to achieve a compound annual growth rate of more than 8.7% from now until 2018.
Per capita, the biggest generators of municipal solid waste by far are the 34 developed countries that make up the Organization for Economic Co-operation and Development, or OECD. They cumulatively generate nearly 1.6 million tons of municipal solid waste per day. By contrast, sub-Saharan Africa produces less than one eighth as much.
World Municipal Solid Waste Generation Per Capita in 2013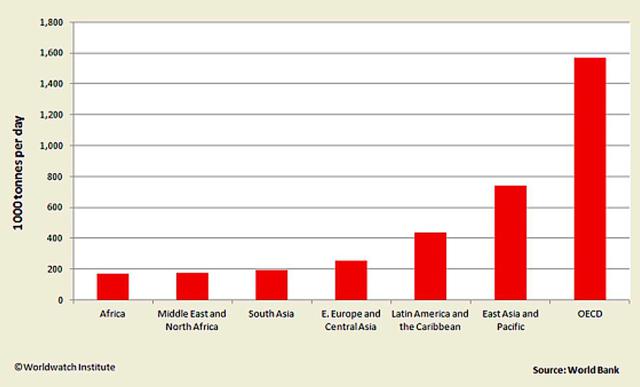 In the U.S. alone, the waste management industry includes about 18,000 companies with combined annual revenue of about $82 billion. American households, stores, restaurants and other businesses annually generate more than 250 million tons of solid waste, according to the most recent report from the U.S. Environmental Agency (EPA).
The EPA reports that every year since 1960 Americans have generated more solid waste than the year before. The amount of trash the country produces has tripled since 1960 while the U.S. population has increased only about 90%. Nationwide, the number of active landfills has shrunk from nearly 8,000 in 1988 to fewer than 1,900 today. The U.S. disposes enough trash every day to fill 50,000 garbage trucks with 18,000 pounds of trash in each.
The search for new methods of disposal is becoming more frantic among federal, state and municipal leaders in the U.S. There's enormous variation in waste capacity among the states. For example, Arkansas reports sufficient capacity to operate more than 600 years without launching another facility while New York State only has 25 years of capacity left.
The problem perplexes global leaders as well. According to a Worldwatch Institute report released this month, growing prosperity and urbanization could double municipal solid waste annually by 2025, bringing the volume from today's 1.3 billion tons per year to 2.6 billion tons. In particular, developing countries face huge waste handling problems, as their middle classes rapidly expand and adopt Western habits of conspicuous consumption.
Below is an examination of the two leading companies in the handling, treatment and disposal of solid waste. These stocks enjoy strong fundamentals and excellent prospects for outsized price appreciation.
Waste Management (NYSE:WM)
Sporting a market cap of $25 billion, Waste Management remains the leader of the pack. This giant is the world's largest solid waste collection and disposal company. The company also treats and disposes of hazardous and medical waste, as well as operating waste-to-energy and landfill gas-to-energy facilities.
As the largest residential recycler in North America, WM expects to recycle more than 20 million tons in the region every year by 2020, up from the more than 12 million tons handled in 2012. The company's services generate a robust cash flow that it largely devotes to acquisitions, dividends, and share buybacks. It has consistently paid dividends since 1998 - and it continues to dole them out, with a current dividend yield of 2.8%.
By acquiring or partnering with overseas waste management companies, Waste Management has been aggressively targeting emerging markets such as China, where newly affluent consumers are generating towering amounts of garbage that many indigenous entities are unprepared to handle. Growing revenue from an expanding global footprint, higher capital expenditures, and increasing operational efficiencies should provide the company with steady growth for years to come.
Meanwhile, new regulations from global organizations designed to boost environmentally-friendly technologies are a boon for transnational players such as Waste Management. Notably, the World Trade Organization has significantly reduced tariffs on activities and products related to recycling, waste management, and wastewater treatment.
Waste Management reported fourth-quarter fiscal 2014 earnings of $590 million, or earnings per share (EPS) of $1.28, up from a loss of $605 million, or minus $1.29 a share a year earlier. Adjusted for special items, earnings came in at $308 million, or EPS of 67 cents, up from $263 million or EPS of 56 cents a year earlier. Revenue for the quarter was $3.44 billion, slightly down from $3.5 billion a year earlier.
Management announced that it would hike the dividend to $1.54 per share, from $1.50, and to spend $1 billion on a share buyback program. The stock's 12-month trailing price-to-earnings (P/E) ratio is only 19.5, compared to the trailing P/E of 28.8 for its industry of waste management, making it a bargain now.
Republic Services (NYSE:RSG)
With a market cap of $14.6 billion, Republic Services is the second-largest company in the waste-disposal sector, behind Waste Management. Together, the two companies effectively form a "duopoly" in the U.S., handling more than half of all garbage collection in the country. Republic provides waste collection and recycling services in 39 U.S. states and in Puerto Rico. The company also operates 73 landfills and handles more than 4 million tons of recycled materials per year.
The company's residential collection operations include curbside collection of refuse from small containers into trucks for transport to landfills. The company also supplies waste containers and rents compactors to large waste generators.
Republic reported EPS of 50 cents for the fourth quarter of 2014, beating Wall Street's estimates by 2 cents. The company generated revenue of $2.23 billion for the quarter, beating analysts' expectations of $2.22 billion. During the same quarter in the previous year, the company posted EPS of 53 cents. The company's fourth-quarter revenue was up 3.9% compared to the same year-ago quarter.
The stock's trailing P/E of 27 makes it reasonably priced compared to its peers, especially in light of its excellent growth prospects. With a firm lock on an inexorable global trend, these two waste management stocks are worth picking up.
Disclosure: The author has no positions in any stocks mentioned, and no plans to initiate any positions within the next 72 hours.
The author wrote this article themselves, and it expresses their own opinions. The author is not receiving compensation for it. The author has no business relationship with any company whose stock is mentioned in this article.