It has now been three weeks since the Fed formally announced its $400 billion Operation Twist program on September 12. However, if early indications are a sign of what's to come, as highlighted by Bespoke Investment Group, this will be the third straight time the Fed has tried and failed to lower long-term interest rates through the Treasury market.
Bespoke said:
The chart below shows the yield on the ten-year U.S. treasury going back to September 2008. The red dots in the chart represent each time where the Fed formally announced intentions to buy Treasuries in the open market (QE1, QE2, and Operation Twist). As shown, following each of the prior two announcements, the yield on the 10-year rose by more than 100 basis points (bps) in just a matter of months. Following its most recent announcement in September, the yield on the 10-year is already up 36 bps.

While one could argue that yield declined ahead of each of the prior announcements due to the fact that each move was widely telegraphed, at face value it appears that the Fed's attempts to lower long-term interest rates have been futile.
Click to enlarge: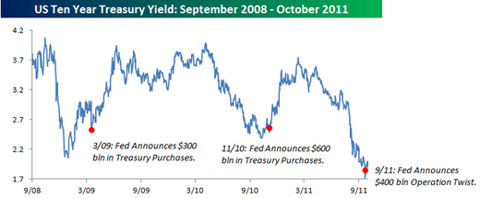 Source: Bespoke Investment Group, October 14, 2011.