I embrace the adage that a picture is worth a thousand words. Instead of bloviating about a particular investment or economic topic, I handpick a graphic or two to do some of the talking for me. Earlier, I served up two charts to squelch the nasty rumor that the U.S. economy is headed for another recession. However, such a contrarian position jostled some readers.
As one letter of endearment read:
It is obvious from your photo that you are still wet behind the ears… you haven't got a clue.
Meanwhile, another reader accused me of some sleight of hand, specifically, that I wasn't showing the complete picture because the uptick in railroad shipments only demonstrated a shift to a more efficient form of transportation – away from trucking with high fuel costs to railcars – not a genuine increase in demand.
And yet another reader chose to criticize via metaphor:
Do two trees make a forest? I bet there are two nasty charts that would curl our toes [about a recession].
I may be a bit younger, but one thing this whippersnapper does know is that it's a good sign when so many people disagree with a contrarian viewpoint. Why? Because the average investor is chronically late. They seldom sniff out key turning points. And the truth is, we can't wait for the majority of economic indicators to turn positive before sounding the all-clear. Instead, we need to be on the lookout for green shoots – those subtle indications that a change in direction is afoot. With that in mind, I'm serving up two more indicators to hopefully convince you that the U.S. economy is not doomed to collapse in the months ahead.
It's Not Just Railcars…
The latest reading of the Cass Freight Index, which measures North American shipping activity across a broad sampling of industries – including consumer packaged goods, food, automotive, chemical, OEM, retail and heavy equipment – is clearly positive.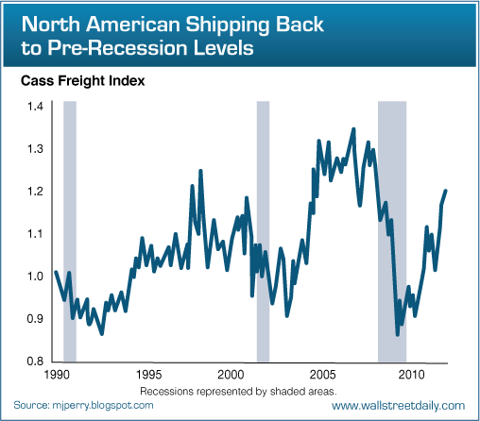 In fact, shipping volume in September jumped to almost a four-year high, with more shipments than in any single month since the recession started. What's more, the index is up 7.5% year-over-year. And that proves that the September uptick is indicative of a longer-term trend, not a short-term anomaly.
Here are the two key takeaways…
Key Point #1: The Cass index captures truck shipments, too. So it proves it's not just railcar loadings that are on the rise. All shipping activity in North America is picking up. That wouldn't be happening if we were on a crash course with another recession.
Key Point #2: The Cass index often leads the American Trucking Associations [ATA] tonnage index at turning points. The latest readings of the ATA tonnage index, which measures the change in tonnage hauled by fleets, have been improving.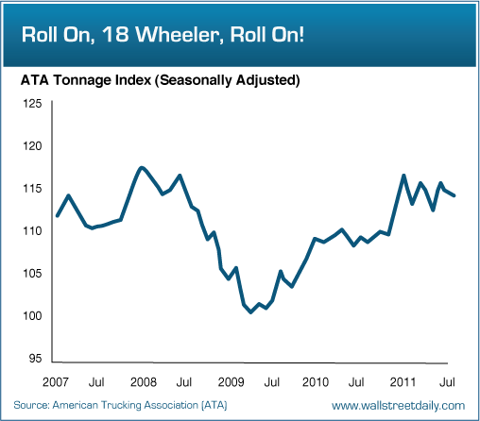 In July, the ATA index dropped 0.8%. In August, it was only off 0.2%. So when the September numbers are released shortly, don't be surprised if they're positive. Again, if we were headed for a recession, the ATA index should be falling dramatically. But it's not.
Bottom line: Economic inflection points are seldom obvious. But if we take the time to analyze all the data, there are at least four indicators that suggest another U.S. recession is not imminent.