A few days ago I wrote an article titled "Short Apple's Jobs Premium". It generated a mini-storm of criticism. Recommending shorting any stock is likely to be controversial, since people tend to get emotionally invested in their financial investments. But Apple has a particularly strong emotional connection with many people. So this is not unexpected. As such, I feel some further elaboration is due on this topic.

As some commenters on my previous article pointed out, AAPL's PEG is only 0.64 while the industry's rate is 1.37. Doesn't this mean Apple is trading at a discount?
(Click chart to enlarge)




Unlikely. It more likely means the market thinks analysts estimates of Apple's future earnings is too high.

Let's establish some assumptions before going further. PEG is more meaningful than other simple valuation tools. As a zeroth order approximation, meaning in a perfectly informed, rational, non-emotional market, all companies should have the same PEG except for some special situations such as pending M&A. This is a very crude approximation, of course, but nonetheless gives us a tool to gain a quick glimpse into the market's mind.

With this framework, the question becomes simple: If we use the industry average PEG as a benchmark, what's the growth rate priced in Apple stock? The answer is 14.71/1.37 = 10.74%.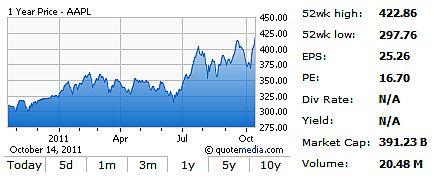 If you believe this implied growth rate is too low, as do analysts, then the stock is cheap. The difference between growth estimates and implied growth rate for Apple is what I meant by the "Jobs Premium" -- imagine what happens if growth estimates go from 23% to 11%.

Things are, of course, more complicated once we go beyond the zeroth order approximation. Is the PC industry too rich at PEG 1.37 or is a 5-year growth estimate of 14% too optimistic? Will Tim Cook or future CEOs be able to resist the temptation of dispensing cash? If it starts paying dividends, Apple would instantly stop being labeled a "growth stock." If the company goes on the large acquisition route, which Steve Jobs had never taken, it would pose some potentially difficult challenges to the company culture and introduce a lot of uncertainties. How much longer can iPhone's and iPad's momentum last considering the increasing momentum in Android, especially the better-positioned manufacturers such as Samsung (OTC:SSNLF) and HTC (OTC:HTCXF)?

I also feel it is necessary to emphasize that I did not recommend shorting Apple outright. iPhone 4S sales have surprised many people considering the cool reception when announced. Whether it's true momentum or souvenir grabbing though, I don't know. The broad market could rally if Europeans actually show some will.
What I did recommend, and still do, is to pair the AAPL short, whether in cash or options, with going long a competitor. As I alluded to in the earlier article, finding an Apple competitor is not so straightforward. Samsung and HTC arguably come the closest to fitting that bill; but neither is easily accessible to North American investors. Dell (NASDAQ:DELL), HP (NYSE:HPQ), Google (NASDAQ:GOOG), etc. are all stretching it a bit. Some sector ETFs? Maybe. I have no strong recommendations on this point. And this trade could take awhile before seeing significant profit, so no hurry, take your time to ease in and build up the position.

Feel free to fall in love with a company's product. But don't fall in love with a stock.

Disclosure: I have no positions in any stocks mentioned, and no plans to initiate any positions within the next 72 hours.