With their stocks well off their highs and significantly lagging the markets, Wall Street companies have gotten a bad rap. Add in congressional-regulatory disagreements plus "Occupy Wall Street" protests and many question the wisdom of owning any of these firms.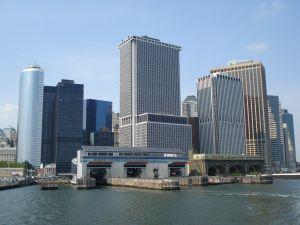 From a contrarian standpoint, this is a good environment to consider buying the good stocks that were tossed out with the bad. Among the "good" are three Wall Street firms that I believe are the best in their respective fields and could provide superior returns in the future: JPMorgan Chase (JPM), KKR [also known as Kohlberg Kravis Roberts] (KKR) and, yes, Goldman Sachs (GS).
Note: The latest Barron's cover article is "Why Banks Are A Buy," and says, "Banks and other financial companies are in much better shape than their unloved shares suggest."
In determining the "best" among Wall Street firms, accounting analysis alone won't do. Short-term effects, such as the third quarter's low IPO activity, can buffet the revenues and earnings. And we will likely see a highly active quarter in the near future with dazzling numbers. Neither quarter is a proper measure of a firm's success.
The key determinant of a "good" Wall Street firm is leadership.
Rather than numbers, I believe the best way to rank firms is by judging leadership. In Wall Street, leadership is composed of three parts:
Top management and staffing – In an industry as fast moving, volatile and competitive as Wall Street, it takes wise and skillful management to succeed. But management cannot do it alone. Success also requires highly capable employees, many operating independently (or nearly so). Management's job is to guide the machine, being willing to pursue different courses as opportunities present themselves.

Reputation and cachet – Trust and proof of success are requirements to succeed in Wall Street. "Low cost provider" is not a successful business strategy.

Financial resources – Many of Wall Street's activities involve transactions that require large payments, meaning ready access to funding and funding sources is important.
Based on these criteria, I believe each of the three firms ranks highest in its respective field.
Now, let's take a look at some investment numbers:
In the table below, note that the three firms are very different sizes in the stock market. Nevertheless, my preference is to hold equal weights because each company is large within its field. I also believe that there are better diversification benefits from equal weight positions.

Regarding the dividend yields, KKR, as a limited partnership, pays out a larger share of earnings (about 40%, based on current earnings). JPM and GS each pay out about 13%.
All three have price/earnings ratios in the 6s (based on "forward" earnings = the next four quarters' estimated earnings). The very low P/E ratios mean extraordinarily high earnings yields.
Sorting the S&P 500's stocks by earnings yield, from highest to lowest, ranks JPM in spot #15, GS in #28 and KKR (if it were in the index) in #22. Even among the 80 financial sector stocks in the S&P 500, the three Wall Street firms rank high: JPM at #7, GS at #11 and KKR (if in index) at #10. These rankings show the broad negativity (dislike?) surrounding even leading Wall Street organizations.
How they got there: Outsized stock price drops.
This year has been a deteriorating one for financial stocks. This first graph shows how the three followed different paths (good for diversification), but all ended up underperforming the stock market (bad for returns).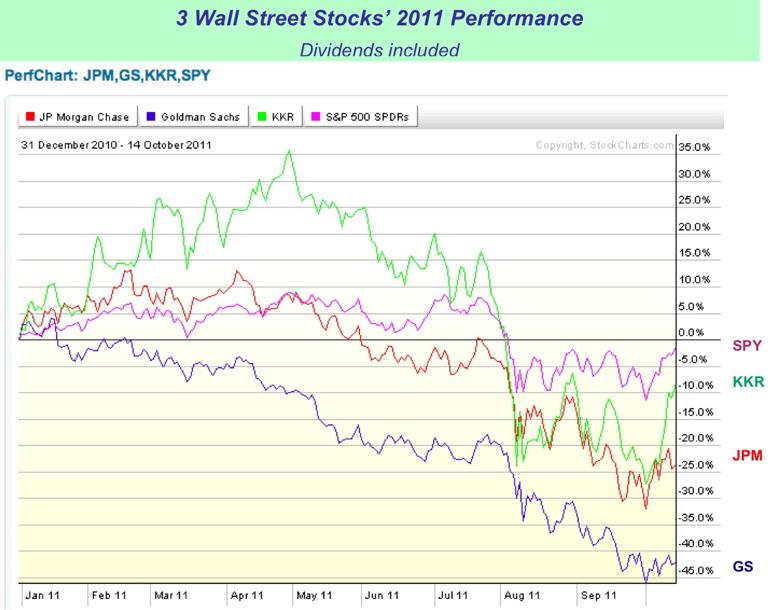 (Stock charts courtesy of StockCharts.com)
This second graph highlights better the underperformance pattern. Goldman steadily lagged. JPMorgan matched the market then fell away. KKR, with visions of IPO payoffs, rose, then fell sharply as those visions faded.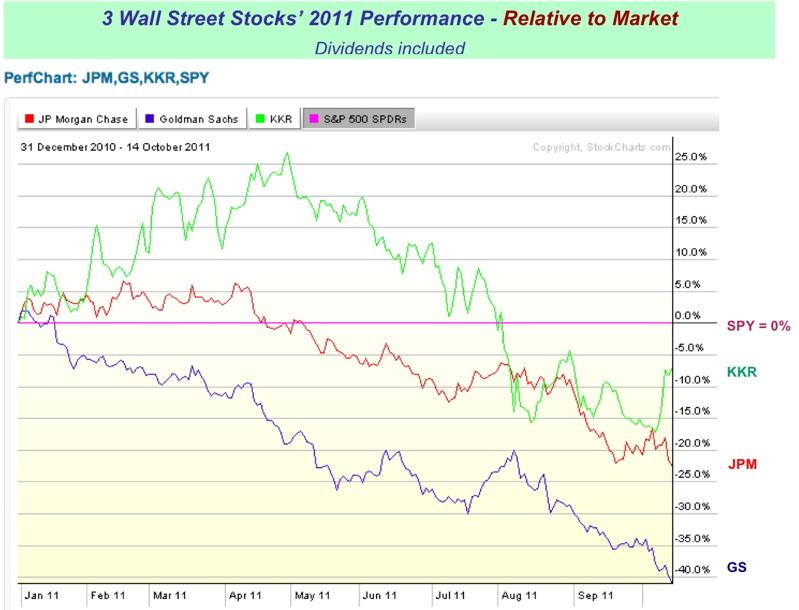 Note that in the recent stock market rise, KKR outperformed and JPM stopped underperforming, leaving only GS as a laggard.
A couple of notes about each of the three:
JPMorgan – Earnings report and, especially, Jamie Dimon's comments show the bank is on track to grow through a sound, even conservative, strategy. See my recent article.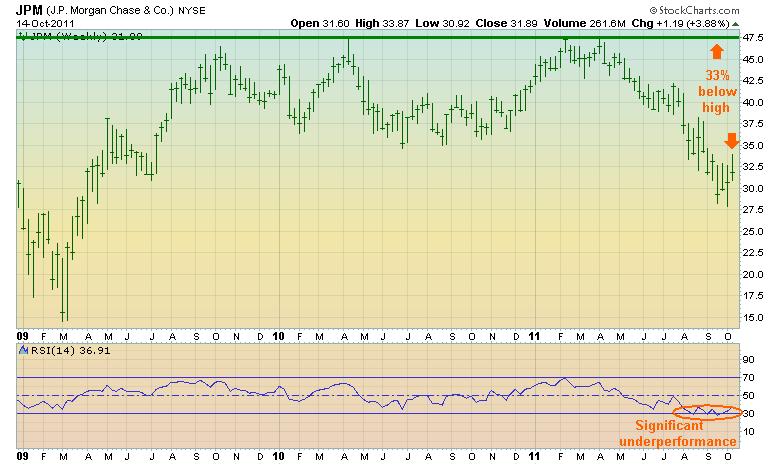 Goldman Sachs – Its reputation has clearly fallen from Wall Street star to chump (or worse). However, the firm retains its unique strengths. Good news is the recent decision to become a non-bank again. The benefit of being a bank has diminished and, as a non-bank, the firm regains its independence in time for the next leg up.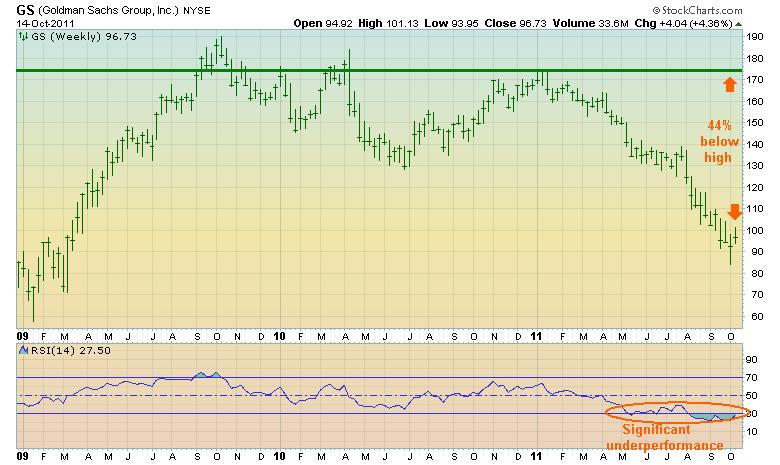 KKR – I believe this private equity firm is the best managed of the public ones available to us. Its portfolio contains good IPO material when that environment returns. Plus, with good resources, it continues to pursue interesting new acquisitions, including Yahoo (YHOO).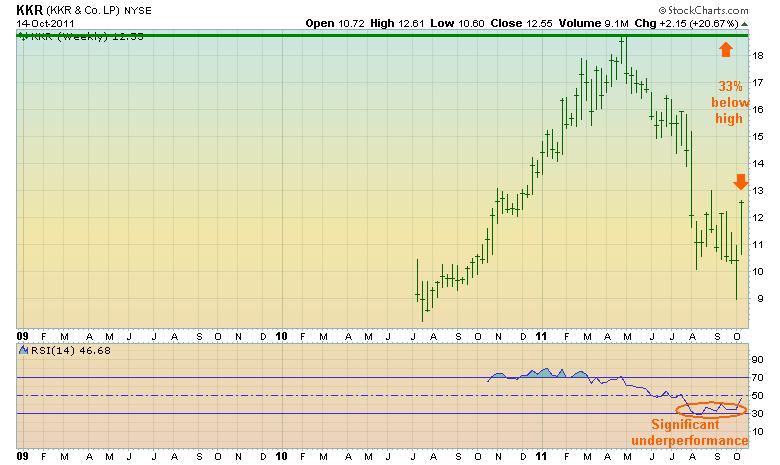 The bottom line:
There has been a pall over Wall Street and its firms, causing the stocks to drop well below their previous highs. The benefit to investors is that these leading firms can be bought at exceptionally attractive prices. So, now is a time to let them occupy your portfolio.
Disclosure: I am long JPM, GS, KKR.
Additional disclosure: Positions held: Long U.S. stocks and U.S. stock funds