Here's a technical trading idea on the imminent breather in Xyratex (NASDAQ:XRTX).
It always seems so promising, a supplier to a rapidly growing industry. In this case, we're talking about Xyratex, a company that is a key supplier to the data storage industry. By far its biggest line of products are networked storage products (93% of revenue), supplying the likes of EMC and NetApp (NASDAQ:NTAP).
Some key numbers:
Market cap $354M with 28.32M shares outstanding (30.3M fully diluted-pdf, float 27.5M, 1.95M short)
Cash $136.2M (almost $5 per share) with no debt, a pretty healthy balance sheet, we have to say
Compared with last year, there is quite a crash in earnings. In 2010, the company managed to earn $4.34 per share. This year that will shrink (according to average analyst expectations) to 93 cents. Wow. Next year it expects only a recovery to $1.24 per share on flat revenue
Part of the jump in the share price is the result of fine earnings in the last quarter, 42 cents when just 17 were expected
The company was even a victim of the Solyndra drama, taking a $1M hit on an outstanding loan
The good balance sheet and cash flow allows it to have paid its first dividend (5 cents) in the past quarter and announce a share buy-back
So, a combination of a large earnings surprise, the first dividend, and an accelerating stock buy-back program provided the fire under the shares:
During the quarter the Company repurchased 2,064,480 of its common shares at a total cost of $18.6 million. During the first nine months of the fiscal year a total of 2,615,196 shares have been repurchased, representing 8.5% of issued shares outstanding as of February 28, 2011, at a total cost of $23.9 million. [PR Newswire]
The (much smaller) SI business didn't do so well. Revenue fell a whopping 78%
as we have mentioned throughout the year it is being negatively affected by a number of factors, including the delay in regulatory approval of the two pending disk drive industry acquisitions by Seagate and Western Digital. As a result, the disk drive capital equipment sector remains very challenged with the industry delaying incremental capital investment. Given this current market environment, we are now implementing significant reductions in fixed costs in the SI business while protecting our investments in key next generation products needed to improve our competitive position. [PR Newswire]
Guidance for Q4:
Diluted earnings per share is anticipated to be between $0.19 and $0.37 on a GAAP basis in the fourth quarter of 2011. On a non-GAAP basis diluted earnings per share is anticipated to be between $0.27 and $0.45. Non-GAAP earnings per share excludes amortization of intangible assets, equity compensation expense, specified non-recurring items and related taxation expense. [PR Newswire]
While this is an industry that is quite cyclical (and Xyratex, SI business, supplying capital equipment, is more cyclical even), significant future growth can be expected (checking customers like EMC gives important clues). But not all is rosy, as hard-disks are under increasing threat from solid state drives, which have much lower energy needs (crucial for cloud services), no moving parts and are way faster. They're still much more expensive, but their use is increasing, especially now that the cheaper multi-level cell Nand flash (MLC) drives are making inroads in the enterprise storage sector.
We still think the stock is reasonably cheap, but we also think the stock came up too much, too fast, as you can see in the graph - (click to enlarge):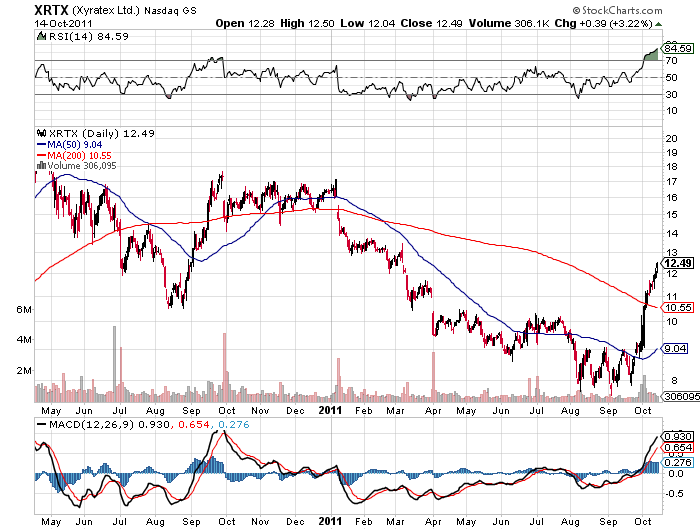 The stock is rather heavily overbought (an RSI in the high 80s), and while there was good news, the news and prospects aren't that good and relatively cyclical stocks normally run on rather low multiples anyway. You might also notice that last year shares had a similar runup (although not quite as epic as the one going on now), a little earlier in the year. But this was a year the company did $4+ per share in profits, not likely anytime soon now.
So what we're suggesting is that the stock is really due for a breather. We wouldn't be outright shorters (short covering might have been some of the rocket fuel under the shares), but selling out-of-the-money calls might be an option, although the premiums on these are terribly disappointing, we have to say. Apparently we're not the only ones expecting no further run in the immediate future. If the stock runs any further this week shorting becomes more attractive.


Disclosure: Considering selling out-of-the-money calls or outright shorting