J.C. Penney (NYSE:JCP) announced a $900M stock buyback on 25-Feb-11, and has completed $839M in repurchases through 30-Jul-11. Typically, stock buybacks help support stock prices; however, JCP has declined 17.80% vs. a 6.24% decline in the S&P 500 (as of 14-Oct-11) since the repurchase announcement. Additionally, because JCP used cash and short investments to fund the repurchase, they now have less working capital at a time when the US may be facing another economic slowdown.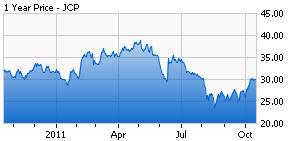 Based on the named executive officers' (NEOs) compensation structure, management's choice of a stock buyback vs. dividend increase appears to have been influenced by personal financial gain. Other than the CEO, NEOs received 43% of their total 2010 compensation through equity grants, which consisted of 50% stock options, 25% time-vesting RSUs and 25% performance-based RSUs (based on EPS). A stock buyback benefits both stock options and performance shares because there are fewer outstanding shares in the denominator when calculating price and earnings per share. However, as I discuss below, delivering that cash to shareholders through other means may have provided a better outcome for shareholders.
$900M Stock Buyback
Management's $900M buyback has failed to increase JCP's stock price and has left the company in a more vulnerable working capital position. Management appears to have been driven by personal interests rather than maximizing shareholder wealth. Because management receives a large portion of their compensation through stock options and performance-based RSUs, lowering the number of outstanding shares is their preferred choice.
Stock options - Since stock prices fall on the ex-dividend date to reflect the amount of wealth leaving the company to shareholders, over time this would likely limit the upside potential of the stock price and ultimately the options' moneyness (amount the current stock price is greater than the option strike price). Given that management's options have a 10 year term, a larger dividend will erode option value over time making this alternative less attractive to management.
The following chart highlights the impact on stock option moneyness based on management's decision to repurchase shares or distribute a dividend.

Performance-based RSUs - The following chart highlights the impact a share repurchase has on EPS, which is the performance measurement for management's performance-based RSUs.

Since EPS is increased without any change in the underlying performance of the company, a share buyback increases the performance against established EPS goals. Depending on whether JCP excludes the effects on EPS from the share buyback, this could be a significant factor in their performance-based RSU payout.
As shown in the chart below, the percentage difference between target and maximum was only ~18% in 2010. Therefore, a small change in EPS creates a big difference in performance payouts.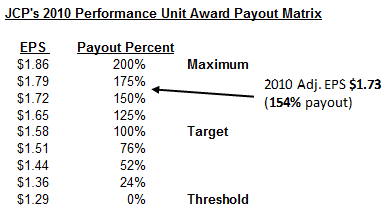 During JCP's $900M stock buyback, 24M shares were repurchased in 2011 (as of 30-Jul-11). If this repurchase had occurred during 2010 and JCP did not adjust for the buyback, this would have caused a payout at target to increase to 164% of target.

Alternatives to Buyback
Acquisition - JCP could have used the $900M stock buyback to make other vertical acquisitions in addition to the recently announced Liz Claiborne deal. On 12-Oct-11, JCP announced purchasing the rights for the Liz Claiborne family of brands. This will allow JCP to capture more of the value chain, command better margins and gain access to brands such as Monet, a fashion jewelry designer.
Perry Ellis is another brand that JCP could have easily acquired for less than $900M. Perry Ellis has a well-established line of men's brand clothing in the lower end retail space. Altogether, Perry Ellis International holds the rights to 29 brands including recognized product names such as: Callaway Golf Apparel, Pierre Cardin and Nike Swim. Like the Liz Claiborne acquisition, a Perry Ellis acquisition could have expanded JCP's portfolio of products.
Dividend - Although dividends receive less preferential tax treatments than capital gains in the US, a hefty dividend can help create a floor on a stock's price. When a stock's dividend yield reaches a certain level, investors cannot resist locking in a fixed income stream.
If JCP used the $900M to fund an increased dividend, I forecast that JCP could fund a dividend increase of $0.10 per quarter (50% increase over the current dividend) until 2025 assuming a 6% return on the $900M and a 1.5% JCP stock annual dilution rate. The $900M fund would only support the incremental $0.10 increase in the quarterly dividend while leaving the remaining $0.20 to be funded from operations.
The following chart assumes that JCP investors are willing to only let the dividend yield increase to 3.41% (creating a stock price floor) under all scenarios. If JCP traded at a 3.41% yield with a $1.20 annual dividend, this would increase the hypothetical 52-week low to $35.16.

Based on my aforementioned analysis, I believe that JCP shareholders would have been better served if management had raised the quarterly dividend to $0.30 or completed another acquisition instead of implementing a $900M share repurchase.
Data are taken from Yahoo! Finance and JCP's publicly filed 10-Ks, 10-Qs and DEF 14As.
Disclosure: I have no positions in any stocks mentioned, and no plans to initiate any positions within the next 72 hours.