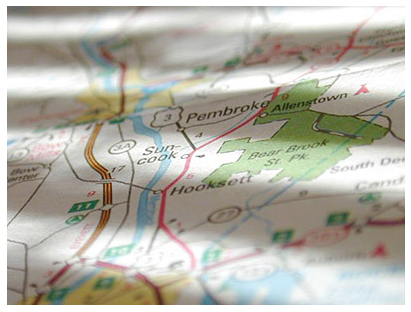 Earnings season gave us a sneak peak last week as Alcoa (NYSE:AA), JPMorgan Chase (NYSE:JPM) and Google (NASDAQ:GOOG) reported results. AA and JPM were not stellar, but GOOG killed it once again. It seems it may be another earnings season where tech companies and high growth stocks continue to show significant growth while financials and basic materials may continue to struggle. Today, we have identified six companies that we believe are very crucial to this earnings season and the direction this season will go. We believe these five reports are very crucial to the market, and we are very excited to see one company's earnings due to recent headlines.
The six companies are Apple (NASDAQ:AAPL), Bank of America (NYSE:BAC), McDonald's (NYSE:MCD), Caterpillar (NYSE:CAT), Barrick Gold (NYSE:ABX) and Netflix (NASDAQ:NFLX).
We start with ...
Apple (AAPL) - There may not be a more important report in the tech industry than this Tuesday's Apple earnings. Despite Apple's makeup that tends to make them less of a tech bellwether, this is a company that extends from tech to consumer products to high growth. The company has a lot of question marks as it is the first earnings report with no Steve Jobs and Tim Cook's first earnings report. The company, additionally, just released its iPhone 4S, which created a lot of headline bullishness, and the company is at a point where it can break to new all-time highs. The company is expected to report an EPS of 7.28 vs. 4.64 one year ago. Additionally, the company is expected to see revenue growth of 45%. Apple, single-handedly, can propel the Nasdaq higher as well as the general market. They are a barometer of the consumer as well. What we will be looking for is the guidance. Will Tim Cook do the Steve Jobs underestimate? What does the company expect moving forward? Any talk of a new iPad or even another iPhone by Christmas? A lot of questions, and the more that Apple answers in the right direction will take this market even higher.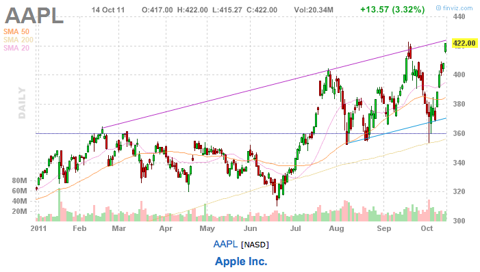 We worry about ...

Bank of America (BAC) - America's largest bank (or at least it used to be) has not been in the spotlight for the right reasons over the past three months, and on Tuesday, we will get more information on the bank to digest when the company reports earnings. The company is expected to report an EPS of 0.20 vs 0.27 from one year ago. Further, they are expected to see a dip in revenue around 3%. What we all really want to know is how the company is dealing with liquidity issues. Are they improving their mortgage crisis at all? Any move on CEO Brian Moynihan? Guidance may be even more important than anything as the company has supposedly taken some steps to help shore up liquidity issues with new fees. The company can move the financial industry in a heartbeat, and expectations are set very low. Any positive comments at all from the company could go a long way. More negativity though is expected.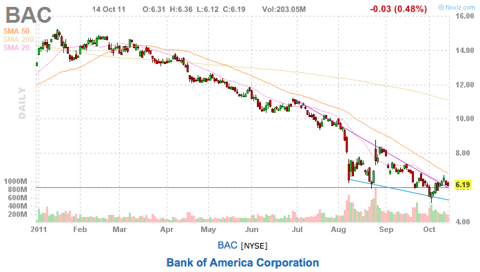 Our best look at the global markets is ...

McDonald's (MCD) - McDonald's is not only a bellwether, but it is one of the best companies to look at when gauging the global markets. The company reports earnings on Friday, and with a lot of talk of Europe's market, America's slowdown, the BRICs' slowdown, etc. ... MCD earnings will really give us a sense of how these tough market conditions are affecting the consumer. The company is expected to report an EPS of 1.43 vs. 1.29 as well as 11% growth in sales. Expectations for Q4 are much lower with 8% growth in sales, and we are curious to see the company's guidance. Additionally, how is the very violent moves in currencies affecting the company. McDonald's gives us a look at a lot of consumer groups from a lot of countries, and there may not be a better bellwether of global growth and the global consumer, so this report remains very crucial. The company has performed well in this market due to the company's ability to do well even during tough times, so signs that this is not true could really damage this stock.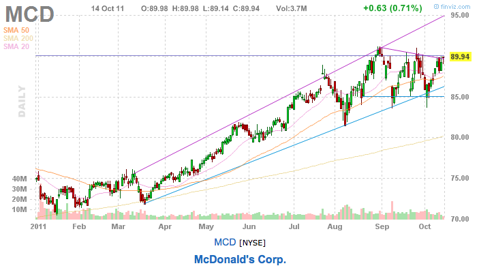 The construction industry and industrial goods industry turns to ...

Caterpillar (CAT) - One of the best bellwethers of growth is CAT. The company sits at the center of construction and true infrastructure growth. The company has a lot of global market indicators similar to McDonald's, but it is a look from a different perspective. Caterpillar is at the center of true growth ... building buildings, roads, infrastructure. The growth of countries like China, Brazil and India has been under distress, and those rumors as well as problems at home have been troubling for the share price of CAT. Expectations reflect some of these concerns with EPS at 1.55 vs. 1.22 one year ago with 34.5% growth, but they still seem to reflect strong growth that has not been reflected in the shares. A strong report from CAT not only would dramatically pull up CAT, but it can help the entire market ... global growth companies, industrial goods and infrastructure plays.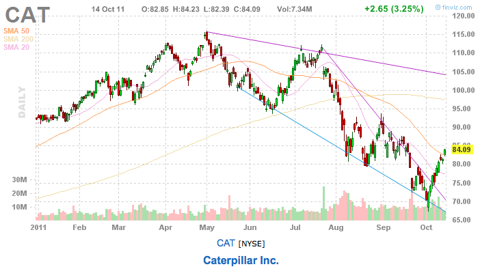 How bad will it be?

Netflix (NFLX) - Next week, Netflix will be reporting quarterly earnings. We're not sure there is a company with more questions marks on their earnings report than this one. From Qwikster to not Qwikster to CEO apologies to price changes, the company has had a lot of developments in the past quarter. NFLX will be reporting earnings that at least for Netflix will be hotly discussed. How have the price changes influenced their membership growth? How has it helped margins if at all? Continued growth and improved margins could go a long way for Netflix. The company is still expecting solid growth at 0.95 EPS from 0.70 along with 45%-plus growth in sales. Guidance will be crucial as well as the company foresees new costs of enterprise as well as subscribers. The news can have influence on a smaller group of stocks, but this earnings report is probably one of the most exciting of the season.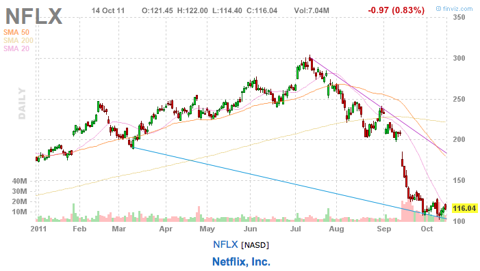 And finally ... how do these gold prices reflect in earnings ...

Barrick Gold (ABX) - Gold companies were looked at as a safe haven play during the summer and fall season of uncertainty, and many of these companies were suggested to be safe because they have ties to extremely strong gold prices. Earnings from ABX are expected to be strong with EPS jumping from 0.83 to 1.33. Revenue is suggested to jump 38.5%. The problem for the gold companies is that gold prices may be getting as good as they can get. ABX is one of the gold companies that does not have very strong valuations like many of their competitors, but without a ton of growth coming in gold prices ... will expectations really be much stronger? Can these companies continue their safe haven level if the growth in prices is not there. It will be very interesting to see how these companies pan out based on guidance.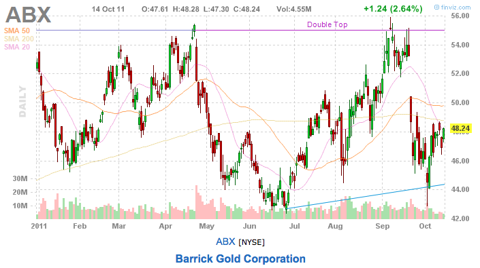 Disclosure: I am long AAPL.