Apple (NASDAQ:AAPL) was co-founded by the late visionary Steve Jobs and has completely transformed every industry it operates in. The perpetual focus on innovation has made this one of the largest, fastest growing companies, and Apple investors have been handsomely rewarded for their ownership over the years. I have recommended option strategies on Apple since 2010 with tremendous results. For reference, please view the first and other articles in the series to fully understand the strategy and its strong potential returns. As we enter the Post-Jobs era, it is even more important to keep a close eye on your investment and execute care with your trades.
A brief recap of this week in Apple (Up $42.91 (11.3%)):
The 11% surge in Apple to a nearly $400B market capitalization was the largest weekly percentage gain that I have seen in 2011. This is equally surprising as it comes on the tail of Steve Jobs's death and some disappointment that Apple did not announce the iPhone 5. Having said that, it is clear that the iPhone 4S with Siri voice assistance is a huge hit already. Yankee Group analyst Carl Howe has already predicted that Apple has sold up to four million phones this past weekend. Not only is Apple a big winner but Sprint's (NYSE:S) huge gamble could pay off as well: by 1 p.m. on Friday the iPhone already broke sales records for a day's sales. AT&T (NYSE:T) and Verizon (NYSE:VZ) both will likely share in the success of the latest iPhone. It is worth noting that Apple's iMessage which essentially offers free SMS "text messages" will be a direct competitor with the carriers so it will be an interesting angle to follow going forward to see if there is any impact on telecomm earnings.
The next major event for Apple is the fourth quarter 2011 earnings release on Tuesday October 18. As Philip Elmer-DeWitt puts it, "Wall Street still doesn't understand Apple." It is becoming a running joke at this point how Apple sandbags its forecasts and the professional analysts typically understate Apple's earnings potential. For example, the pros "consensus is $7.20 (with a range of $6.30 to $10.0)], 26% lower than $9.07, the consensus offered the bloggers." Apple's stock does not always surge out of the gate after earnings because of the distrust placed in estimates but in the longer term the stock's track record speaks for itself.
Needless to say, "Apple Will Return To $400 By Year's End" was both accurate and an understatement. I have stated it in the past but it is worth repeating: This strategy is focused on generating modest profits (i.e. base hits and doubles) over short period of times rather than huge profits. This strategy will not generate ridiculous profits (i.e. home runs) over a meager one-week time horizon. For this reason, I do not recommend that you write calls against your entire Apple position but instead say "let it ride" for at least half and have potential gains. This is especially true during weeks in which Apple announces earnings. On one hand you can make a tidy profit taking advantage of investor optimism by selling calls at pumped-up values. Conversely, you can hold back some of your shares to enjoy capital gains if Apple posts yet another record quarter. I think the upside is somewhat limited after this $40 point week but with Apple you never know.
Before I close I want to offer some additional anecdotal evidence from my observations traveling heavily this month. I have conversations with people of all ages, genders and races recently and virtually every conversation mentions the iPhone or a cool iPhone app at some point. Make no mistake, the majority of the people I have been talking to are not tech savvy but instead recognize and appreciate how simply magical the iPhone is. In the real world it is not about which phone is fastest or lightest but which phone is able to supply the best user experience and no one is even close to Apple with its mass appeal. For this reason I see no signs of Apple slowing down, even without the ever passionate Steve Jobs at the helm.
Below I present three possible scenarios and the potential returns for the October 22 monthly options (Source: TD Ameritrade). The first scenario represents a negative outlook for Apple while the final two scenarios are more reasonable. These scenarios are just projections and there is no guarantee that they will come to fruition. As a general rule, selling calls with higher strike prices has greater potential return but additional risk of loss due to the lower (or lack of) downside protection. For more information on the fundamentals of covered calls, consult Investopedia.
Click to enlarge charts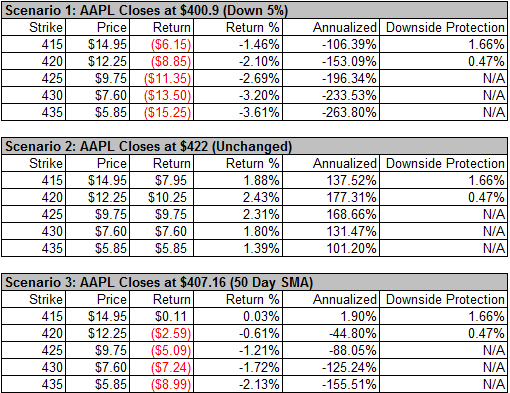 Additionally, if you would like even more information, I have prepared a sensitivity analysis for absolute return and percent returns, respectively. After studying the information above, these two charts make it easy to pick a strike price based on where you believe Apple will close on Friday.

With this information, executing a buy-write on AAPL October 22 (Monthly) 425s is the optimal risk-return strategy. If you are uncomfortable with this strategy I suggest an ordinary buy-write 410s or 415s. The 420s have the greatest time value ratio (2.4%) but I want to maintain the opportunity for stock appreciation with the 425s. Even if you are extremely bullish you can still profitably sell covered calls but do not become shortsighted in your quest for alpha. An alternative approach is to sell out-of-the-money 410 puts and collect the premium without having to purchase the stock outright but even this is risky: if the Steve Jobs sell-off continues you could get burned. Note that if the stock declines to the strike price, you are obligated to buy the stock (or closeout the position).
Disclosure: Author is long AAPL, T and VZ; short AAPL October 22 415 Calls.
Disclosure: I am long AAPL, T, VZ.
Additional disclosure: Disclosure: Author is long AAPL, GOOG, T, and VZ; short AAPL October 22 415 Calls.