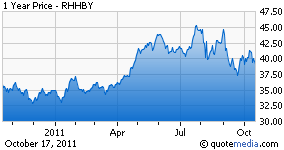 There is no question that hepatitis C treatments are garnering a great deal of attention from investors in biotech and pharmaceuticals these days. Investors seemingly can't wait to hear the latest clinical data from Pharmasset (VRUS) or the latest prescription data on Vertex's (NASDAQ:VRTX) Incivek. So leave it to Roche (OTCQX:RHHBY) then to draw everybody's attention back to a small hepatitis C drug developer that has been largely forgotten by many investors.
A Surprising Deal
Analysts and investors have been waiting for quite a while to see Anadys Pharmaceuticals (NASDAQ:ANDS) either find a partner for setrobuvir and ANA773 or find a buyer for the entire company. As often seems to be case, few had Roche on the list of most likely partners, but it is Roche that has stepped up to buy the entire company.
Roche and Anadys announced Monday morning that they had reached an agreement whereby Roche will acquire the company for $3.70 per share in cash. That values Anadys at roughly $230 million in total, or almost a 260% premium to Friday's closing price.
So, What's The Surprise?
What makes this deal a little surprising is that pretty much nobody had Anadys on the list of "most exciting Hep-C plays". ANA773 does not look like an especially compelling new drug in its own right; its greatest claim to fame at this point is that it looks like a safe and credible oral alternative to interferon.
Setrobuvir likewise looks kind of ordinary. It has shown respectable viral load reduction in early trials as monotherapy, but it just does not seem all that compelling to compounds from Pharmasset, Vertex, GlaxoSmithKline (NYSE:GSK) and so on. Most analysts, then, see it has having a potential role in combination therapies but perhaps being too little, too late to really becoming a meaningful player in the emerging Hep C world.
This, then, was not the sort of Hep C deal that investors likely would have projected for Roche. Pharmasset would have seemed like a logical target, particularly since the companies are working together on one drug already, but the more promising Pharmasset drug (7977) is not under Roche's control. Along similar lines, deals for Vertex, Human Genome (HGSI), or Achillion (NASDAQ:ACHN) might all have looked like more exciting moves.
A Cheap Insurance Option?
All of that said, there could be some logic to this deal. For starters, ANA773 looks like it could be an oral alternative to Roche's Pegasys – an injected interferon that chipped in over $350 million in sales just in Roche's last quarter. Assuming that the drug can make it to approval and assuming that combination therapies including interferon stay relevant, this is a cheap way for Roche to maintain what it already has, particularly with the move away from injected drugs. Of course, there is a lot of speculation that next-gen Hep C drugs are going to be so good that interferon isn't necessary.
Going back to the "cheap" angle, Roche has now locked up Anadys' setrobuvir and Intermune's (NASDAQ:ITMN) danoprevir – two Hep C drugs for which the analyst community does not have a lot of love. Roche either thinks it knows something that others don't and is making some incredibly savvy investments, or it is thinking that even as also-rans these drugs could be worth the relatively small amount Roche is paying for them.
Also keep in mind that Roche needed a non-nucleoside inhibitor in its bag and Anadys checks that box. Moreover, Roche may have been concerned about an opt-in agreement between Achillion and Gilead (NASDAQ:GILD) for one of ACHN's drugs and Pharmasset may have just seemed too expensive for now. Besides, who's to say that Roche couldn't take a run at Pharmasset at some point down the road?
The Bottom Line
Roche has had more than its share of bad news in the recent year, highlighted by soft sales, the loss of potentially lucrative Avastin revenue in breast cancer and growing concern about biosimilars. By the same token, this is a quality global pharmaceutical, diagnostic, and life sciences company with a strong dividend and a lot of pessimism baked in to the share price. If a few things go right, highlighted by the upcoming late-stage pipeline review in November and late-stage data on drugs for dyslipidemia, breast cancer, and non-Hodgkins lymphoma, this stock could really start to work.
For investors focused on the Hep-C space, this is just one of what is likely to be more deals. Names like Achillion and Pharmasset look like "when, not if" buyout targets if the clinical data remains strong. What's more, with so many companies developing Hep-C compounds – almost literally an A-to-Z list from Abbott Labs (NYSE:ABT) to ZymoGenetics (before its acquisition by Bristol-Myers Squibb (NYSE:BMY)) – there is going to be rich news flow on this space for many years to come.
Disclosure: I am long OTCQX:RHHBY.