After the sharp drop lower in the first 7 days of March, it's been relatively quiet in the gold (NYSEARCA:GLD) market this week. The further weakness expected in my last article played out in the first few days, as did the underperformance in the gold miners which I noted may have farther to fall in order to catch up to the chart pattern in gold.
Many were expecting gold to drop like a stone, but price managed to hold support reasonably well. Starting at $1167, gold quickly moved down to $1147 by Wednesday before finding support and rising slightly to finish the week at $1159 for an overall loss of just under 1%.
The 'majors' gold mining index (NYSEARCA:GDX) opened at 18.76, dropped to 17.29 by Wednesday, but finished the week strongly and closed at 18.07 for an overall loss of 3.7%. The junior miners (NYSEARCA:GDXJ) lost a touch over 5% on the week.
Looking out to the next 7 days all eyes appear to be on the next meeting of the Federal Reserve on March 18th, with the focus being on the subject of whether or not they hint at a date for a rate hike. Regardless of whether or not you believe that what they say has any bearing on the gold price, this is more than likely going to be a catalyst for movement.
Traders should therefore pay close attention and stay nimble; investors should be listening in too as any hint of action about to be taken may have implications for the gold price over the intermediate term.
Data Points
COT
The latest data from the Commitment of Traders report is below:
| | | | | | |
| --- | --- | --- | --- | --- | --- |
| Commercial Traders | | Large Specs | | Small Specs | |
| | | | | | |
| Long | Short | Long | Short | Long | Short |
| 154,578 | 243,920 | 171,821 | 89,929 | 41,262 | 33,812 |
| | | | | | |
| Change | Change | Change | Change | Change | Change |
| +14,498 | -19,547 | -8,740 | +25,188 | +937 | +1,054 |
| | | | | | |
Last week I noted that if a short term rally was setting up in gold, we would want to see the Commercial Trader category add to their net long position. They certainly did so, taking profits on close to 20,000 short contracts and purchasing nearly 15,000 new long contracts.
The ratio of short to long contracts has reduced considerably over the last month, and is a good sign that we can expect at least a bounce in the gold price before lower lows are seen.
The COT data over the last few months reaffirms my view that the Commercial Trader category is the most successful. You can see how they added to their net short position as gold moved higher, and have now cashed in many of those contracts with gold just $30 or so above its bear market lows.
For the Large Speculator category the reverse is true. They have tended to add to their long positions as gold moved higher and peaked, only to have to sell out as gold failed to rally further. The report shows they have sold more of their long contracts (at a loss?) and have added lots of short contracts, and all this as gold has approached its lowest price point in the last 5 years. Can you guess what happens next?
US Dollar
The US Dollar once again broke out to the upside this week and other currencies moved sharply lower against it. Gold held up pretty well considering the strength. A look at the chart shows that we are now approaching an important price level and perhaps a natural point for the dollar to experience its first pullback of any real note: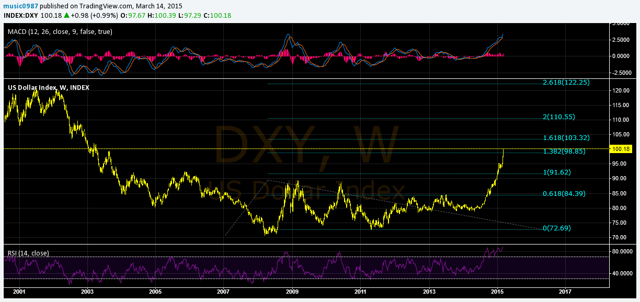 We are now just under the 103 price level I have consistently noted in many of my articles as being the logical first target for the rally, as this represents the 1.618 Fibonacci extension projected from the 2008 and 2011 lows.
Looking back through the comments section in many of my gold articles, many expressed doubt that dollar strength could continue at the fast pace it had set for itself, and there have been almost constant calls for a pullback. I have to admit that I thought it would take longer to reach this target, but here we are just a few short months later.
Now that we are getting close to this level I would be on the lookout for a consolidation phase, and should this follow we may find that gold has better prospects for at least a short covering rally in the next couple of months.
However, longer term my outlook has not changed - see the explanation in this article - the dollar is going much higher and gold will make new bear market lows before any real sustained rally is achieved in the price.
GOFO
Since the LBMA discontinued publication of the gold forward offered rate in January, it has been difficult to monitor backwardation in the gold price.
Backwardation can be an important indicator as it details the times at which there is either excess demand for physical gold, or a lack of physical available on the market to satisfy normal buying demand. Both would tend to keep a bid under the gold price, as there would then be no shortage of buyers over the period backwardation is in place.
I have been informed that we have a small amount of backwardation in place for the April gold contract. I am not sure whether this will last, and will post in the comments section as and when there is any change.
Gold Miners
The gold miners performed poorly in the first few days of last week, but Wednesday was notable in that the gold price was slightly negative on the day and the miners still managed to rally.
This kind of divergence is anecdotal at best, but can precede a rally in the gold price as the miners tend to be bought and sold in anticipation of gold price movement. If traders and investors believe that gold is close to some sort of low, you can normally expect the miners to be purchased just prior to a gold rally taking place.
For GDX it is possible we have a low in place already and a short covering rally may now ensue, but should we head slightly lower before this occurs we have support at 16.60, 16.40 & 15.80. At this point we cannot be sure how far a rally will take us, but assuming we do start to move up our first probable target is around 20 and I will reassess as it develops.
For GDXJ the same analysis applies, with main support at 20.60 and first target roughly 25. A lot depends on how gold performs over the next few weeks.
Gold Chart
For gold itself there are signs that a rally could be developing. The chart pattern would indicate that a slightly lower low could come first, but I would like to see gold hold $1140 at worst.
What we need to be aware of is the number of long contracts still open that have doubtless been purchased at higher levels. The $1132 November low is a very likely and obvious target for a stop loss on a long contract, and should gold break that price level we could well see a strong move down as these contracts are jettisoned all at once.
The chart pattern indicates that we could be on the verge of starting a bullish C wave up that tests the January highs at $1306, but given how bearish gold has acted over the last few weeks you can well imagine that traders will be looking to short any pop we see in the price.
At this point I am leaning to a short term rally that takes us up as high as $1200-$1220, possibly $1243, and I will reassess as it develops.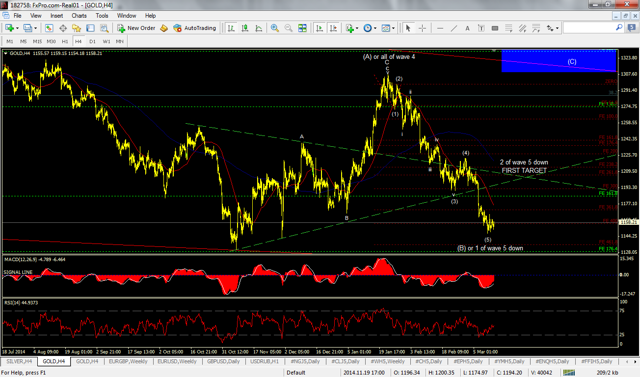 I don't particularly enjoy giving alternative counts as I appreciate that not only can it be confusing, but it also looks like I am covering all the bases in an effort to make sure my call is correct.
However, at this point in the count there are valid arguments to be made for both the wave C up to test the January high, or a smaller wave up (wave 2) to be followed by a strong move lower. With regards to timing, just be aware that the Fed meeting is likely to be a catalyst for volatility in the price.
As usual, I will update thoughts throughout the week, and I wish everyone good luck for the next 7 days!
Disclosure: The author is long GLD.
The author wrote this article themselves, and it expresses their own opinions. The author is not receiving compensation for it (other than from Seeking Alpha). The author has no business relationship with any company whose stock is mentioned in this article.