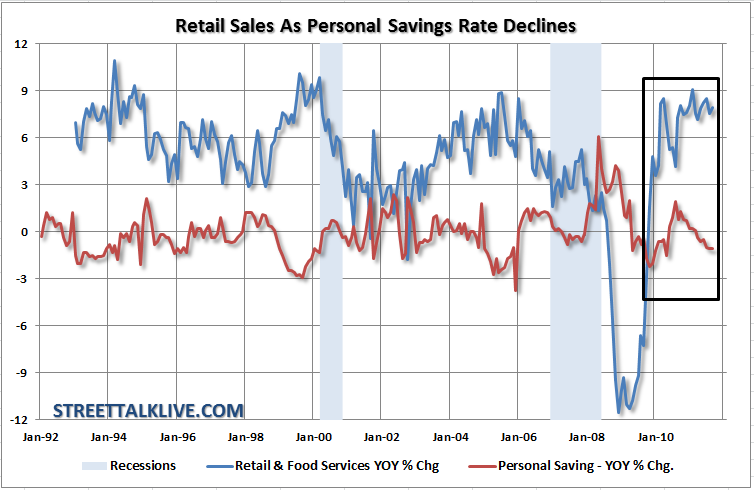 This past Friday, the media was abuzz with news that the jump in retail sales was clear and positive proof that the economy was not slipping into recession. That is a broad claim to make on the back of a one month number. As we have stated many times in the past, it is not the number that is important, but rather the trend of the data that is much more critical. There were several pieces of data out that warrant review, such as consumer sentiment, inventories, import prices and, of course, retail sales.
Let's start with retail sales. Yes, retail sales held up last month, moving up 1.1% after being completely flat in September. However, we also saw retails sales pop 0.9% in November of 2007 and a 1.1% bump in January of 2001. Both of those jumps in retail sales led to recessions shortly thereafter.
Furthermore, take a look at the chart above. Sales are coming from savings as incomes have been declining on a year over year basis and employment has remained stagnant. Therefore, how long do you think it will be before retail sales have to face up to reality? Also, when you look at the raw retail sales data it actually showed a 5% decline for the month and it took a quite hefty "seasonality" adjustment to get the "pop". In fact, according to the data it was the largest seasonal adjustment in 5 years.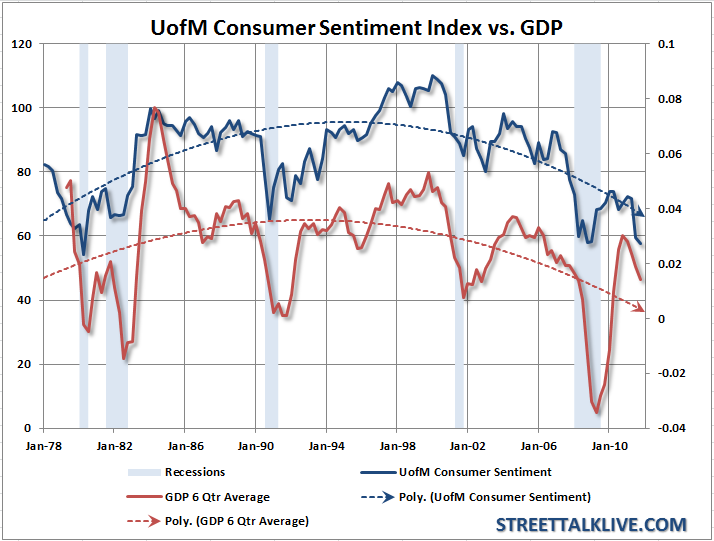 Maybe this is why Consumer Sentiment just plunged to a low in the University of Michigan index - which by the way has a very high correlation to the economy.
With consumers stressed from falling or stagnant wages, longer work hours, declining home prices, rising fuel and food costs and struggling stock prices, it is no wonder sentiment hit lows. More importantly, the "expectations" component of the index which leads consumer spending growth by about one quarter, plunged to 47 from 49.4 in September and came in below the 2008 recession low. The consumer confidence index also slid from 70.1 to 66.2 in November of 2007 just one month before the last recession started. Oh, and that was the same month that retail sales "popped" as stated above. This is why you can't just look at a number without putting it into context - particularly when the consumer, which drives 70% of GDP, is involved.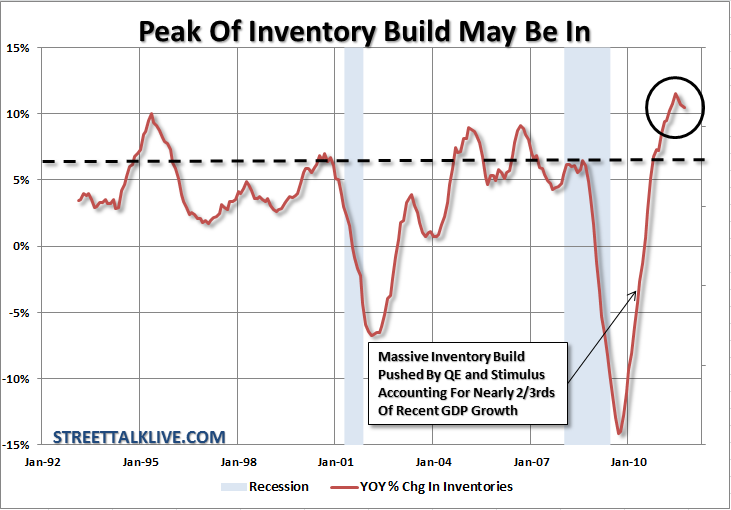 Which brings us to last week's inventory numbers. Over the past couple of years, more than 2/3rds of the GDP numbers have been driven by inventory restocking post the largest drawdowns on record during the 2008 recession. That inventory build cycle now appears to be complete at the recent peak and doesn't bode well for strong future economic growth over the coming quarters. This is particularly important when you take a look at the areas of weakness in the recent retail sales report: electronics, building materials, drugs, groceries and sporting goods. When the consumer is slowing down purchases of drugs and groceries, you know things are tough at home.
Furthermore, shipping volumes have all but vanished and rail and trucking lines are scrambling for every load they can pick up. With the holiday shopping season fast approaching, this doesn't paint a pretty holiday picture.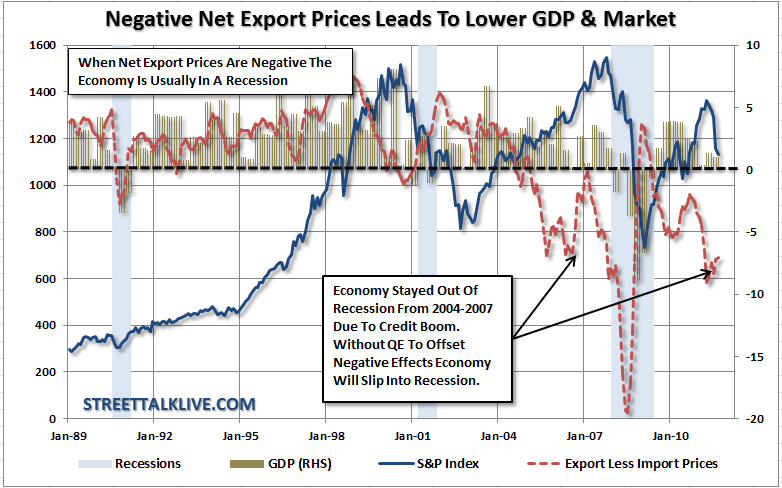 Finally, we will tie this altogether with the recent release on import/export prices. Net export prices continue to lag in recessionary territory with only the massive amounts of stimulus from the Fed pulling forward enough future consumption to push economic growth anemically positive. With Fed stimulus effectively off of the table and the tax cut extensions from last year rapidly coming to an end, the likelihood of continued economic expansion is highly suspect.
We have been predicting a sub-par economic growth rate with a high probability of recession in early 2012. Even with the trumpeted bump in retail sales this past month, the threat of a recession in 2012 is still highly probable given the mounting evidence from just about every other area of the economy. Given the fact that we are now fully entrenched in a balance sheet deleveraging cycle, spurts of growth will continue to be anemic as excess consumptive power is diverted into debt reduction rather than consumption. The new level of "frugality" will continue to plague economic growth until the cycle is complete.
Unfortunately, for those that are hoping for 8% annualized returns from portfolios to establish their retirement, suffice it to say that since you haven't seen that in the last decade and things have become materially worse during that time, it is highly unlikely that you will see it in the next decade. Income over growth and capital preservation over risk strategies will be key for surviving the next 10 years of a deleveraging economic cycle.
Disclosure: I have no positions in any stocks mentioned, and no plans to initiate any positions within the next 72 hours.