Hedge funds and high frequency traders seem to be getting all the action these days. The market pops up one week and slams down the next with extreme volatility as full-time traders armed with their computer algorithms make record profits. In fact, one U.K. trader lies awake at night dreaming about recessions or volatile markets such as the one we have today.
Does this mean that the average retail trader merely sits by waiting for calmer markets to return? Not at all. While I use a combination of index timing techniques with various dividend strategies for a long-term market-beating result, the focus of this article is on a short-term trading strategy that is rooted in fundamental analysis. As the saying goes, if you can't beat them – join them.
Short-Term Trading Strategy
This is not some technical analysis strategy that has you trading both sides of the fence – both long and short. This is a short-term aggressive bull strategy that will rise very quickly on up-weeks - but it will also give back gains during crashes. No market timing is required as you want to be invested at the earliest possible entry.
This strategy utilizes the Post-Earnings-Announcement-Drift phenomenon (PEAD). We also incorporate the technique of buying stocks with recent upgraded earnings for the next fiscal year. As well, stocks which have underperformed the market over the past year are removed. This is a concept we borrow from momentum investors. Finally, we only invest in stocks that do not have options. It is my belief that hedge funds and related traders migrate towards stocks that they can easily leverage. We will let them have their stocks if we can have ours with less manipulation.
What of our selling rules? We only stay invested a maximum of 12 trading days. This is our key selling rule. We also sell if quarterly earnings are reported without a large surprise, if the stock begins to significantly underperform the market, or if earnings forecasts don't stay strong. The most important aspect is our 12 day trading rule, although you can adjust this anywhere you want between 10 and 15 days (2 or 3 trading weeks).
Short-term Trading Performance
How has this strategy performed over the past 5 years? Starting with $25,000 of capital 60 months ago you would have 7.3x that much today.
Click to enlarge: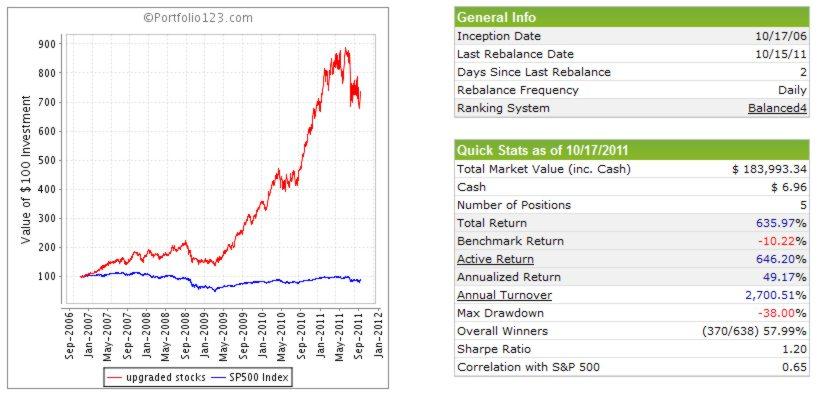 Keep in mind that this does not include trading fees and slippage. If you have high transaction fees and use abnormal sums of money per trade thus creating large slippage, expect the profitability to drop dramatically. If you only use smaller sums to slip in and out of stocks easily and have a low cost broker, this should be a well-performing strategy, although it still struggles in down markets such as the ones we have been in since late July. If you add in a market timing element, you can lower your maximum portfolio loss up to half, but your overall gain remains similar since you are not capturing the lowest point of a market bottom.
Historical Picks
What sort of stocks has this picked up in the past year?
Recent Recommendations
Being an Aggressive Short-Term Bull
Short-term trading can be a good strategy in volatile markets as opposed to long-term portfolios which often rise and fall with little net gain. This short-term strategy is an aggressive technique that attempts to take short-rides on rising stars. Many trades will not work out but that ones that do will often be stellar.

Disclosure: I have no positions in any stocks mentioned, and no plans to initiate any positions within the next 72 hours.