Providing an essential service with revenue backed by long-term contracts, Canadian power generation stocks occupy an enviable position in late 2011. No matter how bad things get in the credit market and economy, they'll keep getting paid -- and passing the profit along in dividends to investors.
That point is widely acknowledged by investors, demonstrated by power stocks' generally solid performance over the past two months. What's less well known is their robust and low-risk road to long-term growth, as they lock in cash flows by adding desperately needed generation.
And Canadian power infrastructure company, Capstone Infrastructure Corp [TSX: CSE (OTCPK:MCQPF)] features an added bonus: it's in the midst of a transforming merger that will juice up future growth even more while further strengthening the company financially and safeguarding dividends.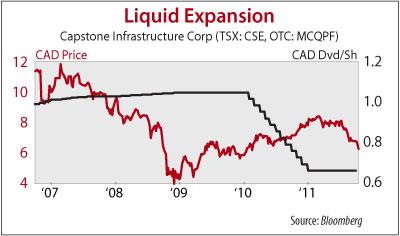 The latter is particularly important as a catalyst for future stock price gains at Capstone Intrastructure Corp. The stock currently yields more than 10 percent, based largely on the perception that its distribution is at risk. Easing investors' fears is an obvious catalyst for a fast return trip to a price of at least USD8 for the stock, a range it held up until mid-summer.
Such a roundtrip became a lot more likely this week, as management announced it would use the remaining dormant cash on its books to buy a 70 percent stake in Bristol Water from Suez Environnment (OTCPK:SZEVY). Suez will retain a 30 percent stake in the company.
The purchase comes with a CAD214 million price tag plus CAD440 million in long-term debt, which will remain an obligation of UK-regulated Bristol. Capstone will also use a CAD150 million loan from parent Macquarie Group Ltd (OTCPK:MCQEF) to fund the transaction, another demonstration of the benefit of its relationship with the giant Australian bank and global infrastructure investor.
Over the past couple of years UK water utilities have had to adapt to a new regulatory regime that's forced them to cut costs and control capital spending. Capstone's purchase price of approximately 1.2 times regulated capital (or book value) seems to reflect that reality. As a result of the deal, management has raised its cash flow projection for 2011 to CAD75 million from a prior forecast of CAD60 million. The 2012 estimate is now CAD140 million, up from CAD80 million.
Capstone management has long maintained its high payout ratio of recent quarters is only temporary, caused in part by the large amount of cash still on its books from the sale of its 42 percent stake in Leisureworld. Management has taken its time investing the money, which has resulted in a large portion of assets earning only meager returns.
This deal essentially deploys all of this cash to generate cash flow, or roughly CAD65 million. At this point it's purely a financial investment, as Suez will continue to operate Bristol's assets through its AGBAR unit (Sociedad General de Aguas de Barcelona). But it does forge a partnership with a world leader in water and wastewater infrastructure, opening the door to future investment for Capstone in a market estimated to reach USD772 billion a year by 2015.
By 2012 Bristol will generate approximately 18 percent of the company's adjusted funds from operations (AFFO), the account from which dividends are paid. Approximately 42 percent of AFFO will come from the Cardinal power plant, 11 percent from the district heating business in Sweden, 10 percent from the Erie Shores Wind Farm, 7 percent from hydro facilities, 5 percent from the Whitecourt biomass facility, 5 percent from the newly opened Amherstburg Solar Park and 2 percent from the Chapais biomass facility.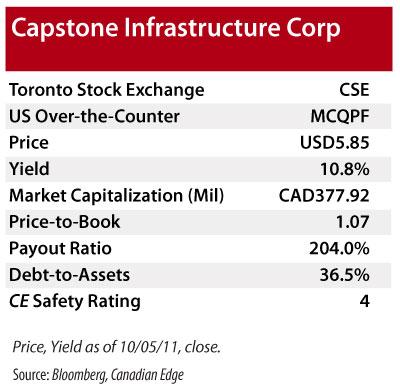 All of these projects are operated under long-term contracts with very predictable cash flows. Bristol, meanwhile, earns money under a regulated return on investment formula that's reset every five years according to system needs. Rates are adjusted upward for inflation from a base return on equity of 6.6 percent, and Bristol is expected to grow what amounts to rate base by 26 percent over the next several years, versus 8 percent for UK water utilities as a whole.
Capstone management now anticipates a payout ratio of between 85 and 90 percent for 2012, based on AFFO. Thereafter it expects the payout ratio "will remain less than 100 percent through 2014, subject to the continuing execution of (its) growth strategy" –a crucial measure to ensure that dividends are sustainable.
With the Leisureworld proceeds now deployed, the most important item on the agenda is still the re-contracting of the Cardinal natural gas power plant. Talks continue with the Ontario Power Authority on a new deal for 2014 and beyond. CEO Michael Bernstein commented during the company's second-quarter conference call that they are "moving the re-contracting process forward" after "working to prepare for this opportunity for more than two years." He went to say that a new contract for Cardinal was one of his two priorities for 2011.
Should Cardinal get a new contract that's perceived favorable to Capstone, we may not have to wait long for a return move to USD8, and eventually well beyond. In the meantime, management continues to grow the portfolio, eventually setting the stage for a return to dividend growth once the uncertainty with Cardinal is resolved.
Disclosure: I have no positions in any stocks mentioned, and no plans to initiate any positions within the next 72 hours.