India's balance of payments recorded surplus for the fifth consecutive quarter, with Oct-Dec 2014 printing USD 13 billion surplus. Though this is double the USD 7 bn surplus recorded in the previous quarter, it is lower than USD 19 bn recorded in same quarter in the previous year.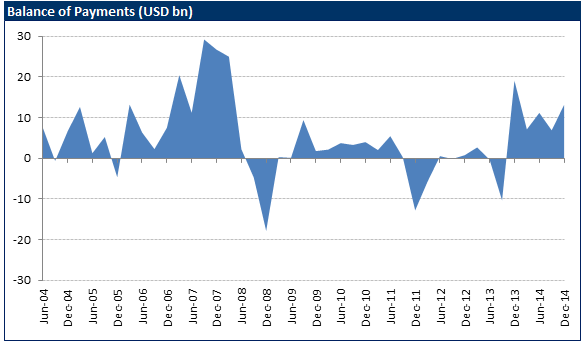 Source: Reserve Bank of India
When compared against nominal GDP, the BoP surplus was at 2.6%, current account deficit was at 1.6% and trade deficit was 7.7% of GDP.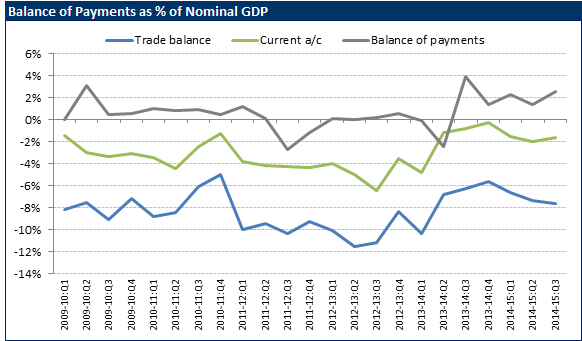 Source: Reserve Bank of India, MOSPI
The continued surplus in BoP was driven by lower current account deficit at USD 8 bn (1.6% of GDP). Merchandise trade balance continued to be under pressure in Q3, due to higher gold imports in October and November. Fall in oil prices reduced net outgo on oil by ~USD 7 bn (YoY) to USD 20 bn for the quarter. We expect net oil bill to further reduce to ~USD 17 bn in the next quarter (Jan-Mar'15), if oil prices remain under USD 60/barrel.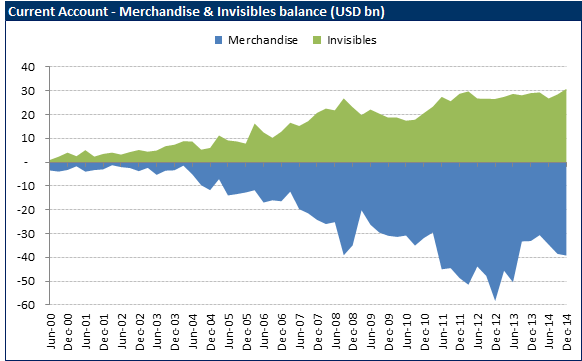 Source: Reserve Bank of India
Surplus in invisibles (USD 31 bn) helped to partially bridge the deficit in merchandise trade (USD 39 bn), leaving a deficit of USD 8 bn.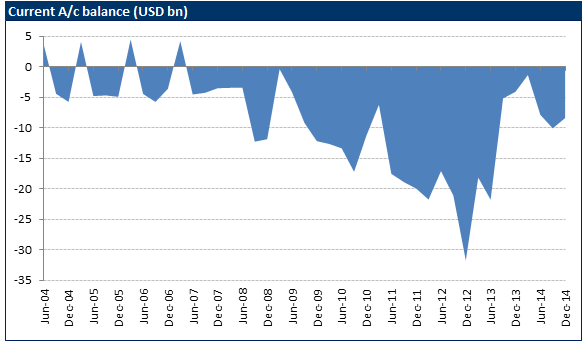 Source: Reserve Bank of India
Capital account surplus was at the highest level since July-Sept 2007 quarter. FDI for the quarter came in a ~USD 7 bn, while FPI (foreign portfolio investment) was at ~USD 6 bn. Banks raised a total of USD 11 bn capital, helped in offsetting the lower FPI inflow. FDI & FPI (net) inflows were lower than the previous two quarters.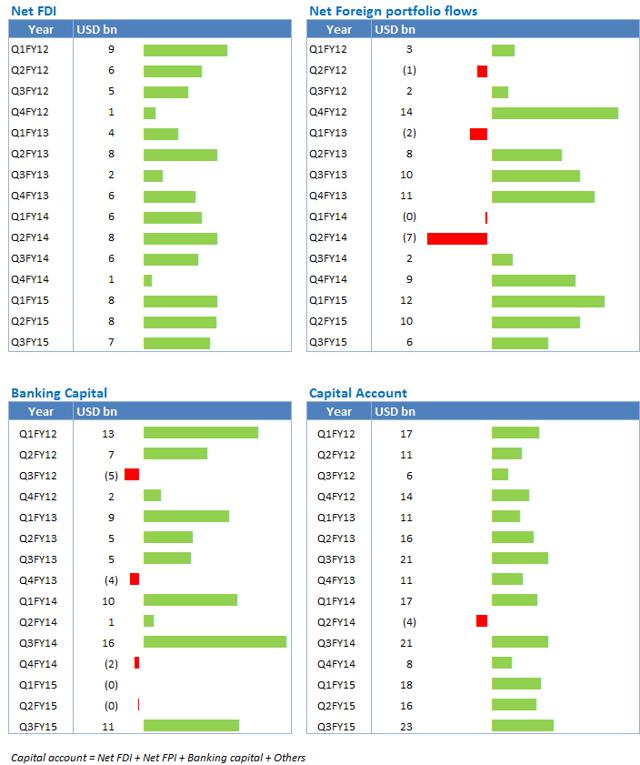 Source: Reserve Bank of India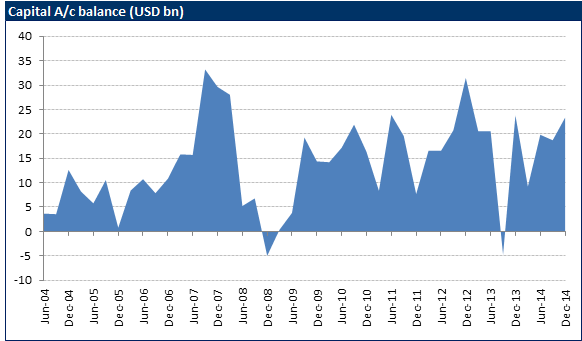 Source: Reserve Bank of India
Capital account surplus has historically been bridging the gap created by huge deficits in the current account. As the Indian economy continues to recover, and the government expected to introduce reform measures, capital account balance can be expected to be in the positive zone. India's stock markets are currently ruling at all-time-highs, buoyed by expectations about reform measures by the government, despite the lack of any significant concrete measures in the past 10 months.
Here are further details of India's balance of payments: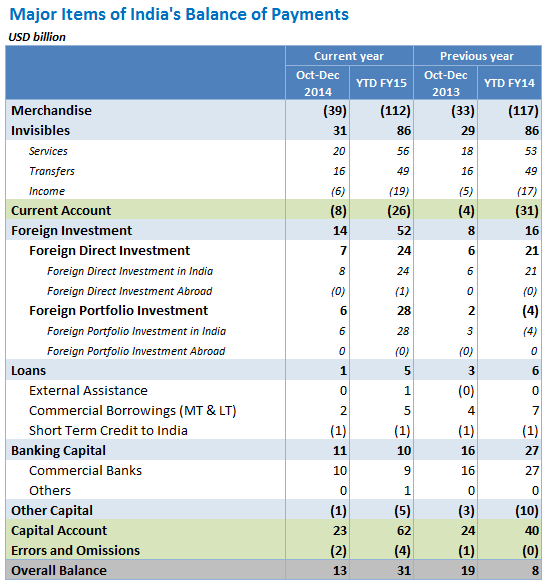 Source: Reserve Bank of India
Consequent to the BoP surplus and central bank interventions, India's forex reserves continued to build-up, reaching USD 338 bn for the week ended March 6th, 2015.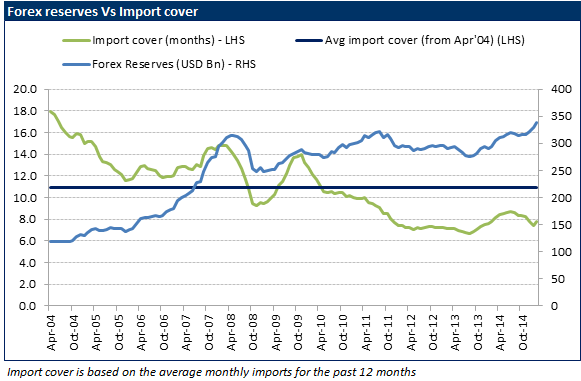 Source: Reserve Bank of India, Ministry of Commerce
Our View
As crude oil constitute ~1/3rd of import bill and ~1/5th of exports, every USD 5 fall in crude oil prices per barrel will improve the current account/trade deficit by ~30bps of nominal GDP. Additionally, gold imports have normalised after witnessing spikes in Sept-Nov'2014 period, after some of the restrictions on gold imports were lifted. Moving forward into the first quarter of calendar year 2015, we expect current account to record a surplus of ~1.1-1.3% of GDP, helped by lower oil prices and lower gold imports. Hence we expect India to close FY 2014-15 (Apr-Mar) with a CAD of ~1% of GDP, and a BoP surplus of ~3% of GDP. These will be the highest BoP numbers in 7 years. However these assumptions are dependent on the expectation of benign oil prices (which currently rule at USD 55-60), and stable exports. As the global growth ex-US remained fragile, exports will remain under pressure. We maintain our 2015-end Indian Rupee (NYSEARCA:INR) target of INR 65/USD, depreciating due to broad dollar strength, and over-valuation in REER terms.
Disclosure: The author has no positions in any stocks mentioned, and no plans to initiate any positions within the next 72 hours.
The author wrote this article themselves, and it expresses their own opinions. The author is not receiving compensation for it (other than from Seeking Alpha). The author has no business relationship with any company whose stock is mentioned in this article.