By Parke Shall
The sell off that sparked the volatility last week started on Tuesday and we thought it was great. Not just for shorts, we mean. We think the sell off, and the volatility that followed the rest of the week is good news for the market in general. As you can see from the below chart, both the S&P and the Dow had a volatile week; up on Monday, sell off Tuesday and Wednesday, a small recovery Thursday and a sell off on Friday.
All in all the major indexes moved in a trading range of nearly 2.3% for the week. As expected, the VIX also spiked during the week.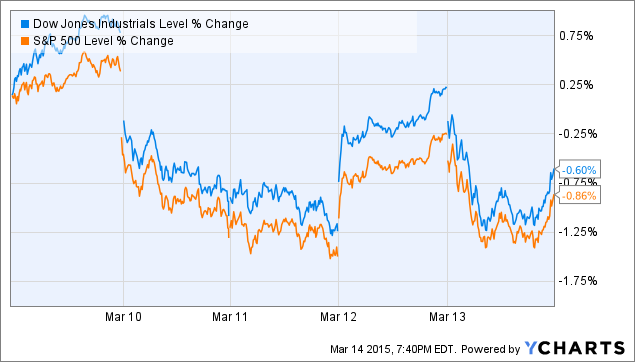 In a couple of past pieces, we talked about whether or not the Fed could delay the rate hike in order to stay the path the market is currently on. We said that we didn't think the delay was going to be an option and a return to "normalcy" by raising rates had to be the next move in the queue for the Fed.
We took Tuesday's and Wednesday's sell off as a sign that the market is starting to realize that there is a reality of rates starting to rise. We're in March now, which means we're still a couple of months away, but the market is starting to think about these things and that explains why euphoric buying just hasn't seemed to happen over 18,000 the way that it has over the last 6 years or so.
If you've noticed, 18,000 has been a level that has been tough to hold. Heading into rising of rates, which should shift the markets gears in a major way, may prevent us from holding 18,000 steadily for a little while to come.
Do we think a larger correction will come with rates being raised? Yes.
We're forecasting about a 10% correction once rates are hiked, as people begin to profit take from the last 7 years and realize that the buying without reason is likely coming to an end. The market will have a very real exposure to geopolitics and potentially "bearish" news; the complete opposite of how it has reacted to that type of news over the last four or five years. By default, the market has been in an upward trend. Only on days of semi-serious bad news will the market pull back. With a rate hike, the "default" mode of the market inches more towards neutral.
Ultimately, we think this is healthy. The Fed being as clinical as they can, combined with some realism by the markets will push the market down from here. From there, we think the market will take a much more objective view of equities, and savers and bondholders will finally start to get some of the much missed interest that they should be entitled to.
We think we're going to see a more "skeptical" market, where companies are going to have to prove themselves with real cash-backed earnings and growth. We think the market will grow less impressed and tired of companies that are only growing by making cuts or buying back stock.
In a previous article, we talked about two ways to invest for rate hikes;
1. Names like JPMorgan (NYSE:JPM) and Wells Fargo (NYSE:WFC), two of the biggest lenders, stand to benefit if rates finally rise. You can get into financials or utilities via ETFs, as well. Both Vanguard Energy (NYSEARCA:VDE) and Financial Select ETF (NYSEARCA:XLF) should be beneficiaries of rate increases.
2. Rising rates would likely drive the markets lower, so investments in ETFs that are bearish the indices or follow the indices like the S&P 500 (NYSEARCA:SPY) would likely move lower.
As we've said in the past, there's no longer a debate as to whether the U.S. economy is once again healthy. The global economy is another story. Unemployment numbers join all of that other macro economic trends that seem to be telling us that we're as "back on our feet" as we can get. After all, the 2008 crisis only seems like a small blip on the radar of the bigger picture at this point.
A rate hike is overdue and it's on its way. The markets are starting to price it in, which will lead to a healthier sentiment and a healthier, more realistic market moving into 2016.
Disclosure: The author has no positions in any stocks mentioned, and no plans to initiate any positions within the next 72 hours.
The author wrote this article themselves, and it expresses their own opinions. The author is not receiving compensation for it (other than from Seeking Alpha). The author has no business relationship with any company whose stock is mentioned in this article.