Are you the type of investor that likes smaller stocks with rapidly growing revenue and earnings? If so, pay attention to when you buy these stocks. The inventor of CAN SLIM, William O'Neil, suggests selling your high-growth leaders when broad indexes are falling on heavy volume, as these little rockets can run out of fuel and fall hard in bear markets.
Market and Individual Stock Timing
One way to save yourself from heart-pounding volatility and loss is to use a market timing strategy. One strategy that I recommend is to track the earnings forecast trend for a major index such as the S&P 500. To confirm an earnings trend, keep your eye on a medium-term moving average on the S&P 500 price chart. I have found this type of market timing combination to be particularly robust. (You can run this information and screening process at Stockscreen123 or Portfolio123.)
The second method is to have rigid rules for buying and holding these high-growth stocks. As an example, you could demand very high earnings growth to buy. Since earnings growth drops in bear markets, very few stocks, if any, will make your scan. This in itself will help reduce risk. Second, to keep a stock in your portfolio, the total earnings cannot fall between trailing quarters, comparative quarters between this year and last, as well as comparing the trailing 12 month earnings with the 12 months before that. This prevents you from buying or holding lagging stocks with negative growth in bad markets.
If you combine the two methods, you can arrive at a "high alpha" system that buys during highly probable bull markets while pruning out stocks with waning earnings growth.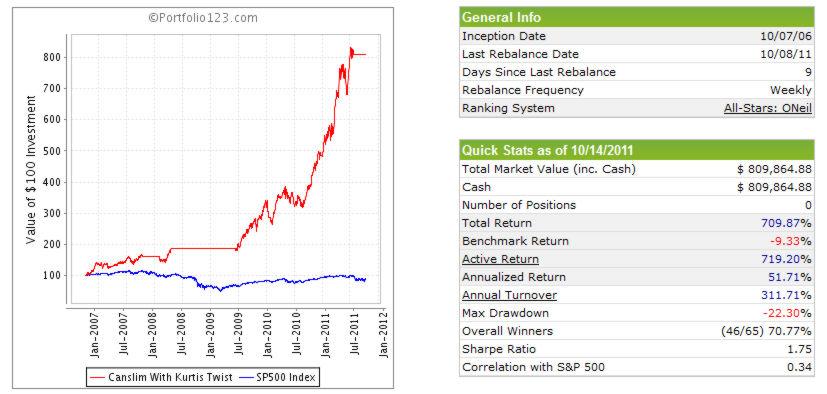 Is it Time to Buy Right Now?
If you look at the S&P 500 earnings forecast trend, the current year and next year's estimates have been rolling down the hill over the past 3 months. Until the total earnings forecast start to pop, as opposed to buying on valuations, I would suggest holding off. Instead of sitting by doing nothing, get ready by screening for a basket of potential poppers and putting your finger on the buying trigger.
High-Growth Stock List
| | | | | |
| --- | --- | --- | --- | --- |
| Ticker | Name | Last | EPS % Change PYQ | EPS % Change TTM |
| SWI | SolarWinds, Inc. | 24.43 | 60.25 | 53.09 |
| CPSI | Computer Programs & Systems, Inc. | 72.12 | 84.26 | 67.56 |
| RBN | Robbins & Myers, Inc. | 44.05 | 100.32 | 119.69 |
| ODFL | Old Dominion Freight Line | 34.1 | 78.24 | 143.04 |
| TWIN | Twin Disc, Incorporated | 28.5 | 261.27 | 3006.2 |
| PKT | Procera Networks, Inc. | 10.95 | 120.31 | 81.72 |
| ELRC | Electro Rent Corporation | 15.37 | 62.32 | 82.76 |
| IPGP | IPG Photonics Corporation | 56.19 | 190.41 | 381.05 |
| GRC | The Gorman-Rupp Company | 28.51 | 57.07 | 66.56 |
These stocks needed to have tightly grouped earnings with relatively low standard deviations; be USA stocks only; have current earnings 15% higher than trailing quarter; current earnings quarter 20% higher than same quarter one year ago; and trailing 12 month earnings 20% higher than the 12 months before that. We stay away from the financial sector as well.
A Sideways Market Means Get Ready
What is a high-growth investor to do? Learn about some of the various market timing techniques and determine which ones are compatible with high-growth stocks. While I like the CAN SLIM method of spotting market tops and bottoms, this can be a tedious (and interpretive) chart reading task. You might have more success with the modified FED model if you follow the S&P 500 earnings trend rule, or possibly a very-long-term moving adaptive moving average such as the ones reported on in the paper, "Technical Analysis with a Long Term Perspective: Trading Strategies and Market Timing Ability."
Second, find or develop a rigorous screen for aggressive growth, such as the one here. When the market goes green, buy these little rockets, but keep a close eye on the market and individual stock growth rates. If you are holding a stock with negative growth (between trailing and year over year quarters) – dump it. If the market turns down – dump it. The stakes are just too high to hang onto these picks that pop and drop with high market leverage. Trading high-growth stocks is about timing as much as it is about stock selection.
Disclosure: I have no positions in any stocks mentioned, and no plans to initiate any positions within the next 72 hours.