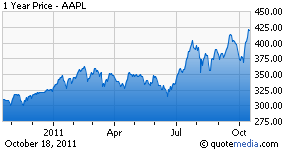 On October 18 after the market closes when Apple (NASDAQ:AAPL) reports earnings for its fiscal fourth quarter ended September 30, 2011, pay close attention to anything they reveal about the first quarter of fiscal 2012. While Q4 matters, only short-sighted investors will make investment decisions based on whether they beat or miss consensus, and if so, by how much.
Investors should be far more focused on the first quarter of fiscal 2012. We know that Apple sold 4mm units of its new iPhone 4S in the first 3 days the phone was available.
Apple bears point out that the company launched the new phone in 2 additional countries and on two additional carriers in the U.S. [Verizon (NYSE:VZ) and Sprint (NYSE:S)] versus the iPhone 4 launch (which saw sales of 1.6mm in the first 3 days). While I agree that this is one of the reasons the sales were so robust, that is not a surprise. Moreover, it is a core component of Apple's growth strategy.
Also important to the long-term investment thesis for Apple are the new "low-end" offerings in the form of the iPhone 4 for $99 or the iPhone 3S, at no. Both, of course, require a two year contract with the carrier. Any color on provided on the how these phones are selling will be very significant to Apple's growth story. I am confident that Q1 2012 earnings, which will be reported in January 2012, will show the stellar debut of the iPhone 4S, but sales of the lower cost models could steal market share from Android-based phones and provide massive upside for Apple. Prospective mobile phone buyers that do not want to pay the $200 for the latest iPhone model now have an option that gets them into the Apple ecosystem. And an iPhone 4 is not a bad option at all. This could also lead to significant upside in Mac sales. Further, the iCloud is just getting started and will likely become more powerful over time, which also supports the ecosystem and could drive upside. I would not be surprised if iPhone and iPad owners that do not currently own a Mac will convert and fuel Mac sales upside.
Not surprisingly given the number of people who follow Apple and have their ears to the floor for any information, rumors have already started regarding the iPad3. It has been reported that Apple has already begun production of the iPad 3 for 2012 launch. 2012 is setting up to, once again, be a record setting year for Apple.
Disclosure: I am long AAPL.