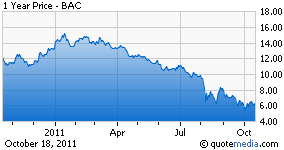 Bank of America (NYSE:BAC) has easily experienced the most significant drop in its value among all of the major U.S. banks, a sector that has been beaten up extensively over the past several quarters. Now trading at $6.03, it has suffered losses that have surpassed that of other struggling banks such as JP Morgan (NYSE:JPM), Goldman Sachs (NYSE:GS), Wells Fargo (NYSE:WFC) as well as Citigroup (NYSE:C). It's hard to imagine that Bank of America is not significantly undervalued at these levels, particularly when one considers that not only has its current per share cash position exceeded the current trading price, but so has its book value.
I am now making this bullish case for BofA for several reasons. But one reason in particular has to do with what I have recently observed in another sector. The company that comes to mind is Research in Motion (RIMM). I made a similar case for RIM in late August which proved modestly true, but perhaps a tad too bullish at the time. The jury is still out on that one, but the premise remains the same, which is that a company's book value often presents a significant level of support. It is hard to imagine a stock falling below the value of cash and assets on hand. On these instances, the rebound has always been immediate when "Mr. Market" realizes what just happened.
Click to enlarge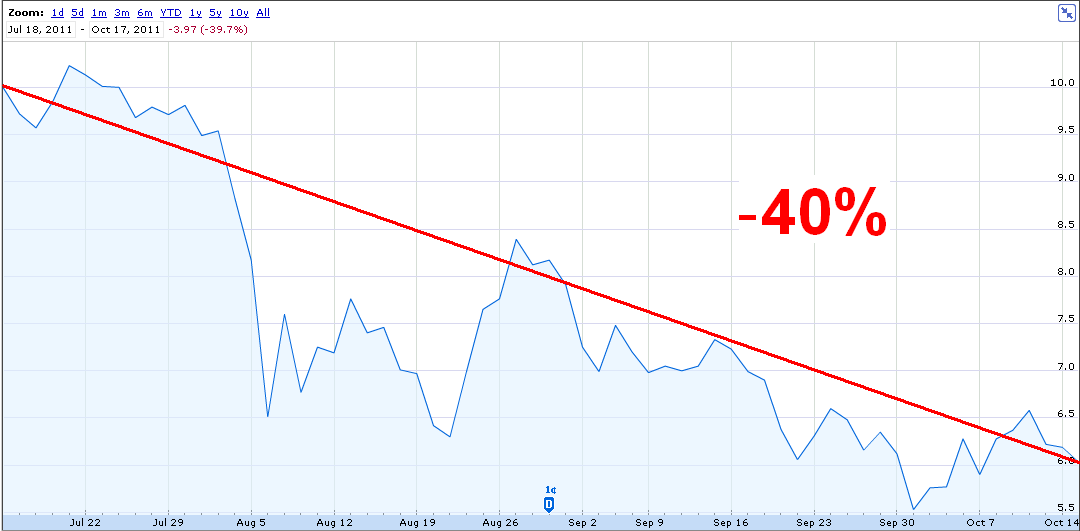 The stock has lost 40% of its value since reaching an intraday high of $10.05 on August 1. One of the primary reasons that investors have avoided the stock has been due to concerns regarding its balance sheet, one that now carries almost $400 billion in long term debt and makes its net debt position very unattractive. Although one would be hard pressed to find another bank that does not carry such amounts of debt, but the risk is tough to overlook.
I was very intrigued to learn of Warren Buffett's sizable investment in the struggling bank. Seeking Alpha contributor Farah Lalani described the news this way:
Buffett's announcement restored investor's confidence in Bank of America and put a rest to the takeover rumors. After Buffett's announcement, shares of Bank of America soared during Thursday's trading day and closed up 9.44% at 7.65.

According to the

deal's terms, Berkshire will get 50,000 preferred shares that carry a dividend of 6% a year and are redeemable at a 5% premium. The deal also warrants the purchase of 700 million BAC shares at $7.14 each over the next 10 years.

If the warrants were fully exercised, Berkshire would own about 6.5% of the bank, which would make it the bank's biggest shareholder.

The aggregate purchase price of the preferred stock and warrants totals $5 billion in cash, which is obviously a sweet deal for Buffett.
If that was not reason enough to be bullish on the struggling bank, I'm not sure what is. Though there were many who remained skeptic on the prospects of the financial sector as a whole.
Moving Ahead
The bank just released its Q3 earnings results and reported net income of $6.2B or $0.56 diluted EPS; figures that beat analyst estimates by a significant margin. Revenues rose 6% to $28.7 billion. This is remarkable when you consider that a year ago it reported a loss of $7.3 billion, or 77.
Bears will likely focus on the several divisions that reported declines in revenues, most of which were in investment banking where revenues fell to $5.22 from more than $7 billion a year ago and $6.80 billion in the second quarter. Although deposits have risen by $11 billion to $422 billion, they were down significantly from last year's quarter of $427 billion.
I think investors have to now be pleased with not only these results but also the overall direction of the bank. I think Chief Executive Officer Brian Moynihan said it best by offering the following:
"This quarter's results reflect several actions we took that highlight our ongoing transformation toward becoming a leaner, more focused company. The diversity and depth in our customer and client offerings provided some resiliency in a very challenging environment."
I have no choice but to agree. Based on the earnings, I have to expect at the very least a double in the share price during the course of the next 12 months.
Disclosure: I am long RIMM, BAC.