Chipotle Mexican Grill's (NYSE:CMG) stock price has performed well in 2011 despite recent high market volatility. As of 10/14/11, CMG has increased 50.85% year to date, outperforming the negative 2.62% return of the S&P 500 (NYSEARCA:SPY).
A brief summary of the current market sentiment for CMG follows:
FY2011 analyst EPS estimates are $6.80 (18% increase over $5.76 earned in 2010)

FY2012 analyst EPS estimates are $8.64 (27% increase over current FY2011 estimate $6.80)

Average analyst target price for MA $332.05 (currently trading at $320.80)

Average analyst recommendation is "hold"
As shown in the chart below, CMG has trended upward in 2011. The Bollinger Bands (90 days, 3σ) show that CMG currently has a lower trading support of $255.03 based on a 3σ / 99.7% confidence interval.
(Click chart to expand)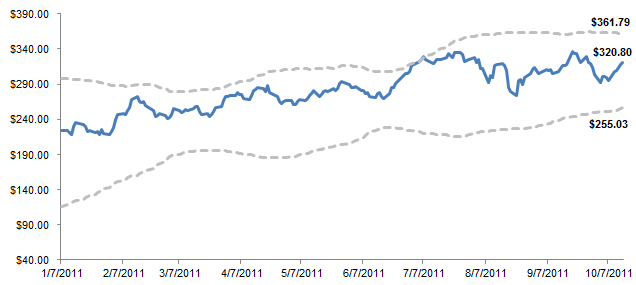 Since CMG has traded in a large range during 2011, the implied volatility of Nov 11 (~70%) and Dec 11 (~60%) 230 strike price puts are quite high compared with the historical volatility of the most recent 50 trading days (~45%). Therefore, I recommend a calendar put consisting of:
Short Dec 11 Put at $230 strike price
Long Nov 11 Put at $230 strike price
If earnings disappoint and CMG's price drops close to the lower support, then I would exit the option strategy. In this worst case scenario, the long Nov 11 put will partially offset losses from the Dec 11 put. For example, if CMG breaks through the lower support to $230 instantly after the earnings release, then I estimate the loss from the strategy would range from $3-$4 per share.
However, if earnings do not disappoint, then I do not see any major catalyst causing CMG's stock price to significantly fall through the end of Dec 11.
This strategy would yield a premium of $1.05 per share if executed at the Dec 11 bid and the Nov 11 ask. If executed at the mid-quote, then the premium would increase to $1.55 per share. Based on my ThinkorSwim margin requirements, this trade would require an initial margin of $2,475.90. Therefore, the potential 2-month return is 4.2% based on the bid / ask and 6.3% based on the mid-quote (excluding trading costs).

Disclosure: I have no positions in any stocks mentioned, and no plans to initiate any positions within the next 72 hours.