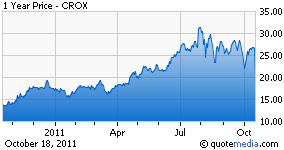 The ever volatile Crocs (NASDAQ:CROX) shoe company appears to be the first major victim of this year's earnings season, and I am sure not the last. After announcing an earnings warning late yesterday, Crocs fell over 35% from yesterday's close in today's trading. Crocs have been a highly volatile stock since I started covering it several years ago. Compared to the recent highs of the summer, Crocs has now lost about half its value.
You may read my other articles by clicking here.
The current market environment is certainly not one to lower expectations in, and Crocs did so in a big way. Management warned investors of a decrease in earnings of as much as 25%. The previous guidance suggested earnings for third quarter of about $0.40 per share. Now investors may be happy to get a number north of $0.34, with current guidance at $0.31-34.
The top line revenue numbers do not look nearly as bad as the market is suggesting. Previous guidance was for revenue to be about $280 million, and now management expects the company to bring in between $273-275 million. Looking at the revenue Crocs is still growing over 25% from the same period last year. Unfortunately, the growth was fully priced in, and when the numbers moved lower, investors walked away.
Looking at the monthly chart it would appear Crocs has a way to go before finding any real support to hang on to. Just below $12 a share I would be looking to start selling put options if it gets there Thursday or Friday. Typically, when a stock falls this much from an earnings related drop, it can take a day or two before the panic subsides. This is even more so when the price closes near the low of the day. Crocs closed at $16.15, only $0.06 above the low. During the sell-off in 2009 when the Crocs stock price imploded, it traded for around a dollar, but it does not appear we will see prices approaching 2009 lows without a material catalyst pushing it further. With the current PE multiple now well over 14 Investors may have some more pain in the coming few weeks.
I would not try catching this falling knife and do any value shopping for shoes even with the current two-for-one coupon. I will watch for a couple more days of selling and if the price does continue to slide along with an increase in the time premium, I will look to sell $14 strike price December puts for $3.00 or more. I may also look at November strike prices tomorrow, as I would expect new strikes to be opened up.
Disclosure: I have no positions in any stocks mentioned, and no plans to initiate any positions within the next 72 hours.
Additional disclosure: I will be watching Thursday and Friday to short put options.