Overview
Book Value Per Share is a well known measure for a company. BVPS is the Net Assets of a company after you deduct all of the liabilities (senior claims) of the company and then divide that amount by the outstanding share count. In the mutual fund world, this is called the NAV (Net Asset Value) of the fund. A good overview of BVPS can be found on this page.
BVPS is commonly used to compare companies that have many tangible assets with a ready market value (an Oil driller, a shipping company, financial funds). This also applies to Business Development Companies (BDC) because the primary holdings of a BDC are loans and equity investments. These investments get marked to market each quarter by the BDC. However, these are illiquid investments. In a fire sale, it is highly unlikely that a company would be able to return its BVPS to shareholders.
In the case of the Patriot Capital (PCAP, delisted) acquisition by Prospect Capital (NASDAQ:PSEC), this was about 75% of BV. Ares Capital Corp (NASDAQ:ARCC) was able to acquire Allied (ALD, delisted) for about half of BV. Given the recent article by Nicholas Marshi, it appears some of these companies may be due for a correction, but the current discount for most of these stocks is interesting. In any case, many BDCs are currently trading below their BVPS and this article will point out some of these firms and provide a news update on them.
Part 2 of this article will provide some more information on what the book value vs price range is for these companies and show the current BV trend. If I get enough time, Part 3 will discuss more reasons why companies are trading below BV and steps that can be done to improve their Market Price.
The companies examined are the same companies I have tracked in my previous posts. This list is: American Capital (NASDAQ:ACAS), Apollo Investments (NASDAQ:AINV), Ares Capital Corp (ARCC), Blackrock Kelso Capital Corp (NASDAQ:BKCC), Kohlberg Capital (NASDAQ:KCAP), Main Street Capital Corporation (NYSE:MAIN), PennantPark (NASDAQ:PNNT), Prospect Capital (PSEC), Solar Capital (NASDAQ:SLRC) and Triangle Capital Corp (NYSE:TCAP-OLD).
Current Book Value Chart: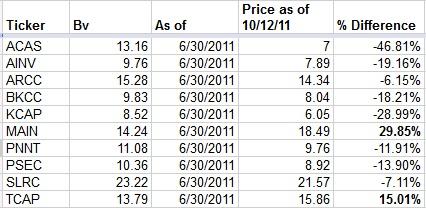 As you can see, most of the companies are currently trading at a substantial discount to NAV. It is interesting to note above that both MAIN and TCAP are currently trading ABOVE their BVPS. Does this mean that those stocks are overvalued or is there more to the story?
Company Overviews:
ACAS - It is valued at almost half of its book value. Given this stock's lack of a dividend payout and the recent news from its conference call about electing to be treated as a C-Corp this year, it may be trading more like a banking stock and less like a BDC.
AINV - The Innkeepers legislation, its failed dividend coverage (a Q2 2011 NII of 24 cents vs 28 cent dividend) and flat revenue may be reasons why this stock is facing headwinds.
ARCC - This company is the current big fish in the BDC space and had a somewhat disappointing Q2 2011. It was within the analyst expectations for earnings, but the high management and performance fees sank it down. On the bright side, it has been active with new investments and Fitch just recently affirmed its investment grade rating.
BKCC - Since it reported lackluster Q4 2010 results, the shares plunged and the secretive company (it rarely issues press releases to show investment activity) has done nothing to repair its standing in the public eye. The shares have been hammered more than the other BDCs (down more than 35% YTD vs a 10% decline for the average BDC).
KCAP - This company was previously involved in a nasty lawsuit with its lender and subsequently retired the debt earlier this year. The only outstanding debt this firm has is $60mm in Convertible securities and it could lever itself back up some or invest some of its cash to improve its portfolio yield.
MAIN - Had a positive earnings surprise in Q2 (41 cents vs estimate of 34 cents), raised its dividend this year (dividends were 12.5 cents per month in January 2011 and have risen to 13.5 cents for October 2011) and has been active with investments.
PNNT - Had a minor earnings surprise (32a vs 29e) and has been consistent with its dividends. I previously gave it the top spot in my dividend darling rankings.
PSEC - Earnings disappointment (23a vs 28e), lack of dividend coverage (from the 10-K it has paid out 112% of its NII to shareholders) and serial equity issuance are weighing this company down. I covered PSEC earlier this year and it has not yet shown it is a trustworthy company.
SLRC - This is the newest company and had a good Q2 (59a vs 53e). There were insider purchases in August and as of June 30th, more than a quarter of the companies assets were still in cash and equivalents.
TCAP-OLD - It had a recent equity raise which I previously covered here, and at a premium to its current book value it could be looking for a recovery in the markets to raise more capital if its investments warrant it.
More discussion to follow in Part 2.