In a recent post I talked about fixed income ETF distributions and what drives them. Now I am going to delve a little deeper and explore an area of the market that can cause investor confusion — TIPS ETFs and distributions.
As their name implies Treasury Inflation Protected Securities can help protect investors against inflation while also providing the potential for a secure income stream. The payments on TIPS are adjusted according to changes in the Non-Seasonally Adjusted US Urban Consumer Price Index, or CPI. That means the principal of TIPS increases with inflation and falls with deflation, as measured by the CPI.
TIPS are also valued by investors for their historically low correlation with other asset classes, which can make them a good addition to a diversified portfolio.
If you want exposure to TIPS you can buy them directly (the government sells them on TreasuryDirect.gov) or you can purchase TIPS ETFs. But here are two key points to understand before deciding whether TIPS or TIPS ETFs are right for you:
1.) Tax implications. For a taxable US investor, both the bond coupon and the inflation adjustment of TIPS are taxed as income. But the majority of the inflation adjustment is paid when TIPS mature. For a taxable investor this creates what has been coined "phantom income", income that is taxed in the current period but not received until a later period.
iShares offers two ETFs that invest in the TIPS market — the Barclays TIPS Bond Fund (NYSEARCA:TIP) and the Barclays 0-5 Year TIPS Fund (NYSEARCA:STIP). These funds address the phantom income issue by paying out a distribution that includes both the coupon income coming from the underlying TIPS held in the funds as well the adjustment for inflation. The income that an investor is taxed on in the current period is received in the current period. But paying out both coupon income and realized inflation has an interesting impact on the amount of income TIP distributes, which leads me to my second point:
2.) Varying Distributions. Coupon income on TIPS securities is generally positive, but the inflation adjustment can be positive or negative depending upon changes in the CPI. Investors should be aware that during periods of high inflation the distribution on a TIPS ETF will likely rise, but during periods of deflation the distribution will likely fall. It can even fall to zero if deflation is strong enough — this happened most recently in March 2009 with the iShares TIPS ETF. We get a lot of questions about TIPS ETF distribution changes from investors, so it is important to keep in mind that the distributions will fluctuate over time. Below is a chart () that shows the historical CPI levels and distribution yields for TIP. A change in CPI doesn't impact the inflation accrual for a TIPS bond until 2 months later, which is why CPI is lagged in the chart.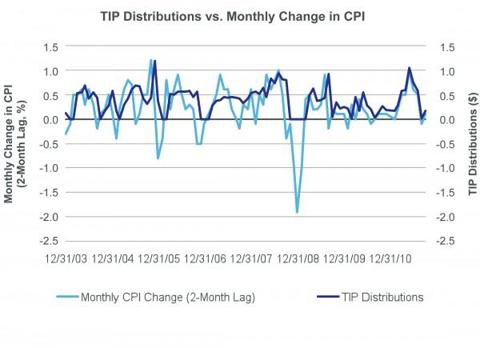 Source: iShares.com and Bloomberg. Past performance does not guarantee future results. For standardized TIP performance, please click here. For 30-Day SEC yield information, please click here.
Inflation linked bonds are issued not only by the US Treasury but also by a number of other sovereign issuers. Exposure to foreign inflation linked bonds can be obtained through the Global Inflation-Linked Bond Fund (NYSEARCA:GTIP) and the International Inflation-Linked Bond Fund (NYSEARCA:ITIP).
Although there are variations in the mechanics of how inflation impacts linked bonds in each country, the consistent trait is that all global linkers provide both a fixed coupon as well as an adjustment for inflation, just like TIPS.
So what's the bottom line? TIPS and other inflation linked securities can play a role in your portfolio but be aware of the phantom income issue created when buying bonds directly. If you are investing via TIP or another iShares ETF, be aware that the distribution on the fund will vary according to changes in inflation.
Differences in owning TIPS versus TIPS ETFs
It is important to keep in mind that there are differences between owning inflation-linked bonds outright versus owning them via an exchange traded fund (ETF). Two notable differences are:
Because inflation-linked bond ETFs are perpetual assets that target maturity ranges (rather than mature at a single point in time, as a single bond would), they cannot guarantee against loss of value.
Regular distributions from inflation-linked bond ETFs must include adjustments to principal due to changes in CPI as well as the coupon payments from the underlying securities held in the ETF. Individual inflation-linked bonds, in contrast, pay coupon payments semiannually, and the adjusted principal is paid in total when the bond matures.
Diversification may not protect against market risk
When comparing bonds and iShares Funds, it should be remembered that management fees associated with fund investments, like iShares Funds, are not borne by investors in individual bonds.
Bonds and bond funds will decrease in value as interest rates rise. TIPS can provide investors a hedge against inflation, as the inflation adjustment feature helps preserve the purchasing power of the investment. Because of this inflation adjustment feature, inflation protected bonds typically have lower yields than conventional fixed rate bonds and will likely decline in price during periods of deflation, which could result in losses. Government backing applies only to government issued securities, not iShares exchange traded funds.
In addition to the normal risks associated with investing, international investments may involve risk of capital loss from unfavorable fluctuation in currency values, from differences in generally accepted accounting principles or from economic or political instability in other nations. Emerging markets involve heightened risks related to the same factors as well as increased volatility and lower trading volume.
Narrowly focused investments typically exhibit higher volatility and are subject to greater geographic or asset class risk. The inflation-linked bond funds are subject to credit risk, which refers to the possibility that the debt issuers will not be able to make principal and interest payments. The inflation-linked bond funds' income may decline due to a decline in inflation (or deflation) or due to changes in inflation expectations.
Disclaimer: The performance quoted represents past performance and does not guarantee future results. Investment return and principal value of an investment will fluctuate so that an investor's shares, when sold or redeemed, may be worth more or less than the original cost. Current performance may be lower or higher than the performance quoted.