In 2014, I focused on four Chinese companies as being good choices for the solar portfolio: Canadian Solar (NASDAQ:CSIQ), JA Solar (NASDAQ:JASO), JinkoSolar (NYSE:JKS) and Trina Solar (NYSE:TSL). Once more I am looking at the top four companies as the best investment strategy for the coming year.
To make the elimination process simplified, I will use the criterion of profitability. Also, for the first time I am going to add two US-based companies: First Solar (NASDAQ:FSLR) and SunPower (NASDAQ:SPWR), to formulate some benchmarks.
In general terms I will look at financial and operational results for 2014, the Q1 guidance, yieldco objectives. I will also look at the market conditions for the year.
Profitability
Among Chinese companies listed in the US, four were profitable in 2014 and no changes are expected for 2015. Canadian Solar had produced $240M in net income, JinkoSolar did $108M, Trina Solar did $59M and JA Solar reported $69M. Those were made on revenues of $2.96B for Canadian, $2.28B for Trina, $1.6B at Jinko and $1.8B for JA. A net profit margin, a comparison of net income to revenue, showed Canadian at 8.1% percentage to revenue, Jinko at 6.7%, JA at 3.7% and Trina at 2.6%. In this particular comparison, First Solar scored 11.7% on the revenue of $3.39B with net income of $396M. SunPower earned $246M in net income in 2014 and 8.1% of net profit margin, based on revenues of $3B.
Based on earnings per share or EPS, Canadian delivered $4.40 per basic share, First Solar was second with $3.97 and Jinko was third at $3.52. SunPower earned $1.91 and TSL was at $0.76. The table below captures price-to-earnings or PE calculation using last Friday's price range. The table also shows operational performance for the Chinese companies and their operational expectations for 2015.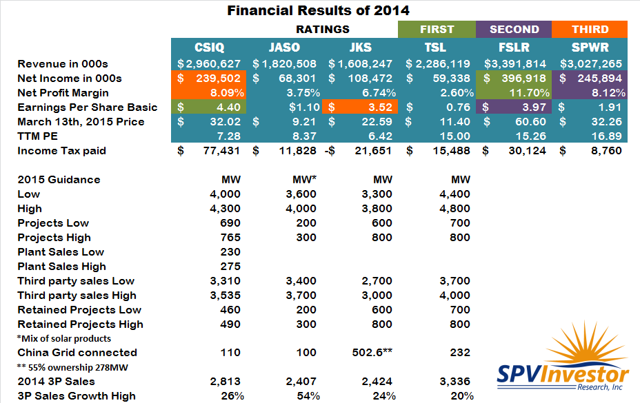 From the perspective of the trailing 12-month's performance in earnings per share , the best value using stock price-to-earnings is represented in shares of JinkoSolar and Canadian Solar. Canadian was the best earner per share during 2014 out of the entire industry. It also produced the third-largest net income, despite paying the most taxes among all companies. High taxes came with sales of the solar plants in Canada.
First Quarter
Greater detail for the first quarter guidance shows Canadian to ship 975MW to third parties. Trina will follow with 800MW, JA Solar guided at 750MW - I assume 94% module penetration of overall volume, and Jinko at 600MW. Those figures represent volume growth of 95% for Canadian, 70% for JA Solar, 43% for Trina Solar and 35% for JinkoSolar. JinkoSolar guided the largest shipment to its own solar plants out of the group during the first quarter at 180MW. Trina plans 70MW and Canadian expect to ship 55MW to projects not being recognized in shipments. JA Solar made no indication in the official guidance for deliveries to its own plants during the first quarter.
Both US-based companies guided losses in earnings per share for Q1 2015. SunPower sees 270MW recognized in sales and revenue of $470M, indicating a loss of up to $0.20 per share using the accepted accounting principles method. Gross margin indicated by the company is at 18 to 20%. First Solar guided revenues of up to $650M with the loss of up to $0.35 per share. The company has not provided information regarding how many MW will ship during the quarter. The only other company providing more color on results was Canadian. The company offered $725 to $775M in revenue at 16 to 18% GM. In Q1 2014, the company earned net revenue of $466M and had a gross margin of 14.7%. Net income during that time was $3.7M, and EPS was $0.07. I expect at least $0.62 per share for Canadian during Q1 2015. I do not expect losses to be reported by other Chinese companies, while I expect pressure on gross margins from Yen and Euro exchange. Trina Solar also indicated it may sell 50MW of solar plants in UK during the first quarter, which should improve earnings power.
Yield
The major factor for poor sales in Q1 as reported by the US companies is the creation of a yield company, being a joint venture between SunPower and First Solar. Projects that would normally be slotted for sales, now will be held for the future asset transfer. The IPO registration filed last week offered some details, including size of the initial transfer of projects to be 432MW. First Solar will contribute as much as 262MW of completed plants and have 630MW of "Right of First Offer " or "ROFO" projects. SunPower's contribution will be 170MW, and "ROFO" contribution is approximately 501MW.
Chinese companies also talked about yield objectives. JinkoSolar considers one for its JinkoSolar Power subsidiary that is currently holding 503MW connected to the grid with plans to add an additional 600 to 800MW to be developed in 2015. The company can have in total 1.5GW of solar plants in a yield vehicle having 55% of ownership of the subsidiary today.
Trina Solar also expressed an interest to create a yield company, using its Chinese asset pool, which consists today of 232MW connected to the grid and as much as 800MW to be built in 2015.
JA Solar planned to add as much as 300MW to its solar plant portfolio during 2015, but did not express any hints toward yield at this time.
Lastly, Canadian Solar announced more definite plans for its yield strategy. The yearly guidance did not include the recent acquisition of Recurrent, but I expect 1GW of projects to become part of it. During 2015, the company plans to hold 490MW worth of projects. About $98M of some 100MW connected in China were already reclassified on the balance sheet, but based on the company's description, an additional 320MW to be connected in China during 2015 will not be considered for yield. I assume the company will contemplate 80MW in Japan, 46MW in the UK, and 200MW delivered as a percentile of completion during 2015 from Recurrent's portfolio as the base of the transfer to start yield in late 2015 or early 2016. During the fourth quarter conference the company mentioned 90MW of projects under review in the UK, which could also become part of the original transfer. In all, 416MW could be available to kick start the yield portofilo, with an additional 1.4GW in the "ROFO" basket from the US and Japanese projects available in 2016 and 2017.
Market Conditions
During 2015 I expect foreign exchange will likely continue to challenge revenues from Yen and Euro zones, despite Japan being the largest contributor to the demand, only to be potentially contested in volume by the US.
I see deterioration of the EU market due to the current Euro collapse affecting minimum price undertaking, in combination with the demand drop in the UK after the end of Q1. The undertaking allows sales at 0.53 Euro per watt, which matches China ASP, yet manufacturers lose operating margins due to shipping costs. Companies that are classified as "rest of PRC" under US tariffs and have limited or no access to Japan due to quality, use this single overseas sales channel, in my opinion, without regard for profitibility. Moreover, undermined by a weak Euro, minimum price no longer protects German company SolarWorld from Chinese competition. It is no coincidence that audits and searches have intensified lately, and the EU commission finds OEM sourcing as unpractical to monitor in order to reduce quotas. The bad news to the program, which ends at the end of 2015, is that the overseas capacity planned by top Chinese companies will penetrate the EU regardless of the protectionism barriers. Canadian Solar, which has been identified in an alleged breach, sees no impact on its business and ironically plans to expand its presence in the UK with ownership of more solar plants. When reconciliation fails, Ontario modules and other OEM arrangements will serve as a suitable alternative for this market.
Tariffs announced recently by Canada will not impact any of the companies, as the market is not to be essential at 0.3% of the total volume of exports in 2014. Canada has limited growth due to limited auction potential of 140MW for each of the next couple of years. Similarly, Australian investigation shows no real impacts if tariffs are executed.
In the second quarter in the US, new tariffs will see quotas change to 17.5% instead of the current 30%. Canadian, Trina and Jinko can potentially reach better margins from the US starting in the third quarter of 2015.
Voting down tariffs was a good move on the part of the government in India, but having unrealistic domestic content scale requirements made it immediately limited to foreign companies. India holds many promises, but there is also hesitation to enter the market with real investment due to a lack of rules and legal transparencies.
Finally, there is a perception that demand may create improved selling power, especially for higher-efficiency modules during the second part of the year. This condition is supported by controlled capacity expansions and the legacy equipment for the majority of second tier companies dating back to 2010.
Investment Choices
In relatively stable conditions of yield vehicles reinforced by healthy demand, most of the mentioned companies offer a solid investment choice. It is early to tell, but accepted valuations from the past could soon fall under revisions. Since Canadian Solar talked about yield, Frank He from Goldman Sachs issued a conviction buy on its shares, which was a departure from his traditionally low price assessment. It seems some investors took this reversal as duplicity, but it could be that the analyst's opinion represents the beginning of a change. After all, the 8point3 Energy Partners' IPO (SPWR and FSLR yield) has Goldman Sachs listed as an underwriter. It should not be difficult to imagine that the price of $55.60 per share is the first step for the company and the investment bank, in working toward its yield's IPO value.
Disclosure: The author is long CSIQ. The author wrote this article themselves, and it expresses their own opinions. The author is not receiving compensation for it (other than from Seeking Alpha). The author has no business relationship with any company whose stock is mentioned in this article.