Diversification is one method to lower risk. It is important to realize that the more similar your investment products are, the more volatility you will experience. Optimally, we want to have investments with strong upsides but with low correlation (i.e. they trade independently).

What is one method at our disposal to increase diversification? The aid of a few research papers will shed some light on the matter (references at bottom of article). Empirical evidence points to a basket of ADRs providing higher returns with lower correlation to the S&P 500 (NYSEARCA:SPY) than country funds. Small-caps have lower correlation than large caps. As well, bear markets in one region weigh heavy on other markets around the world. Thus, diversification works best in calm or bull markets. The region with the lowest correlation to the S&P 500 in bad markets is Asia.
Diversification Strategy
In addition to picking smaller ADR stocks from around the world, we will use a strategy outlined in a 2006 paper by Credit Suisse, High Yield Low Payout. We look for companies with lower than average payout ratios and higher than average yields. Our other filters target ADRs with less than $3 billion market cap and over $1 per share (ADR and not the domestically traded price).
Has this strategy stood up over the past 10 years? One quick check is to use monthly portfolio re-balancing. This gives us a compound annual growth rate of 18.56% - which is quite high. After testing this for robustness (500 different entry points over past 10 years with one year holding periods compared with S&P 500) we are left with an average annualized S&P 500 excess gain of 27.87%. Of course, since this strategy picks up only a handful of stocks, a couple of high performers can unrealistically pump up the numbers. Nonetheless, it appears to be a strategy worthy of contemplation.
ADR Stock Picks - (click chart to expand)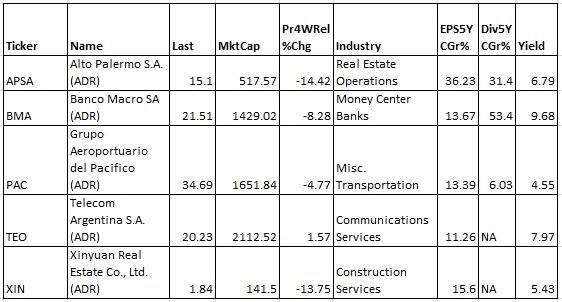 On this list you should know that XIN is a China stock. Some people are shying away from China investments due to the small-cap accounting scandal. A few tips for lowering the high-risk in this market are offered in Canadian Business magazine and in Chinavestor. Whether or not the diversification benefits outweigh the higher risk is a decision you need to make.
BMA makes me nervous. Argentinean banks in light of our current crisis? Judge for yourself but I'm staying away from financial stocks at the moment.
ADR Momentum Plays
Perhaps you like the idea of international diversification with small ADR stocks, but you prefer stocks that do not pay dividends. Here are a few smaller foreign stocks with popping momentum. (Using the robustness test described earlier, this too outperforms the market by an average annualized excess of 20.48% over the past decade). Of course, the momentum strategy has much higher volatility than the dividend strategy as these high-fliers get pounded in bad markets. Only if you think we are near the bottom of the market should you pick up these fast-moving stocks.
Silicon Motion Technology (NASDAQ:SIMO) – Outperformed the market by 8% over the past 4 weeks, 54% in the past 13 weeks, and 154% in the past year.
WNS Limited (NYSE:WNS)

- Outperformed the market by 9% over the past 4 weeks, 41% in the past 13 weeks, and 23% in the past year.

China Nuokang Bio-Pharmaceutical Inc. (NASDAQ:NKBP)

- Outperformed the market by 7% over the past 4 weeks, underperformed by 8.5% in the past 13 weeks, and outperformed by 4.5% in the past year.
Is This Diversification Method Right for You?
There are many other ways to diversify your portfolio such as gold-based products, bonds, cash markets and sector-balancing to name but a few. Country diversification in small-cap ADRs is one technique for investors who want a higher risk/reward potential for their portfolio. While this method isn't right for everyone, some aggressive investors may find it useful in lowering volatility.
Disclosure:
I have no positions in any stocks mentioned, and no plans to initiate any positions within the next 72 hours.