E*TRADE's (NASDAQ:ETFC) stock price has significantly underperformed the broader market in 2011. As of 18-Oct-11, ETFC has decreased 39.68% year-to-date underperforming the -2.52% return of the S&P 500 (NYSEARCA:SPY).
A brief summary of the current market sentiment for ETFC follows:
FY2011 analyst EPS estimates are $0.67 (vs. a $0.13 loss in 2010)

FY2012 analyst EPS estimates are $0.86 (28% increase over current FY2011 estimate $0.67)

Average analyst target price $13.11 (currently trading at $9.65)

A

verage analyst recommendation is "hold"
As shown in the chart below, EFTC has trended downward in 2011. The Bollinger Bands (90 days, 3σ) show that ETFC currently has a lower trading support of $5.88 based on a 3σ / 99.7% confidence interval.
(Click charts to expand)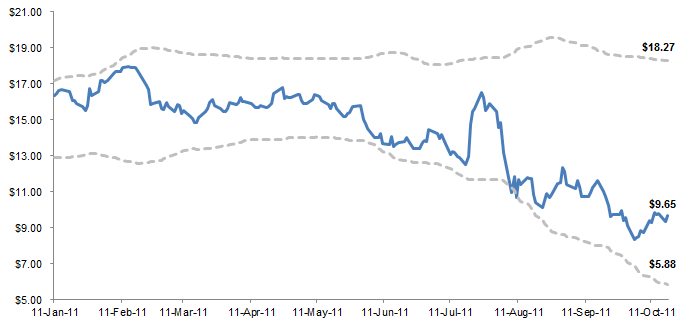 Since CMG has traded in a large range during 2011, the implied volatility (76%) of Apr 12 calls at $11 strike price is in line with historical volatility of the most recent 50 trading days (~70%). However, as shown below, historical volatility has recently been trending down.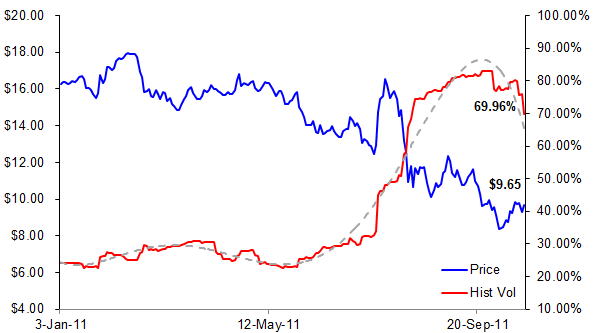 Since ETFC is near the bottom of its Bollinger Band and has recently shown declining volatility, an attractive investment strategy is a covered call consisting of:
Long 100 shares at $9.65

Short Apr 12 call at strike price $11 (~$1.60 premium)
Declining volatility will benefit a short call position even if the underlying remains unchanged.
This strategy would allow an investor to effectively buy ETFC for $8.05 per share (excluding trading costs) creating a potential upside return of 31% ($12.6 / $9.65 -1). This covered call strategy would not lose money until ETFC fell below $8.05 per share.
Data from Yahoo! Finance and ETFC's publicly filed 10-Ks and 10-Qs
Disclosure: I have no positions in any stocks mentioned, and no plans to initiate any positions within the next 72 hours.