It's a bird. It's a plane. No, it's the mighty US dollar, which has risen nearly 4% relative to the euro in the past 12 trading days - a breakneck pace. In fact, the dollar is on pace to have its strongest quarterly rise since 1992, according to Bank of America. Not surprisingly, the rising dollar is increasingly becoming a source of concern for many investors.
The key issue is the strong dollar's impact on earnings for US companies that derive some of their revenue from outside the United States. US exports lose their price competitiveness when the dollar is strong relative to other currencies. The new export order sub-index of the ISM manufacturing survey has been in contraction territory for the past two months, which doesn't bode well for US companies with international exposure.
Rising Dollar, Falling Profits
In addition, a strong dollar results in reduced profit margins for US companies. And profits among S&P 500 companies are expected to fall 4.9% in the first quarter, due in part to the strong dollar. A Duke University/CFO Magazine survey released last week indicated that about two-thirds of firms that derive at least one-fourth of their total sales from outside the United States have experienced a negative impact.
What's more, a substantial number of these big exporters say they have reduced capital spending plans for this year as a result of the strong dollar, according to the poll. However, a strong currency is not as problematic when an economy is driven largely by domestic consumption, like the United States. In addition, while the strong dollar has already started impacting earnings and spending plans, it hasn't impacted jobs - at least not yet. In the past two employment reports, we've seen expansion in manufacturing jobs. But, that could easily change in the future.
In addition, there are significant consequences outside the United States due to the strong dollar. When the Fed began its extraordinary monetary accommodation in the wake of the global financial crisis, foreigners - especially companies in emerging-market countries - took out US dollar-denominated debt to take advantage of the low interest rates. Now it's becoming increasingly difficult to service that debt because the dollar has risen so much.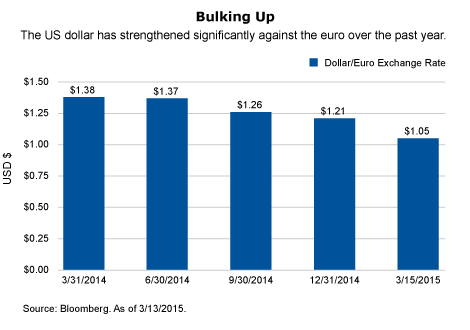 Purchasing Power to the People
Still, there are also benefits to a strong dollar. It puts downward pressure on US import prices, increasing the real purchasing power of US buyers - both consumers and companies. It helps put downward price pressure on commodity prices, given that commodities tend to be denominated in US dollars. This frees up more money to be spent elsewhere. A strong dollar also helps bolster the dollar's status as a reserve currency.
Last but certainly not least, a strong dollar typically attracts capital inflows. But, in the last month, mutual fund flow data indicates the opposite - capital outflows. Many market participants view European equities as more attractive investments due to economic surprise indices rising in the region. Further, with a strong dollar leading to earnings downgrades, some investors are becoming more cautious on US equity valuations and looking to Europe for a better bargain.
For now, a strong dollar is a mixed bag. While its strength has caused some market watchers to believe it's signaling a coming financial calamity, we believe it's just a product of the divergent monetary policies of the major central banks. Keep in mind that the United States was one of the first countries to act in the wake of the global financial crisis, driving down interest rates through highly accommodative monetary policy.
Now that the US economy has made a substantial recovery, the Federal Reserve has ended quantitative easing and is poised to begin hiking rates. Meanwhile, other countries are still easing monetary policy and, in many cases, becoming far more accommodative. This divergence sets up a scenario where the US dollar is rising relative to other currencies, which hasn't happened during the past several US rate-hike cycles - when the United States wasn't swimming against the tide.
What It Means for Rates
Fact is, the dollar becomes even more important when considering its possible impact on the Fed's decision on when to raise interest rates. We know from the January FOMC minutes that international considerations were an important topic. And we know a strong dollar is disinflationary, which could provide support for those FOMC participants looking for reasons to postpone the start of rate hikes. We can look this week to the FOMC announcement and press conference for hints as to the role it may be playing in the Fed's considerations.
In short, the strong dollar should not be a surprise, but it certainly complicates an already complex situation for investors and for the Fed. Investors would be well served to have an adequate allocation to stocks with little exposure outside the United States, including some small-cap stocks, as well as some hedged exposure to European equities.
However, our view is that the strong dollar/weak euro trend could continue, but it's probably on its last leg. That's because data in Europe is starting to pick up while US macro data is starting to moderate. Stay tuned.