Zions Bancorp (NASDAQ:ZION) operates as a holding company for various banks in the United States. With small businesses and personal customers tiring of big banks riding roughshod over them, Zion's network of 500 banks across Midwest and Western states offers a more personalized approach that its hopes will pay prove profit positive moving forward.
Zions Bancorp is currently trading around $16.50, and the mean 12-month price target from analysts researching the stock is $22.86 (38.5% upside potential). This stock is trading lower than its 50-day exponential moving average of $16.90 and its 200-day exponential moving average of $20.17. These averages have been declining over the past three months, as the share price fell sharply at the beginning of August, despite its second-quarter earnings (released on July 18) showing year-on-year quarterly net earnings doubling to $0.16 per share. The company reported a loss per share for the last year of $0.82. Expectations are for earnings to increase to $1.69 in its next fiscal year (ending December 2012). This would place the shares on a forward price-to-earnings ratio of 9.76. This compares to a sector average of a 15.46 trailing price-to-earnings ratio.
Though making a loss last year, the company held faith its future and paid a dividend of $0.04 last year, a yield of 0.20%. Although offering a lower yield than some competitors – yields at US Bancorp (NYSE:USB) and Wells Fargo (NYSE:WFC) are 2% and 1.68%, respectively – with earnings rising strongly, the possibility of greater dividend growth is high at ZION.
Current operating margin is 15.78%, with a return on assets of 0.01% and a return on equity of 0.08%. The operating margin is low when compared to USB's 38.18%, and WFC's 34.58%, but should recover strongly with its earnings in coming years. When compared to the far larger Bank of America's (NYSE:BAC) operating margin (currently 1.91%), ZION is likely to stay ahead of the game.
The current revenue from its income statement is $1.77 billion. These numbers will turn around dramatically over the next 24 months, and last quarter's revenue showed year-on-year growth of 84.7%. Last year's results were heavily weighed on by Zion's aggressive mark-down policy, as it resolved more than a billion dollars of classified loans in the fourth quarter of 2010. This drag will fall out of the equation going forward, and these numbers will improve accordingly.
Zion has cash of $6.22 billion, and a total of $2.73 billion in debt. Its reported book value is $24.88 per share.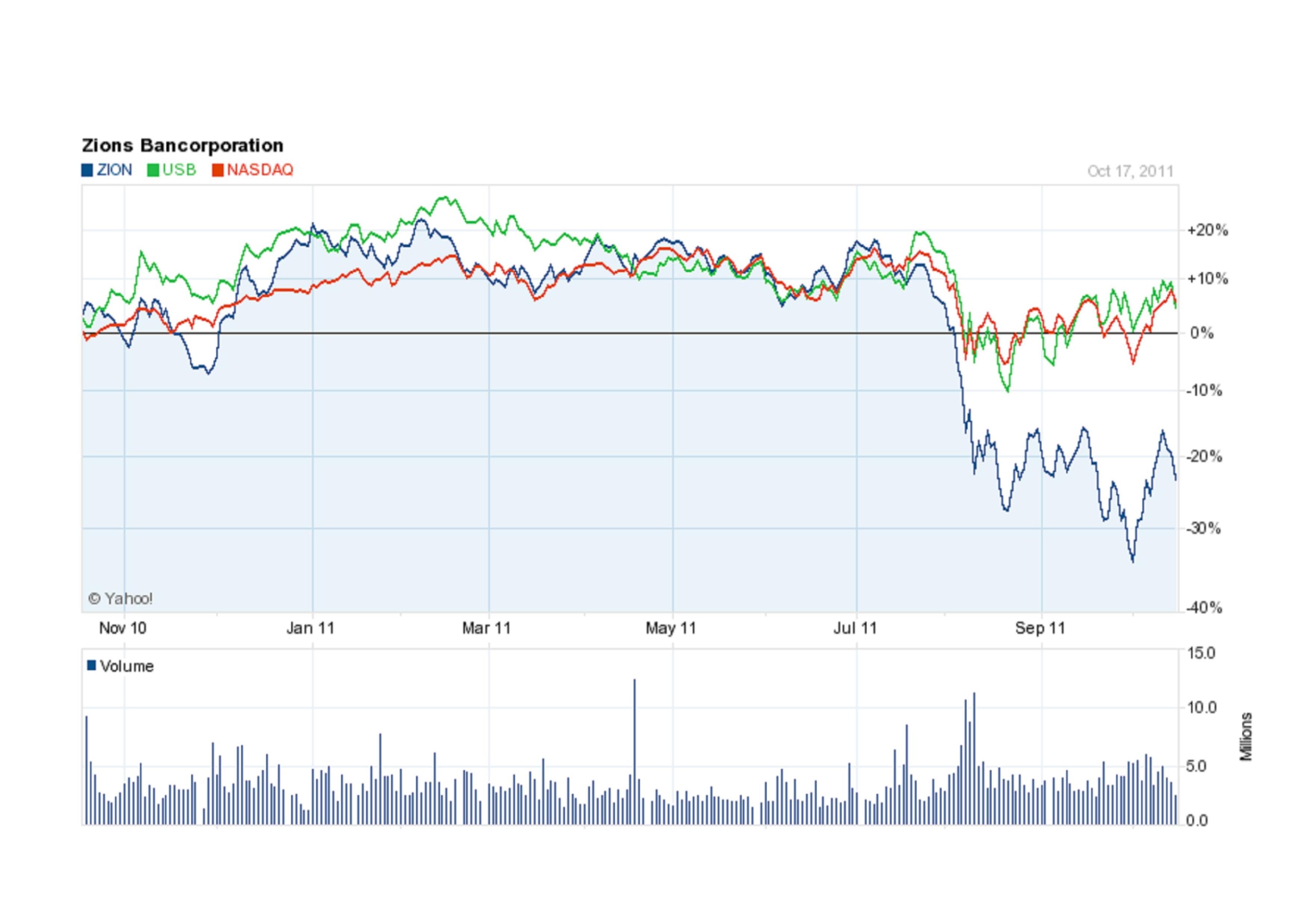 Looking at the graph, ZION has underperformed the Nasdaq and shares of USB since second-quarter results were announced. But with strong earnings and a go-ahead attitude in the personal and small banking arena, it is likely that share performance will turn around through the coming two quarters. Its book value should serve to help the share price recover.
Overall, based on fundamentals, the clearing of the decks that took place last year, and recent news, I would expect the share price to out perform its main competitors and the Nasdaq over the next few months. This will be cemented as expectations of strong results come to fruition and the company takes the opportunities presented in a difficult market. ZION is a buy.
Disclosure: I have no positions in any stocks mentioned, and no plans to initiate any positions within the next 72 hours.