Foundational ETFs such as the Vanguard Total Stock Market VIPERs (NYSEARCA:VTI), Vanguard FTSE All-World ex-US (NYSEARCA:VEU), Vanguard Emerging Market Stock VIPERs (NYSEARCA:VWO), Vanguard REIT Index VIPERs (NYSEARCA:VNQ) and SPDR Dow Jones International Real Estate (NYSEARCA:RWX) are highly correlated with each other and the S&P 500 (NYSEARCA:SPY). Even though the group includes several international ETFs, the correlation matrix shown below provides evidence of unified movement. How does one bring diversity to this basket of ETFs? Knowing that many Seeking Alpha readers are attracted to dividend oriented stocks, I ran a screen on over 10,000 stocks looking for "dividend aristocrat" style companies. These companies showed consistent dividend growth each year for seven years and each had a dividend growth over that period in excess of 5% per year.
Nineteen companies passed the screen. Those 19 stocks were placed in a portfolio with the five ETFs described above plus a bond and treasury ETF. The test was to find which of the stocks had the lowest correlations with the seven ETFs.
Five stocks were selected from the original 19 and combined in the portfolio shown below. Those companies are: 1st Source Corp. (NASDAQ:SRCE), Commerce Bancshares (NASDAQ:CBSH), National Bankshares (NASDAQ:NKSH), Norwood Financial (NASDAQ:NWFL), and Smith & Nephew (NYSE:SNN). All but SNN, a healthcare company, are regional banks. While I generally prefer not to concentrate investments in one sector, for purposes of this analysis, I will stay the course with the four financial companies.
Below is a Quantext Portfolio Planner (QPP) analysis that combines seven ETFs plus the five dividend growth stocks. These twelve investments combine for a projected growth of 7.9% or 0.9% above the 7.0% assumed growth for the S&P 500. Finding low correlated stocks shows up in the standard deviation projection of 11.4%. This gives rise to a Return/Risk or Return/Uncertainty ratio of nearly 0.70. Our goal is to come in with something over 0.60 so the 0.70 ratio is excellent.
Scroll down the analysis and note the Diversification Metric exceeds our 40% goal by 6%. In addition, the Portfolio Autocorrelation is a very low 6.8%. These excellent metric are directly attributed to the five dividend oriented stocks.
(Click charts to expand)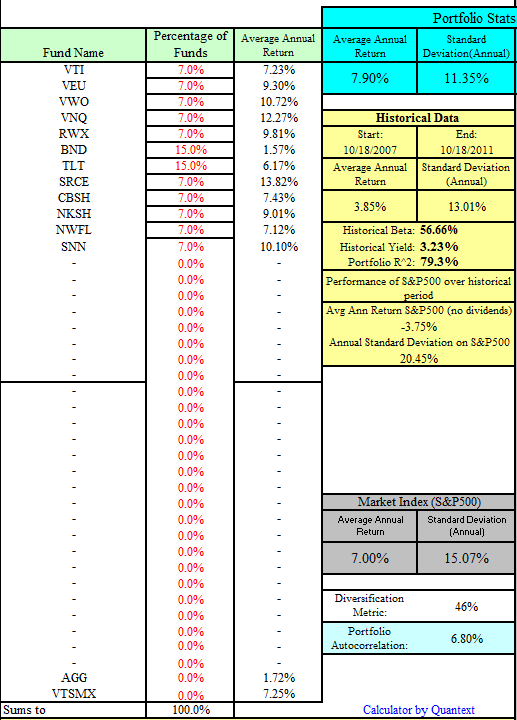 Below is a correlation matrix of these 12 investments. Note the high correlation among VTI, VEU, VWO, VNQ, and RWX. Even the international ETFs are highly correlated with VTI. The Vanguard bond (NYSEARCA:BND) and treasure (NYSEARCA:TLT) break the correlation ties as do the five individual stocks. These seven holdings drive up the Diversification Metric as well as hold down projected portfolio volatility.




One last screen shot, the "Delta Factor," provides clues as to which of the twelve investments has the highest probability of doing well over the next six to twelve months. Based on the following screen, RWX has the highest probability of doing well, followed by VEU, VWO and the healthcare stock, SNN.




Disclosure: I am long VTI, VEU, VWO, VNQ, RWX.
Disclaimer: Caution is always in order when extrapolating data. Careful analysis of each of the above 12 investments is highly recommended as there is little expectation this portfolio will exactly track the projected values.