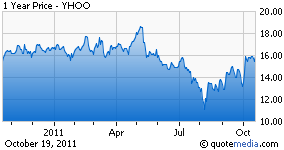 Equity strategist Chris Tinker said he was shocked (shocked) at how Yahoo (YHOO) rose in after-hours trading while Apple (NASDAQ:AAPL) fell.
Apple's not for sale, Chris. Yahoo is.
Yahoo reported a small drop in revenue and a huge drop in earnings, yet it advanced 2% in after-hours trading, because the earnings are a tell that a sale of the company needs to happen soon.
Once the stink of failure gets on a company, especially a tech company, it's almost impossible to wipe it off. Yahoo lost the market to Google (NASDAQ:GOOG) long ago and it's now showing up in falling ad sales on Yahoo Mail, which is losing share to both Google and Facebook.
Meanwhile Microsoft (NASDAQ:MSFT) CEO Steve Ballmer, who must be the worst poker player in the world, delivered a tell with a cut on the company, saying he felt lucky not to have bought it a few years ago.
The fact that the company is for sale is the worst-kept secret on Wall Street. The question remains, to whom and for how much?
The role for private equity will be a quick break-up of the assets. Since most of the expected purchasers are Asian companies – Ma's Alibaba, Softbank, Temesak Holdings of Singapore and Digital Sky of Russia re all being mentioned – such involvement will be needed to divide the assets out of public sight. As Adam Muller pointed out here back in July there are also some tax implications in these deals that might interest a U.S.-based private equity firm.
The latest bids on Alibaba stock in Hong Kong put its total equity value at $45.53 billion. Yahoo owns 40% of the equity, so the market values that stake at $18 billion. When Yahoo was openly shopping its 35% stake in Yahoo Japan last spring, the price being bandied about was $8 billion.
These figures are far lower than those Yahoo lists on its 10-K for 2010, which said the Alibaba stake was worth $2.3 billion and the Yahoo Japan stake was worth $1.7 billion. Back in September, rumors were the private equity partners were working with AOL on a bid that would probably give AOL (NYSE:AOL) the company's domestic cloud hosting system for nearly nothing, something it needs badly itself in order to survive.
What this tells me is that all of Yahoo's vaunted U.S. operations – search, advertising, hosting, content – are being valued at zero dollars in the break-up. This is all about the foreign holdings, with the Asian joint-venture partners anxious to get their equity back so they can move forward without American eyes on them.
So what's that worth to you, Mr. Ma? Mr. Son? I don't think $20 billion is the final bid. I'm guessing it's something north of $25 billion, and that the deal could be done before the end of this year. A tidy profit for a speculator, and a good reason for the stock to pop in the wake of a bad earnings report.
Disclosure: I have no positions in any stocks mentioned, and no plans to initiate any positions within the next 72 hours.