A sensible investor will often tell you to be wary of abnormally high dividend yields. An extremely high dividend payout relative to the share price can indicate that stock prices are being pummeled into the ground and rough waters are ahead. The logical investor will point out that high yields need to be weighed with the potential risk of capital losses.
Evidence of High-Yielding Stocks
The paper "High Yield, Low Payout," by Credit Suisse shows that the top 8th, 9th, and 10th deciles of dividend yields outperformed lower yields in the 1st - 7th deciles. Tweedy Browne's paper, "What Has Worked in Investing," draws on this and other research to explain how high yielding stocks have historically provided superior performance in addition to defensive qualities that give it buoyancy in bear markets.
I wanted to run a scan myself to see whether the results have persisted over the past decade and if timing rules could be incorporated. The test will be to buy and hold for one year with over 500 different entry points over the past decade. The only beginning criteria will be the dividend yield. The stock universe will be all North American stocks (including ADRs) excluding over-the-counter bulletin boards. The numbers below represent capital gains only over the past 10 years:
Stocks with dividend yields over 2% have broadly outperformed the market by 3.33% annually
Stocks with dividend yields over 3% have broadly outperformed the market by 2.78% annually
Stocks with dividend yields over 4% have broadly outperformed the market by 2.35% annually
Stocks with dividend yields over 5% have broadly outperformed the market by 2.03% annually
Stocks with dividend yields over 6% have broadly outperformed the market by 1.75% annually
Stocks with dividend yields over 7% have broadly outperformed the market by 1.29% annually
Stocks with dividend yields over 8% have broadly outperformed the market by 1.03% annually
Stocks with dividend yields over 9% have broadly outperformed the market by 0.93% annually
Stocks with dividend yields over 10% have broadly outperformed the market by 0.81% annually
Our initial scan shows that, while still slightly outperforming the market these past 10 years, the excess gain drops monotonically as the dividend yield increases. If you isolate a yield range (e.g. 2 -3% yields instead of all yields above 2%) then the lower yielding products have an additional boost of less than one percent that quickly dissipates with an increase in yields.
Why do the recent statistics disagree with older reports that suggest the higher the yield the larger the capital gain? Looking over the report by hand one possibility came to mind. If you purchased stocks with yields above 4% between the years 2004 and late 2008 and held these for one year (same robustness test as above), you would have underperformed the market (as to capital gains only) by an average of 2.48% annually, with the biggest excess losses occurring during down markets. Dividend stocks did not prove to be defensive as a broad rule when looking at capital gains in isolation – in part because financial stocks were hit so hard during this period.
We cannot, however, look at capital gains in isolation. If we re-invested our dividend, even during this period, we still would have beat the market by at least 1.5%, if not more. Can we improve upon this high-yielding strategy? To do so, we will target stocks with at least 5% yields.
Targeting High-Yield Stocks
We will test the trailing 10 years. Our stock universe will be companies with yields over 5% in non-OTCBB exchanges. There have been on average 400 such companies at any given time over the past 10 years with fewer companies being available after an extended bull market. The average excess gain is 2.03% (3.51% excess in up markets and -1.87% in down markets)
Quality: One prevalent theory is that higher-priced stocks are of higher quality (see paper "Why Do Share Price Levels Matter? Investor Clientèles, Monitoring and Firm Performance," 2004). The reasoning is that stocks of a higher quality want to target better-informed investors and institutions, which typically look for stocks in the higher realms. A company of lower quality may choose to target retail investors who frequently trade cheaper stocks. Therefore, we will use the threshold of $18 that the above paper used.
Leveling the Playing Field: Keep in mind that the only two times a company can set its price is during an IPO and a stock split. A company may target institutions by offering its shares at higher prices, but it is no guarantee that the 'big boys' will bite. This is only a theory, but I personally dislike investing in companies where there are too many players. There may be hedge funds, mutual funds, and many other big investors that can quickly dump shares in a bad market for steep losses. I prefer to invest in stocks where less potential manipulation exists. How can we do this? If we only pick stocks without options, this will eliminate many hedge funds and leveraged investors using options. If we require volume less than 1 million, the lower liquidity will remove some of the bigger players that cannot slip in and out of companies as easily. Finally, we screen for stocks in the bottom half of the universe, as regards institutional holdings.
Earnings: What are some basic methods to ensure our company has sufficient earnings? One is to eliminate high payout ratios. A high yield may hint at good value ratios, provided the payout ratio is not at ridiculous levels. A yield of 5% where the company had to open up the vault and pay out of cash reserves is not as meaningful as a company that paid a high dividend yield with only 70% of its earnings leaving the front door. Thus, a simple filter eliminating companies with 85% payout ratios or higher will be added.
In addition to this, we would like the company earnings to be growing by a minimum 5% per year (current quarter vs. the same period quarter one year ago). This should lower our exposure to falling stocks in bad markets due to poor earnings.
Re-Analyzing the High-Yield Potential
Regardless of the checks and balances we put into play, this strategy still underperformed during the 2007 year. On a positive note, excess losses were largely limited to that period alone, as the other 9 years showed excess gains. The robust results are as follows:
Stocks with yields above 5% now exhibited an excess gain of 7.94% annually in capital gains alone
These companies outperformed by 8.94% annually in good markets and 5.33% annually in bad markets
Re-investing the dividends would result in a minimum 12% annual excess gain
The chart below is an example of using this strategy with 3-month re-balancing over 10 years. The capital gain compound growth rate is 11.51%, and dividends should be added on top of this.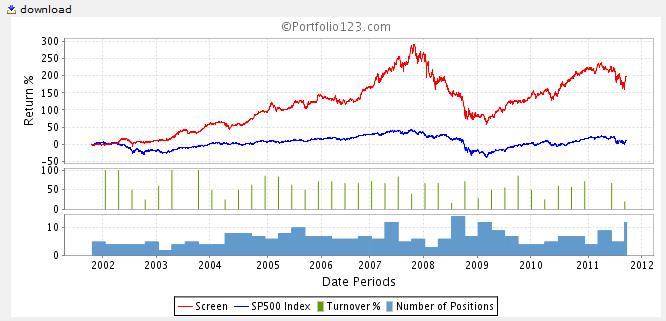 Which stocks following this strategy are making the list today?
| | | | | |
| --- | --- | --- | --- | --- |
| Ticker | Name | Pr4WRel%Chg | Industry | Yield |
| (NYSE:TGH) | Textainer Group Holdings Limited | 12.25 | Rental & Leasing | 5.29 |
| (NYSE:SXL) | Sunoco Logistics Partners L.P. | 5.37 | Oil Well Services & Equipment | 5.13 |
| (NYSE:TEO) | Telecom Argentina S.A. (ADR) | -3.07 | Communications Services | 8.02 |
| (NYSE:BMA) | Banco Macro SA (ADR) | -3.99 | Money Center Banks | 9.26 |
| (NYSE:WBK) | Westpac Banking Corporation (ADR) | 10.57 | Money Center Banks | 6.91 |
| (NYSE:PVD) | A.F.P Provida SA (ADR) | 0.01 | Investment Services | 10.7 |
| (NASDAQ:BDGE) | Bridge Bancorp, Inc. | -5.86 | Regional Banks | 5.07 |
| (NASDAQ:CNAF) | Commercial National Financial Corp. | -4.61 | Regional Banks | 5.08 |
| (NYSE:NGL) | NGL Energy Partners LP | -2.81 | Oil & Gas Operations | 6.21 |
This turns up a mixed bag of investments. Some of these companies are ADRs. Others are Mater Limited Partnerships, which means extra paperwork at year's end. We also have a few banks and financial companies, which some investors are particularly skittish around given the current climate. Of course, the safer we attempt to trade the less upside potential we often get.
This type of investing is not going to be everyone's cup of tea. But if you are the type of investor that likes to target the big yields, why not incorporate a few techniques that have historically boosted capital gains while lowering downside losses?
Disclosure: I have no positions in any stocks mentioned, and no plans to initiate any positions within the next 72 hours.