Since the WTI crashed last November, there has been a tremendous amount of uncertainty for the entire oil & gas industry. The operators and large service companies have made the headlines with news about budget cuts, high-grading, and cost cutting, but each and every company in the industry has been impacted. Large or small, everyone is adjusting to the new reality.
Last year at the end of February, the Baker Hughes rig count was 176 for the Williston Basin. Fast forward to February 2015 and the rig count has declined to 111, a loss of 65 rigs. The US land rig count has dropped considerably from 1,679 to 1,196 , -29%, in that same period of time.
With prices dropping and rigs declining, the wells drilled but not completed or "uncompleted" wells increased as operators cut spending. As of the end of 2014, there were over 700 uncompleted wells, according to North Dakota Department of Minerals. Operators have indicated that completion delays will continue at these prices.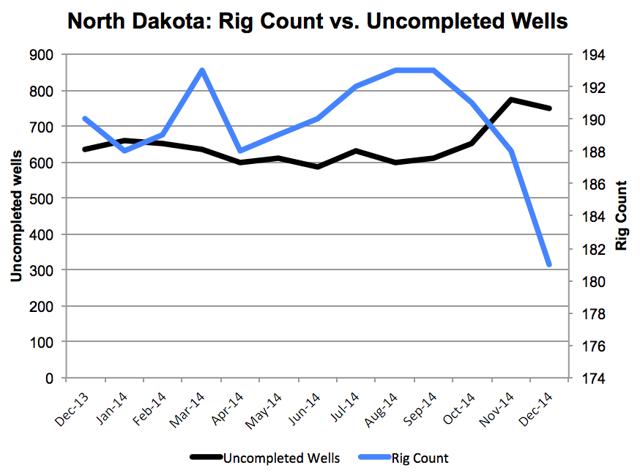 Source: North Dakota DMR, Energent Group
Breaking-even in Bakken Sweet Spots
In January, the North Dakota DMR released information regarding break-even prices for the region.
The chart below, from Energent Group, shows the counties with a break-even less than $40 per barrel and the counties with a break-even between $41 and $52 per barrel. Dunn and McKenzie have the lowest break-even by county and based on the February 27th 2015 rig activity, 56% of Bakken rigs are in these two counties.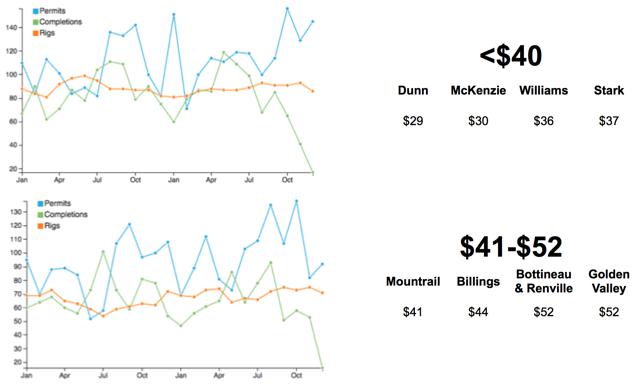 Source: North Dakota DMR, Energent Group
E&Ps Take Action with Cutbacks
The industry watched prices fall near and below these break-even levels. Operators took action in January and February this year.
Continental Resources (NYSE: CLR), for example, revised their 2015 budget -41.3% to $2.7 billion. This revision signaled a reversal in their strategy as they had originally announced a 1.1% increase from their 2014 budget. The company reduced Bakken spending by $1 billion with a planned operation of 11 rigs compared to the 19 that was originally budgeted for 2015. They have also deferred 25% of planned completions in the first quarter of 2015 until commodity prices improve.
Whiting Petroleum (NYSE: WLL) will reduce their rig count to 10 in the Bakken by mid-year compared to 16 in late 2014. Whiting's strong cost reduction effort aims to reduce completed well cost by $1.5 million on average, 18% less than the prior year. Whiting has elected not to defer completions as of the end of February 2015 in hopes that their cost reduction efforts will generate the likewise returns and payouts.
Meanwhile, Hess (NYSE: HES) reduced their Bakken spending by $400 million to $1.8 billion with a plan to operate 9.5 rigs and bring 210 new wells online. A significant change from 2014 when Hess budgeted $2.2 billion operated 17 rigs.
Smaller E&P companies have been hit hard by the changing market conditions, too. Northern Oil & Gas (NYSE: NOG), a Bakken pure-play E&P company with ~185,000 net acres that uses a non-operator model reduced their budget by 74% for 2015, and are expecting to defer completions in 2015.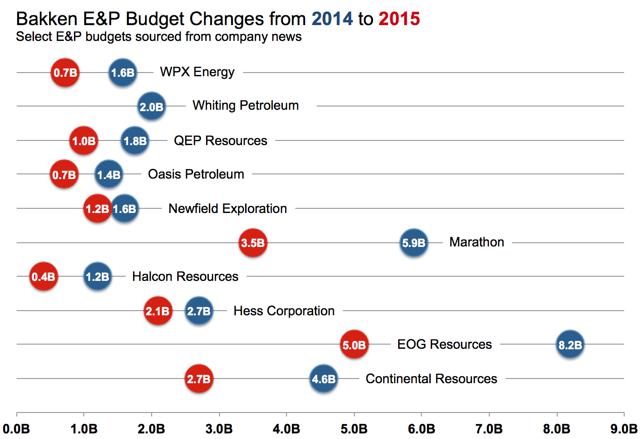 Source: Company news, Energent Group
Drill to Hold for 2015?
Even with $50 per barrel oil, several operators are at risk for not executing on previous drilling plans. The chart below shows permitted, spud, producing, and confidential wells by break-even price.

Source: North Dakota DMR, Energent Group
Some operators may slow production based on the lower prices and many more will reduce drilling and completion spend. Expect the companies with acreage positions above $62 per barrel to cut back the sharpest and fastest, while others phase in changes over the course of 2015.
The current drilling permits shows a slightly different story. The current drilling permit chart below shows the operator break-even per barrel oil price by less than $40, $41-52, and $62 or greater. Selected operator comments are on the right.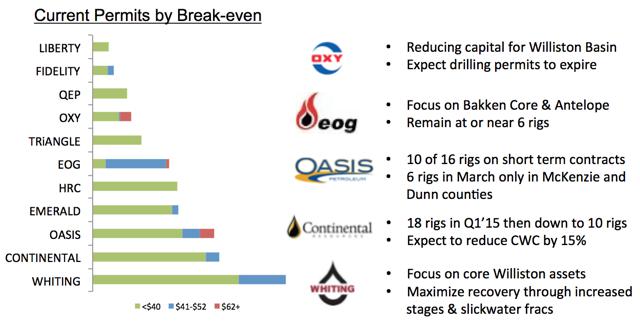 Source: North Dakota DMR, Company reports, Energent Group
Oil Service Impacts
Companies like Nabors, H&P, and Patterson are top drilling contractors while Halliburton, Baker Hughes, Calfrac, and Schlumberger lead the oilfield service companies in the region.
For drilling contractors, the reduced drilling budgets means lower rig utilization. Based on our analysis from the February 27th rig activity listing from ND DMR, the top drilling contractors are:
Nabors with 29% market share
H&P with 19% market share
Patterson with 11% market share
Precision with 6% market share
Nabors (NYSE: NBR) customers include Hess, ConocoPhillips (NYSE: COP), Exxon Mobil (NYSE: XOM), Continental Resources, Oasis, and more. Even with the budget decreases Nabors is set to lead the Bakken. However, Precision Drilling (NYSE: PDS) customer concentration tells a much different story with 4 Hess, 3 ConocoPhillips, and 1 Enerplus rigs. As E&P companies begin reducing rig count, expect the smaller drilling contractors to cut costs in order to keep operators versus Nabors and H&P continuing to speak to value - drilling efficiencies, technology, and safety.
Taking the top 5 most active operators by new wells in 2014 - Hess, ConocoPhillips, Exxon Mobil, Marathon, and Whiting - the impact to service companies becomes clear. For the top 5, the key pressure pumpers Halliburton, Calfrac, and Baker Hughes account for more than 71% share of the top 5's business. Due to the budget cuts, expect each of these oilfield service companies to have lower utilization rates for their frac fleets.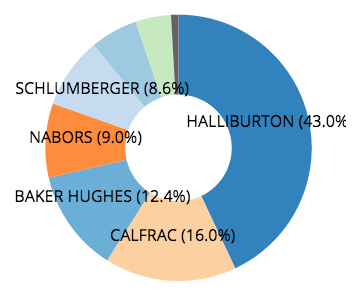 Source: Energent Group
Each one of the oilfield service companies is now prioritizing operators, understanding E&P financial viability, and adjusting 2015 execution plans. Hess Corporation was the most active operator with nearly 200 frac jobs on horizontal wells. Hess relies on Halliburton (46%), Calfrac (45%), Baker Hughes (6%), and RockPile Energy (3%) in the Bakken to complete wells. Each operator's completion practices are pointing to higher proppant intensity, which means more sand pumped and more stages per well.
This activity in E&P operators and oilfield service companies will test the oil and gas industry on executing their budgets and cost cutting strategies. Keep an eye out for deferred completions in the higher breakeven counties of the Bakken like Golden Valley, along with any further budget cuts from Continental, Hess, and Whiting. Oilfield service companies continue to study their customer's capabilities to adapt to the current commodity price environment and react to lower activity levels.
Disclosure: The author has no positions in any stocks mentioned, and no plans to initiate any positions within the next 72 hours.
The author wrote this article themselves, and it expresses their own opinions. The author is not receiving compensation for it. The author has no business relationship with any company whose stock is mentioned in this article.