By Stuart McPhee
Gold for Wednesday, March 18, 2015
Over the last few days gold has been able to steady a little around the support at $1150. The next obvious technical support level is around $1130, and if it was to move through this level, then it would be trading at multi-year lows and looking very bearish. When gold broke through the rock solid support level at $1200 recently, it opened itself up to some potential downside which has been played out in the last week or so. Throughout the second half of February gold enjoyed rock solid support from the key $1200 level which held it up on numerous occasions. For about a month gold drifted steadily lower down to a one month low near the key $1200 level before finding the solid support at this key level.
Gold has now undone all of its great work from earlier in the year which saw it surge to a five month high near $1308, before reversing and moving back to $1150. At the beginning of December gold eased lower away from the resistance level at $1240 yet again back down to below $1200. During the second half of November gold made repeated runs at the resistance level at $1200 failing every time, before finally breaking through strongly. Throughout the first half of November gold enjoyed a strong resurgence back to the key $1200 level where it has met stiff resistance up until recently.
Throughout the second half of October gold fell very strongly and resumed the medium term down trend falling from above $1250 back down through the key $1240 level, down below $1200 to a multi year low near $1130. It spent a few days consolidating around $1160 after the strong fall which has allowed it to rally higher in the last couple of weeks. Earlier in October gold ran into the previous key level at $1240, however it also managed to surge higher to a five week high at $1255. In late August gold enjoyed a resurgence as it moved strongly higher off the support level at $1275, however it then ran into resistance at $1290. In the week prior, gold had been falling lower back towards the medium term support level at $1290 however to finish out last week it fell sharply down to the previous key level at $1275.
Gold hovered near its lowest level in more than four months on Wednesday ahead of the conclusion of a Federal Reserve meeting that may stoke expectations for a mid-year hike in U.S. interest rates. Spot gold was little changed at $1,150.30 an ounce by 0029 GMT, not far above Tuesday's trough of $1,142.86 - its lowest since Nov. 7. Many expect the Fed officials, who started a two-day policy meeting on Tuesday, to drop the phrase "patient" from their forward guidance on interest rates, potentially paving the way for a rate hike in June, the first since 2006. While the U.S. economy has been strengthening as evidenced by a firming labor market, the housing sector remained weak. Data on Tuesday showed U.S. housing starts plunged to their lowest level in a year in February. U.S. gold was steady at $1,149.50 an ounce. Greece frustrated its main creditors by refusing to update euro zone peers on its reform progress at a scheduled teleconference, insisting instead that the discussions should be escalated to Thursday's European Union summit.
(Daily chart / 4 hourly chart below)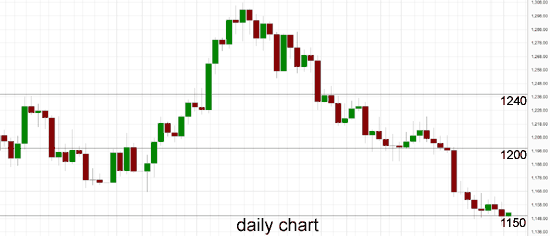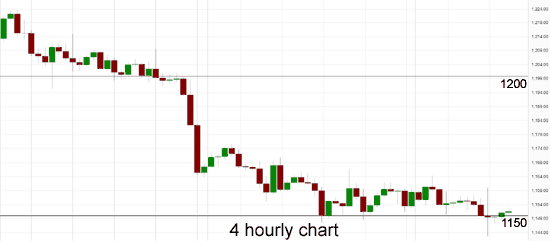 Gold March 18 at 02:20 GMT 1151.3 H: 1153.1 L: 1148.5
Gold Technical
| | | | | | |
| --- | --- | --- | --- | --- | --- |
| S3 | S2 | S1 | R1 | R2 | R3 |
| 1150 | - | - | 1200 | 1240 | 1300 |
During the early hours of the Asian trading session on Wednesday, gold is trading in a narrow range right around $1150 after spending the last few days trading between $1150 and $1160. Current range: trading right above $1150.
Further levels in both directions:
• Below: 1150.
• Above: 1200, 1240 and 1300.
OANDA's Open Position Ratios
(Shows the ratio of long vs. short positions held for gold among all OANDA clients. The left percentage (blue) shows long positions; the right percentage (orange) shows short positions.)
The long position ratio for gold has moved back above 70% as it has dropped sharply back to a new support level around $1150. The trader sentiment is in favour of long positions.
Economic Releases
21:45 NZ GDP (Q4)
09:30 UK Average Earnings (incl. bonus) (Jan)
09:30 UK Claimant Count (Feb)
09:30 UK ILO Unemployment Rate (Jan)
09:30 UK BoE MPC minutes released
10:00 EU Trade Balance (sa) (Jan)
12:30 CA Wholesale Sales (Jan)
18:00 US FOMC - Fed Funds Rate (18/03/2015)
JP BoJ Publish Monthly Report
UK Chancellor George Osborne to Announce 2015 Budget
* All release times are GMT