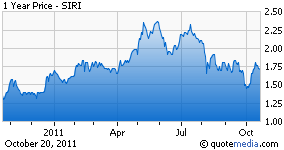 Last quarter I praised Sirius XM's (NASDAQ:SIRI) earnings announcement and suggested that the company had knocked it out of the park – to quote CEO Mel Karmazin who then uttered the promise during the company's Q4 report back in February. On Wednesday, investors were pleased to learn that Sirius announced the date of its third quarter earnings call. I say "pleased" with some trepidation because "anxiety" is what I have sensed coming from the many longs who had eagerly anticipated the news.
At one point it would have been easy to make some predictions. Normally at this time of the quarter we are discussing Sirius' potential earnings run. But these days, when discussing Sirius there is a sense of not many answers for the plethora of questions, a lot of which has had to do with the stock. It seems we have approached a point where it has lost (its once desirable) "predictable quality," something that I am now noticing to be a good thing. However, Sirius XM the company has not.
Mid-Term Progress Report
As noted above, so far to this point in the year Sirius has performed as well as any company not named Apple (NASDAQ:AAPL). In its two earnings releases it has twice increased guidance, for both subscribers and free cash flow.
"Our results in the second quarter were strong, and we are proud of our record levels of subscribers, revenue, and adjusted EBITDA and growth in free cash flow. Sirius XM continues to perform well, and we are pleased to raise our subscriber guidance and, for the second time this year, our free cash flow guidance," said Karmazin.
It has done this in the face of a struggling economy that continues to remind the company that it should not be performing so well. As the fear of double-dip recessions loom, higher gas prices, high unemployment; not to mention the constant doom-and-gloom from mainstream media, Sirius continues to find a way. In the second quarter report it blew away expectations by highlighting the following:
Subscribers exceed 21 million, an all-time high

Record revenue of $744 million, up 6% over second quarter 2010

Record adjusted EBITDA of $185 million, up 20% over second quarter 2010

Company raises guidance: 1.6 million net subscriber additions and free cash flow approaching $400 million expected in 2011
So it is hard for me to neither say nor agree with anyone who suggests that the company is not (at the very least) swinging for the fences. Are there some swings and misses along the way? I think it is more than fair to say the company is not batting a perfect average. I don't know one that is; even Apple disappointed analysts recently. But to the extent that the company has failed on all facets and is in the midst of a drastic batting slump as some would suggest, that is simply not the case.
Battling Expectations
Along with promising home runs at the start of the year, Mel Karmazin also said the following:
The media business has always been highly competitive and things will continue to evolve in the years to come. There will be winners and losers as the media landscape changes over time and I am confident that Sirius XM will again be in the winner's circle.

For any company to succeed in a changing environment, it needs to stay relevant and I think strategically not only about what consumers want today but what they will want in the future. Change is always accompanied by opportunities and challenges. We are ready to keep grabbing those opportunities as they arise. I believe the best days for Sirius XM are yet to come.
For many reasons, I have taken particular interest in dissecting the above quote; a lot of which has had to do with the degree of scrutiny that Sirius has had to endure regarding management's perceived inability to be neither innovative nor being forward looking. A great deal of these disparaged comments have come from fellow Seeking Alpha Contributor Rocco Pendola, with whom I have had my share of skirmishes. In Rocco's recent piece on Sirius, he offered the following:
When I had heard that Sirius XM officially released the first offering in its 2.0 line to retail, I searched for stories about the development. At first I was surprised. All I could find were

random articles

from loyalist longs over-hyping what's known as Sirius XM Lynx. After retrieving the details, however, it's hardly shocking that the media took a pass on the "news."

The release of "Lynx" sits somewhere south of being a non-event.

When Apple released iPhone 4s, stories poured in from every source and every angle. Amazon.com's (NASDAQ:AMZN) release of Kindle Fire nearly generated the same level of response.

The reason why the media do not care resembles the same reasons why SIRI will always be a trader's stock, a penny millionaire dreamer's stock and, when all is said and done, a roughly $1.00 stock. The things Sirius XM does - Lynx being the latest example - lack even an iota of innovation.
It is hard to dispute Rocco's points (as brutal as they may be). Even the most ardent Sirius bull such as I can't realistically look at anyone with a straight face and say that his arguments are not valid. However, it is clear from Mel Karmazin's many words that Sirius' management team is fully aware of what it needs to do to maintain its lead as the dominant audio entertainment of choice not only for the automobile but also in its efforts to secure the same status in the mobile subscriber.
In the company's Q1 report, Mel Karmazin took some time to highlight the competitive landscape of Sirius' business. It is not competing with Apple, Google (NASDAQ:GOOG) or Amazon, but look at the following as the main players in its space.
Terrestrial radio continues to capture the lion's share of listening today. Approximately 79% of all listening in the United States is through 12,000 terrestrial radio stations.

Terrestrial radio is also today receiving approximately 80% of the revenue going to the U.S. radio industry, with Clear Channel being the dominant player. The hundreds - or thousands of companies that are streaming radio via the Internet accounts for approximately 12% of the listening, with Pandora being the most significant of that group. Streaming is estimated to get approximately 5% of the radio revenue, 12% of the audience, 5% of the revenue, which is not uncommon for Internet business models.

Sirius XM currently has 9% of all listening and 15% of the total U.S. radio revenue. Thousands of stations dividing up 79%, hundreds dividing up 12% and one company with 9%.

Further, we are the only company in this space operating on a full subscription basis. We like our position in this market. I also believe very strongly that the business model matters, and here, we really like our position.
Staying relevant and anticipating what consumers will want in the future requires the type of thinking and talent that I think Sirius already has. This is proven by the number of talent and original content licenses that it has signed over the years. It has also shown a great ability to anticipate what users want and don't want.
We can also point to its recent conservative pricing increase as a solid decision when compared to the public relations fiasco created by Netflix (NASDAQ:NFLX) over its pricing plans. So clearly not only does Sirius know its consumer base, but it also knows its strengths. But I think Sirius is often mistaken for Apple or Google and other technology companies rather than what it truly is; a conduit to entertainment.
Moving Ahead
Criticisms of all forms have always been a by-product of popularity. You will be hard pressed to find a company or a stock that has been more criticized than Sirius over the past couple of years. To some, "Sirius can do no right," remarkably not even if it raises guidance twice during a recession as others such as RIM continue to slash estimates.
Being critical of the stock is one thing, discrediting the company when it is exceeding expectations is egregiously unfair. However investors should find comfort in knowing that even the depths from which it has risen as a result of its hard work, it has yet to even come close to reaching its full potential.
We are still in the early stages of the release of 2.0 (a.k.a. Lynx). While the "buzz" surrounding the product may be lacking as Rocco describes, the more important "buzz" for investors should be assessed when Sirius releases its results in the subsequent quarter.
Disclosure: I am long SIRI, AAPL.