All the rescue speculation has been around a three-step process:
1.
Recapitalizing of European banks so that they are strong enough to withstand market deterioration and sovereign bond losses in case of a default.
2.
Leverage EFSF (European Financial Stability Fund) from its existing €440bn to reach a €1-2 trn level.
One should not solely rely on stock market price action to gauge effectiveness on the plan and should look at some additional data to assess it is viability.
An interesting development over the last couple of days has been the widening of the yield spread between the French and the German 10-year bond yields. Looking at the chart below we see that this spread has widened dramatically over the last two weeks, implying that the market is doubtful about France's ability to support it is banking sector, which has been facing substantial liquidity concerns.
S&P had recently downgraded French bank BNP Paribas amid funding, liquidity concerns
.
As can be seen in the chart below, EUR/USD and the French-German 10-year yield spread had a negative correlation since the beginning of the year but over the last two days they have moved in a correlated fashion. This EUR/USD move could be pre-dominantly driven by a short covering rally, however the yield spread is pricing in an increased concern over the effectiveness of the bailout.
Click to enlarge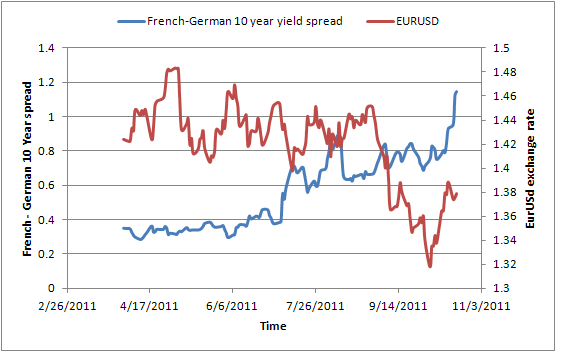 It is also important to look at the composition of the
EFSF (

European Financial Stability Fund)
to understand where all the money is coming from. As can be seen in the graph below, it is ironic that Spain and Italy make up 12% and 18% of the contributions to EFSF. If only such a simple solution existed, the underwater U.S. homeowner would have loved to bailout himself. France is also a significant 20% which implies a hit on French credit rating undermines the EFSF.
Click to enlarge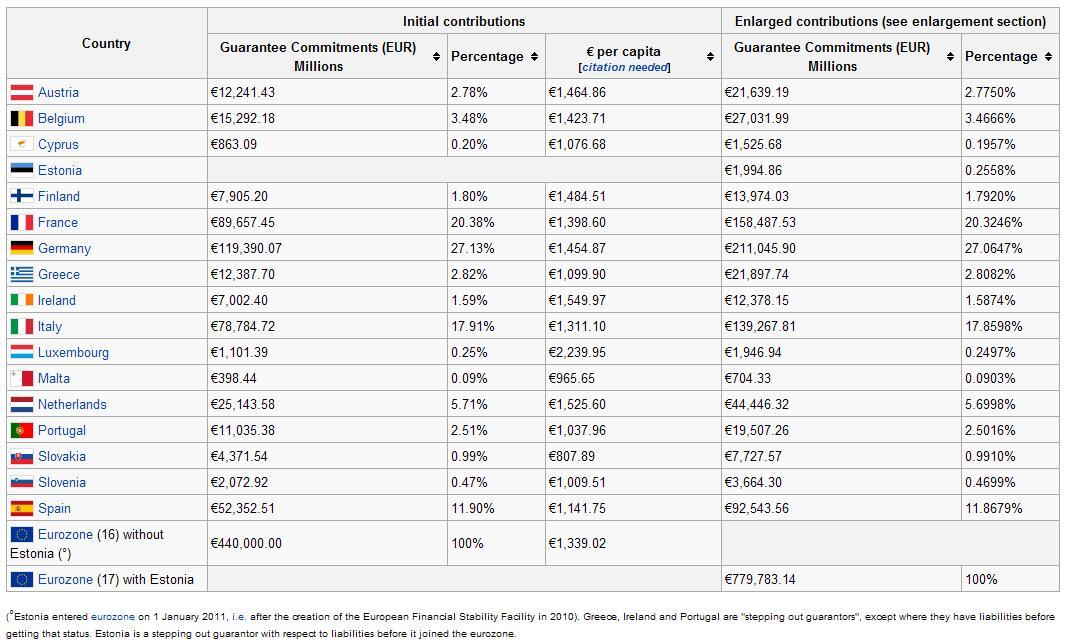 In conclusion one has to be skeptical about the European bailout plan until all the details are out and one has to keep in mind that we can't solve a crisis which was caused due to excessive leverage by re-deploying leverage.
Disclosure: I have no positions in any stocks mentioned, and no plans to initiate any positions within the next 72 hours.