Surgical robotics company Intuitive Surgical (Nasdaq: ISRG) is making a habit of breaking and rewriting the rules about how medical technology stocks are supposed to work. Although equipment companies like Stryker (NYSE: SYK) have had the occasional strong quarter, this has been a tough market for capital equipment and yet, Intuitive is doing fine. The third quarter is supposed to be a weak quarter for procedures in general, especially in this low-volume market, and yet Intuitive seems to be building momentum.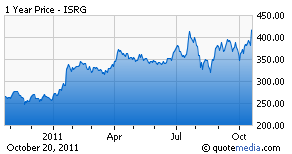 Not surprisingly, this is also a stock that seems immune to what constitutes typical or "appropriate" valuation on a growing med-tech name.
A Stellar Third Quarter
Intuitive had an amazing third quarter, with 30% overall revenue growth. System sales growth of 25% was quite impressive in its own right, and particularly with a roughly 50% acceleration in the growth rate of net new robot placements. Perhaps even more impressive, though, was the 38% growth in instrument revenue and the 30% procedure growth. In a market environment where Johnson & Johnson (NYSE: JNJ) and Bard (NYSE: BCR) are largely scraping to get volume growth and even a share gainer like Covidien (NYSE: COV) is having some challenges, this performance is beyond exceptional.
Not surprisingly, Intuitive is driving positive incremental profitability from this sales growth. Gross margin rose about 10 basis points from last year and almost a point from the June quarter. Operating income rose 35% and operating margin expanded on both an annual and sequential comparison.
From Novelty To Must-Have?
Although I have not canvassed every large hospital in North America, it seems like Intuitive has a majority of the large (300+ beds) hospitals using at least one of its robots. Given that Intuitive is seeing solid renewal/replacement business (including about one-quarter of this quarter's system placements), it seems pretty safe to say that these customers like what they're getting from the daVinci device.
At this point, it seems as though robot-assisted surgery is almost becoming the de facto standard for prostatectomies and hysterectomies. But as has long been the case, the real upside in the story is expanding the use of the robot into new surgical procedures. Colorectal surgery is becoming a bigger market for Intuitive, as are transoral procedures, but there is still a lot of untapped potential in thoracic and cardiovascular surgery.
The Cash Conundrum
At this point it seems like Intuitive has, and continues to produce, more cash than it knows what to do with. Intuitive has partners like Covidien, JNJ, Medtronic (NYSE: MDT), and Olympus (OTCPK:OCPNY) working on robotic surgical tools, but there's almost certainly some room here for further investment (and Intuitive spends less than 10% of its revenue on R&D). For instance, a new suction irrigation tool that is under evaluation at the FDA could help the company find adoption in thoracic procedures, and surely there are more device development opportunities out there.
What's more, it's not as though M&A or share buybacks are major opportunities. Intuitive only has about 40 million shares outstanding and the stock is not exactly dirt-cheap. As for mergers, maybe a deal for a company like MAKO Surgical (Nasdaq: MAKO) or Imris' (Nasdaq: IMRS) NeuroArm would make a limited amount of sense but operating multiple robot platforms seems like a hassle – particularly when getting surgeons adequately trained on the da Vinci has been a limiting factor in wider usage/adoption even recently.
The Benefits Are There
The strongest part of the Intuitive story is that this company sells a product that delivers real value. There are drawbacks to the da Vinci – it increases procedure time and it is expensive – but it also delivers real benefits in terms of patient outcomes and comfort. Perhaps more than anything, this is how Intuitive can deliver strong capital equipment sales growth in a market where companies like Philips (NYSE: PHG), Siemens (NYSE: SI), and General Electric (NYSE: GE) are having a harder time. Said differently, considering the mess that health capital equipment in Europe is today (what with the banks melting down), and the national focus of many European counties in reducing health care costs, the fact that Intuitive is seeing real growth here is a real affirmation of the value proposition (whether its real or perceived).
The Bottom Line
There are a handful of companies trying to get into the surgical robotics market, but no one is close to Intuitive today. Moreover, the training/re-training issues that would go with a new device means that any newcomer has to offer a truly compelling advantage. Don't forget as well that Intuitive knows how to play defense – there is an "electronic handshake" mechanism between the da Vinci and the tools that basically prevents unapproved (or overused) devices from working with the robot, so Intuitive effectively controls its disposables market.
When it comes to valuation, forget about it. Any chance of getting these shares cheap (or even at a "reasonable" price) will hinge on some sort of set-back like an FDA warning letter or another well-publicized study attacking the cost-benefit tradeoff of the system. The stock is not at all underpriced and it's simply a bet that Intuitive will continue to penetrate smaller hospitals as well as expand the roster of robotic surgical procedures.
Looking at this quarter, though, that does not seem like such a bad bet for aggressive growth stock investors.
Disclosure: I have no positions in any stocks mentioned, and no plans to initiate any positions within the next 72 hours.