Ubiquiti Networks Inc. (NASDAQ:UBNT) broke the silence in the IPO market by pricing their offering last Thursday and beginning trading the following day. The company is now in a bit of a paradox.
During UBNT's IPO roadshow the CEO described Ubiquiti as "not a wireless hardware company although we make wireless products and most of our revenue comes from hardware."1 Because his background includes a few years at Apple (NASDAQ:AAPL), he has at least some credibility in positioning his company in this way. Ubiquiti does employ an innovative strategy and a disruptive approach to the wireless broadband space. The combination gives them high growth with enviable margins.
On the downside, the company will face much stiffer competition going forward and may not be able to achieve its target operating model at a larger scale. The proposed price was rather high at over 7x expected current year sales. An aggressive model of Intrinsic Value (model attached) yields only a value of $22/share.
Thankfully the bankers lowered the price range and priced the IPO at the low end ($15) which gave investors some upside. The stock has traded up from there and now stands at a less attractive but not unreasonable $19.56/share.
Positives, Neutrals and Negatives
+ High growth and high margins – Revenue increased 44% to $198m in the June 2011 fiscal year with 31% operating margins. Revenue per employee of $3m and net income per employee nearing $1m are very high.
+ Large market opportunity – Wireless broadband alone is already a $15 billion/year market (Gartner) and will continue to grow. Related products like wireless video units add to the market opportunity.
+ By combining software and hardware, Ubiquiti provides a better solution and can leverage cheap hardware while keeping a reasonable gross margin (40%).
+ Their pseudo-open source approach allows them to harness their user community more effectively than most companies. This is a key element in the company's low-operating expense model.
+ A distribution-based sales model with favorable terms allows the company to grow fast using 3rd parties, yet Ubiquiti does not provide any protection or allow returns. For them sell-in equals sell-through.
= The CEO is young with very limited experience. Most people have strong opinions one way or the other on this but for company performance it can go either way. Even today most would consider young Mark Zuckerberg to be effective but Andrew Mason of Groupon a question mark.
= It's unclear how far the distribution model with these favorable terms will take the company and if having more direct relationships with customers will be required to support growth. This approach can also create "shadow inventory" which was a major pain for Cisco (NASDAQ:CSCO) several years ago.
= Most proceeds will not benefit the company and represent insider selling and debt retirement.
- Competition is intense and no matter how "disruptive" the Ubiquiti strategy is they will face more challenging circumstances as they grow. The company is not yet playing in the major leagues.
- There is some concentration of revenue in two distributors (35% of revenue and 46% of receivables).
- As a young company they don't have a very substantial base of IP protection. These are markets where IP is important (witness the Google purchase of Motorola). Just defending themselves could add materially to G&A expenses and impact their target operating model.
- Their operating model is uneven when stock-based compensation is included in the figures. For example, expenses on SG&A and R&D were triple target levels in FY 2010 resulting from stock-based compensation. The company uses and projects much lower figures extrapolated from the lower FY 2011 levels.
- At the midpoint of the proposed range ($21) the shares are expensive and just in-line with an IV model that uses a rather rich 25x multiple and takes their stated 20% tax rate at face value. There's not much room for upside at these prices.
How They Do It
Ubiquiti deserves some credit for finding a way to penetrate large markets with solid products with high operating margins from the start. There are more examples in the presentation notes below but the company bootstraps a product from a single or small team of engineers being driven by a substantial and active user community. In this way, it works a bit like the open source model but the products are all commercial. Ubiquiti relies on an indirect sales channel of distributors. This model contains SG&A expenses to 5-6% of sales.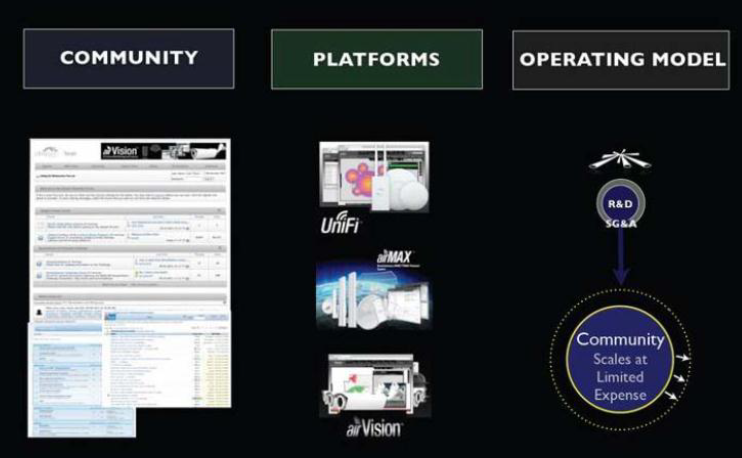 The picture above is taken from a slide in the Ubiquiti roadshow presentation.
Using software to provide higher function products on commodity hardware is another key to the company's strategy. Because software adds substantial value at zero marginal cost, the company can achieve reasonable gross margins while offering disruptive pricing. So far Ubiquiti has tended to price at a level that matches the existing low end of the market (around $100) and adds features roughly equivalent to the high end products (typically costing $5,000 to $30,000.) The approach positions them well in the middle of a large market with room to grow on both sides.
1 - A transcript of the roadshow presentation is available at IPO Candy via this link ipocandy.com/transcripts/. It requires a paid subscription.
Intrinsic Value Model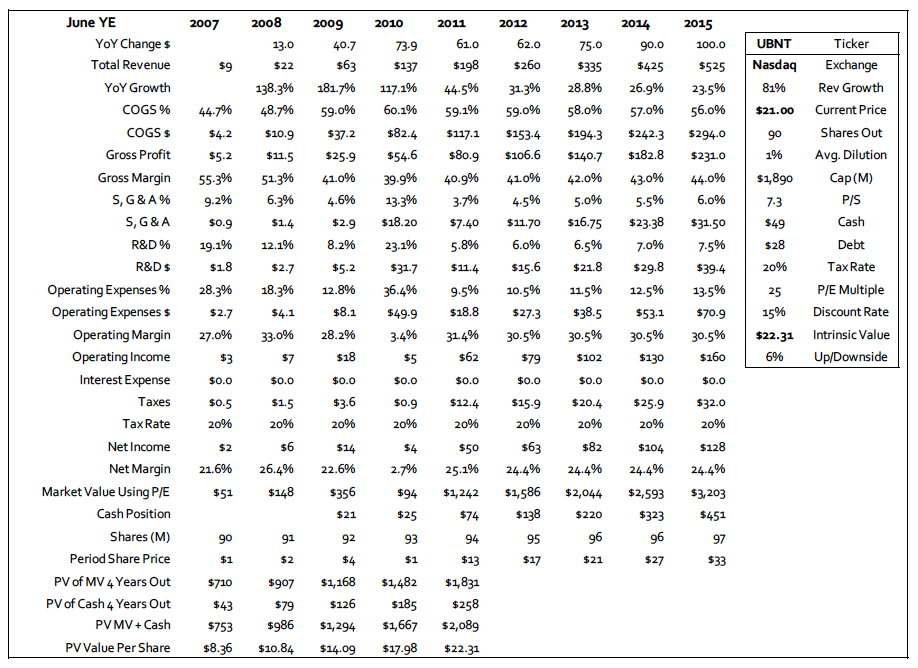 Disclosure: I have no positions in any stocks mentioned, and no plans to initiate any positions within the next 72 hours.